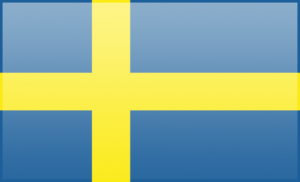 It would be excessive to say that Sweden is among the countries where gambling activities have always been popular but yet, Swedish people seem keen on casino games and sports betting. It was not until the 1930s when gambling was legalized and all illegal operators were forced to exit the Swedish gambling market. The private bookmaker known as Tipstjänst was also established and it was strictly monitored by the Swedish authorities. Back in 1943, the Tipstjänst was nationalised as it was acquired by the state. Later on, Tipstjänst has joined forces with several smaller state lottery institutions and today, it is known as Svenska Spel.
Historical Overview
The latter is defined as the absolute monopolist on the Swedish gambling market. It provides casino as well as sports betting and lottery options. Back in 2002, Svenska Spel was given the green light to provide bingo and scratchcards as well. Three years later, poker was legalized but it is strictly monitored by Swedish authorities.
Over the years, a number of prominent operators have attempted to enter the Swedish gambling market but the Swedish Supreme Administrative Court rejected all requests. However, a new inquiry discovered that practically, the Swedish law does not contain a clause that prohibits foreign operators from offering online betting to Swedish residents.
Find the best Swedish bookmakers here
A MINIMUM deposit of $100 is required to qualify for the 50% bonus. All deposits lower than $100 will receive a 25% bonus. The maximum bonus per deposit is $1,000. All rollover requirements must be met prior to requesting a payout.
Join Bovada, make your first deposit and instantly receive a 50% Sports Welcome Bonus up to $250.
Sweden is a member of the European Union and as such, it has to adhere to the rules, set by the European Commission. The EU has increased the pressure on Sweden and demanded the laws to be revised and foreign operators to be allowed to operate in Sweden. However, the idea for breaking up the Svenska Spel monopoly was not accepted wholeheartedly. This led to further call from the EU authorities for amending the existing regulations and making them compatible with the EU market rules.
Regardless, Swedish authorities were still reluctant to revise the outdated gambling laws and pointed to the negative consequences excessive gambling would have on residents and the disastrous effect gambling addiction would have on the economy. They did not miss to mention that the monopolist Svenska Spel, has greatly expanded the number of available services and said these options were enough for meeting punters' demands for casino and sports betting activities.
At the time of writing the current article, the Swedish legislative matters were in limbo but since Swedish authorities can neither impose penalties on foreign operators nor prevent them from targeting local punters, many bookmakers gladly accept Sweden-based players and even provide them with the chance to wager in their currency.
In other words, the lack of legislative clarity and the unwillingness of Swedish officials and the national regulator Lotteriinspektionen, in particular, to take adequate actions have caused grey markets to flourish.
Relevant Legislative Framework
Back in 1997, Tipstjanst and Svenska Penninglotteriet merged to form the current monopolist on the market named Svenska Spel. Today, Svenska Spel works in collaboration with the horse racing organization Trav och Galopp and provides casino games, sports betting, poker, bingo, lotteries, etc.
Two pieces of gambling legislation have been enforced throughout the years. The first one was the 1994 Lotteries Act and the second was the 1999 Casinos Act.
The 1994 Lotteries Act
The Lotteries Act regulates all kinds of card games, gaming machines, bingo, dice games, roulette that take place on the territory of the Scandinavian country.
The Gaming Board of Sweden is in charge of issuing licenses to operators willing to legally provide their products and services in Sweden. The main purpose of the Act was to oversee all kinds of gambling activities and lotteries in particular. Only non-profit charity groups and operators approved by the government, are allowed to provide this type of gambling activities.
Another important clause the Act contains is that it declares the promotion of unlawful and foreign lotteries illegal. The main objective of the Act is to make sure that the games it monitors are legal and harmless to residents' well-being.
The 1999 Casinos Act
The Casinos Act, that has come into force in 1999, was aimed at regulating all kinds of roulette, dice and card games as well as the activities that take place in land based casino venues. The Casinos Act also imposes certain restrictions and regulations related to the proper running of casino and sports betting on Swedish soil.
The Casinos Act sets age limits as well as regulations related to the prohibition of granting credits. Residents, employed in the casino industry are not allowed to participate in these games as well.
The Act states that only organizations, run by state authorities are allowed to provide casino gaming and Svenska Spel is among them. For the time being, land-based casinos are located in the most populous Swedish cities – Stockholm, Sundsvall, Malmö and Gothenburg.
Back in 2002, an amendment to the Lotteries Act was made. It was necessary due to the fast changing circumstances on the gambling market. Since Sweden had to update the laws and make them compatible with online gambling, Svenska Spel was given the right to provide online casino and sports betting throughout the country.
Restrictions
As you have already presumed, Sweden is not among the countries that gladly accept changes as far as gambling legislation matters are concerned. Nevertheless, severe restrictions are imposed and every operator or individual who violates them is at risk of facing a serious sanction. The Lotteries Act prohibits participation and promotion of unlawful lotteries as well as lotteries organized outside Swedish borders. The prohibition of partaking in "unlawful lotteries" includes selling lottery tickets, advertising gambling-related activities, passing on prizes or receiving stakes.
If a licensed operator violates the rules, in most cases they are given a warning. However, if the violation is too serious, they might even lose their license and face up to two years behind the bars.
Popular Sports to Bet on
Handball's country of origin is Denmark, so it is not surprising it is popular in the neighbouring Sweden. Actually, the national team takes pride in having achieved important milestones and victories against tough opponents. Needless to say, football is among the popular sports, although the domestic league performance is far from outstanding. Yet, the superstar Zlatan Ibrahimovic was born and raised in Sweden – something Swedes are particularly proud of.
Although the official language is Swedish, a great percentage of residents speak English. Therefore, the English Premier League is of great interest to all avid sports bettors and it is known for having a pretty high betting turnover.
Golf is also of great interest to Swedish punters. The cooler climate makes foreigners associate Sweden with winter sports and they are actually absolutely right. The Swedish Hockey league draws punters' attention and it is one of the most common sports they wager on.
Popular Bookies
As already mentioned, Sweden-based punters have a wide variety of international operators to choose from. Although it is not quite legal to create accounts with providers that do not hold a license from the Swedish authorities, it is not declared illegal either. However, it is important to create an account with a reliable bookmaker, associated with transparency, fast payouts and convenient betting options that meet your criteria. Below, you will find a list of five of the most popular bookmakers that gladly welcome Swedish bettors.
If you are willing to try out the services, available at the licensed Swedish bookmakers, you basically have two options. AB Trav och Galopp provides horse racing betting opportunities and runs the totalisator. The second option is Svenska Spel and it provides lottery, casino and sports betting options.
As mentioned above, there are other licensed companies but they form a small percentage of the market.
Redbet
RedBet is a Swedish company, established back in 2004. RedBet can hardly be described as a typical bookmaker. Needless to say, it offers a decent variety of markets to wager on. Actually, Redbet is commonly defined as a giant on the gambling market despite the fact that the sports betting section is a relatively new one. For the time being, football is among the most popular sports that draws punters' attention. However, NFL and NBA are also popular. The site offers Live Betting and SuperLive options. Every user is enabled to keep track of betting statistics, home/ away wins and get better odds against some match-ups.
Nordicbet
As its name suggests, NordicBet is a bookmaker, intended to serve punters based in the northern part of Europe. It is among the preferred bookmakers in countries such as Iceland, Norway, Sweden, Denmark, Finland, etc. It was established in 2002 and since then, it has been rapidly expanding to become a serious rival to some prestigious bookmakers.
Since football is probably the most popular sport on a global scale, every self-respecting bookmaker offers a decent football betting service and NordicBet is not an exception. The bookmaker cannot take pride in offering incredible odds or a fantastic variety of betting options, but both are fine for an average bettor, who engages in sports betting on a regular basis.
NordicBet is mainly popular for the odds on winter sports and ice hockey in particular. The bookmaker covers the most notable European leagues as well as the National Hockey League. What is more, live in-play options, live odds and transmissions of matches are available for all ice hockey events. On the downside, NordicBet does not offer many international betting markets.
Betsson
Betsson is yet another Swedish operator established back in 2001. Actually, Betsson is one of the first bookmakers to offer live betting options to its users. Although Betsson managed to escape the monopolistic regime in the country, it remained focused on providing high quality sports betting options to Sweden-based players and gained further popularity for the decent odds on popular sports.
Betsson offers a good number of betting opportunities not only for sports events but also on events from the entertaining industry. If you are not happy with the betting limits set by the bookmaker you can always contact customer support and ask for permission to place higher bets. You can choose between boxing, volleyball, cricket, F1, basketball, hockey, motorbikes, darts and many more. Apart from the sportsbook, users are also encouraged to take a look at the casino, poker and scratch games.
As for the odds, they exceed the expectations of the average bettor. The same applies to the range of sports covered by the bookmaker. Betsson also has the reputation of a bookmaker that never compromises with the live betting coverage and betting offers. Withdrawals are fast, secure and free of charge.
Betsafe
Betsafe is a Swedish operator that has been issued a license by the Maltese gambling officials. It is popular mainly among players based in the Scandinavian countries and Sweden in particular. According to different surveys, about 40% of Betsafe users are from Norway and Sweden. Betsafe enables Swedish punters to place bets in their currency.
Football has the highest coverage but it seems ice hockey, handball and handball are also among the widely preferred betting options. Punters can choose between various types of bets including handicap, over/under, Asian handicap, etc.
Unibet
Unibet is yet another bookmaker strongly associated with the Scandinavian sports betting market. It is one of the largest bookmaking companies in Europe and it is popular for providing its users with a comprehensive range of casino and sports betting options. Unibet is available in more than 100 countries and Maltese gambling authorities have granted it a license.
As far as football odds are concerned, they are quite good, especially when it comes to Nordic leagues. The commissions in the markets tend to be a bit high, though. No Asian handicap on football leagues is available but punters can benefit from the live betting console and the free of charge live streaming.
Bets are accepted via the website, over the phone or via your smartphone or tablet. Betting options such as pre-match betting, live betting, live score statistics are also at players' disposal.
As far as basketball is concerned, handicaps are not too noteworthy, but they still have a lot of fans. As for the limits, they are a bit low for the less popular football leagues. All in all, the sportsbook is of high quality and the bookmaker definitely has a lot to offer to newcomers and regular punters.
(Visited 2,670 times, 1 visits today)