Overview
Visa credit and debit cards have become one of the most popular ways to pay merchants for both online and offline purchases on a global scale. Such cards pose as a reliable and easy-to-use payment option and are available in hundreds of countries around the world. Visa cards can be used to pay at POS terminals, to make online purchases, or to process transactions over the phone or via email.
Visa is part of a multinational financial corporation which is based in the city of Foster, California. The products offered by the brand are very popular among sports betting fans as well, as they enable them to deposit funds into their sportsbook accounts and withdraw their winnings in a quick, simplified and secure manner.
One thing that is important to mention is that the company which stands behind the brand name is not responsible for issuing products such as credit or debit cards. Visa provides banking institutions throughout the world with a permission to issue its products to customers and set fees for the use of their services. That is why the fees imposed on transactions processed to and from Visa credit/debit cards often differ from one country to another and may vary, depending on the bank institution which issued the cards.
Find the best VISA card bookmakers here
A MINIMUM deposit of $100 is required to qualify for the 50% bonus. All deposits lower than $100 will receive a 25% bonus. The maximum bonus per deposit is $1,000. All rollover requirements must be met prior to requesting a payout.
Join Bovada, make your first deposit and instantly receive a 50% Sports Welcome Bonus up to $250.
Recent statistics from Nilson Report indicate the Visa brand holds a massive share of the credit/debit cards market. As of 2014, surveys reveal over 304 million Visa credit cards were in circulation in the United States alone.
As Visa products rank among the most common methods of payment in the world, it isn't a bit surprising many web-based sportsbooks list credit/debit cards with this brand name among their banking options. In fact, punters can be a hundred percent sure they will be able to fund their betting accounts as long as they have a Visa card.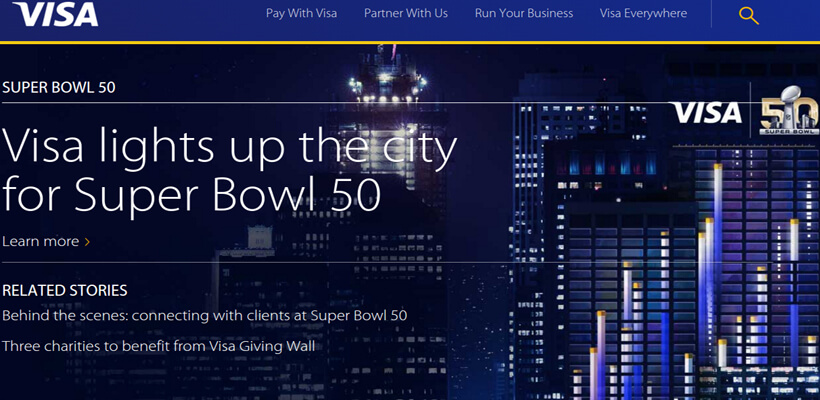 How to Obtain a Visa Card?
As was mentioned in our Overview, the corporation behind this brand name is not responsible for issuing products like credit or debit cards. Those who wish to obtain a Visa card, be it debit or credit should visit their banking institution and apply for one. As there are different types of Visa cards, make sure you ask your bank's representative to explain which ones are available in your bank and how do they work.
In many cases, depending on the bank (and the country), punters are not charged with an annual fee for using their Visa cards. As far as transaction fees are concerned, these are quite reasonable, at least in most cases.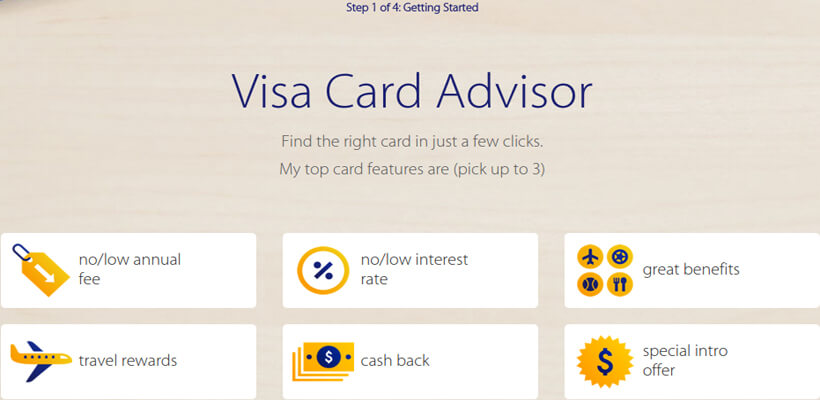 Types of Visa Cards
As previously mentioned, there are several types of cards which carry the Visa brand name. The first one is the regular debit card. It works in a similar way as paying in cash or by a check. As your Visa debit card is issued by your banking institution, it is linked to your checking account and draws funds directly from there. This is one of the quickest ways to gain access to your money.
The Visa credit card enables punters to load money into their betting accounts in a secure, fast and convenient manner. Each time you are using your Visa credit card for online (and offline) purchases, you are actually borrowing money from your banking institution and are expected to pay back your credit in full or over a prolonged period of time. If you don't, interest will be added to the sum you already own.
Another type of Visa card is the so-called Prepaid card. There are different types of those and they closely resemble what you might call a debit card. There is a significant difference, though. With prepaid cards, you load funds into your card in advance. You are able to spend only the sum you've funded the card with. You can reload your prepaid Visa any time you wish and continue betting. On the other hand, regular Visa debit cards are linked to your checking account, which enables you to request an overdraft from your bank.
The last type of Visa card is the Gift Card. It can be used at all stores and websites where Visa is accepted. What is more, the gift cards are available in several denominations.
Please note, each of these four types of Visa cards has many different variations and not all of them are available in all countries. Make sure to visit your bank in person to choose the card which best suits you, your needs and individual preferences.
Deposits with Visa
As soon as you receive your Visa card, you can start using it for sports betting purposes. Once you have selected Visa from your sportsbook's list of banking options, you need to enter some of your personal and financial information, in order to initiate the transaction. This includes your card's number, the name of the institution that issued it and the card holder's name (that is you). The next step involves specifying the amount you wish to deposit into your betting account. And finally, the transaction needs to be confirmed. The money will be transferred to your sportsbook account right away and you can put it to good use by backing your favorite team or athlete.
There is no need to worry about financial security as you have not revealed sensitive information regarding your personal bank account number. Besides, most web-based bookmakers use special encryptions and firewalls to eliminate the risk of frauds and misappropriation.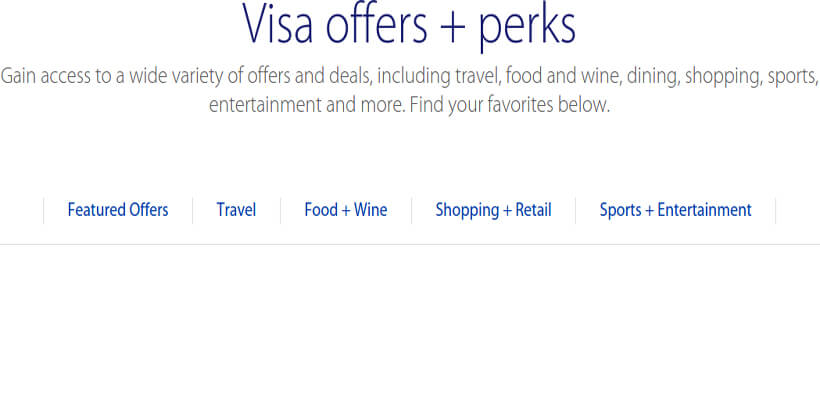 Withdrawals with Visa
Visa cards present themselves as a time-efficient, affordable and safe method to withdraw winnings from your sports betting account. The withdrawal procedure is almost the same as depositing. Again, you are expected to select this card from the list of cash-out options accepted by the bookmaker and then, enter the amount you wish to withdraw. Confirm the transaction and you are good to go.
Please bear in mind that unlike deposits, withdrawals are not processed immediately and might take some time to complete. Usually, the money will end up in your bank account or on your Visa card within several business days. Another thing to take into account – it is advisable to withdraw the sum from an ATM which bears the name of the financial institution that has issued the card. Otherwise, you might be forced to pay a much higher fee for the transaction.
Mobile Application
Nowadays sports fans demand greater flexibility and convenience when placing their bets at web-based sportsbooks. Those of you, who are interested in using Visa cards as their preferred method of payment at online betting providers will be delighted to hear Visa offers a downloadable application, compatible with iOS and Android-based devices. It can be downloaded for free from Google Play and the App store.
The app provides users with several useful functionalities. It optimizes customers' payment experience as it enables them to manage their Visa accounts directly from their mobile devices. Each time a transaction has been carried out to and from your Visa account, you will receive a notification via text message. The app makes it possible for users to conduct mobile payments quickly and conveniently. What is more, you can pay for purchases by simply holding your mobile device in front of a payment terminal.
Another functionality of the app is that it allows you to keep track of the latest offers and promotions, which are tailored to suit your individual needs and interests. Thanks to the ATM locator, punters are enabled to find the nearest terminal where they can cash out their winnings. Another handy feature is the currency converter. Please, bear in mind that the Visa app is available to cardholders residing in Central Europe, the Asia Pacific, the Middle East, as well as in certain regions of Africa.
Visa Fees
As was said above, Visa cards are not issued by the credit card company itself, but by authorized banking institutions. That is why fees on transactions carried out via this method of payment can vary, depending on your country of residence and the bank that issued your card.
Each time you place a bet, you transfer money from your own bank account to your web-based bookmaker's account. In order for the transfer to be completed, an interchange fee needs to be paid. The issuing bank, which is your bank is expected to pay a fee to the bookmaker's bank (or the acquiring bank) for the money's transfer or vice versa. It all depends on which country your bank is located in. The type of Visa card you use also plays a role. In the UK, for instance, the interchange fees are capped at £0.50. In most cases, the fees are relatively small. For further information, please visit Visa's official website, where you will be able to check out the fees, applicable to the country you reside in.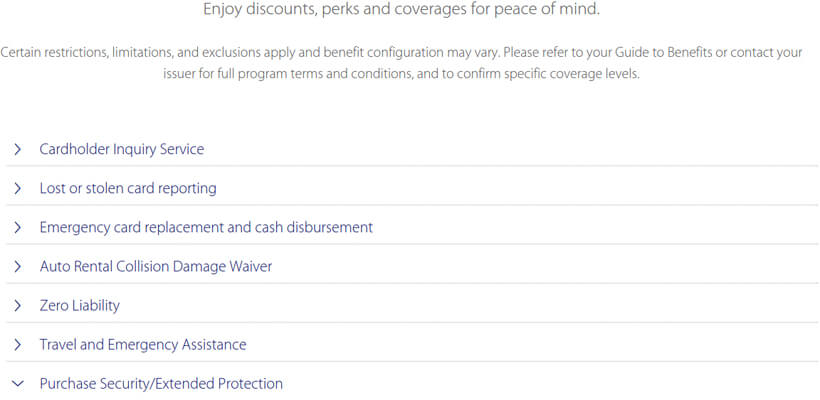 Security
Many punters opt for funding their betting accounts with Visa cards because of the exceptional degree of security this payment method ensures them with. All Visa products comply with standards imposed by the PCI DSS or the Payment Card Industry Data Security Standards. This means each time you fund your betting account via a Visa card, your personal details and bank account information are very well protected against fraudulent activities of any kind. The PCI DSS itself is a result of the joint effort of the two leaders of the payment card industry – Visa and Mastercard.
The PCI DSS encompasses 12 basic requirements which banking institutions that issue cards must comply with. Some of these requirements include installing firewalls and employing heavy encryptions to protect customers' sensitive data. Security systems are being tested on a regular basis to ensure they serve their purpose. Sports betting fans can rest assured information regarding their transactions to and from web-based bookmakers is protected each time they use their Visa cards.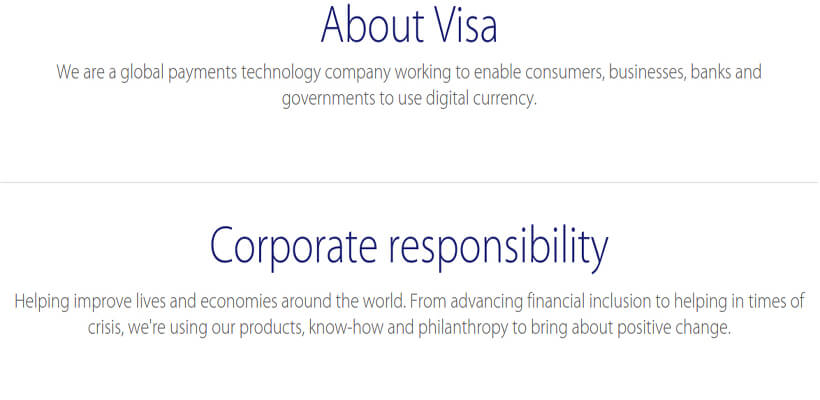 Advantages of Using Visa
Visa ranks among the leading payment solutions in the industry and this success is entirely justified as using this payment method has plenty of benefits. The greatest advantage for punters is that cards carrying this brand name are accepted for both deposits and withdrawals by almost all web-based betting providers. In addition, the fees charged for transactions are usually very reasonable and will not affect your account's balance negatively, although they might differ from one banking institution to another. As the fees are capped at a reasonable percentage, even punters who deposit greater amounts will be charged with a relatively insignificant fee.
The exceptional level of security that Visa has to offer is not to be underestimated, either. It is much more pleasant to place a bet on your favorite team, F1 driver or athlete when you know your banking information is protected and your transactions are processed in a secure manner.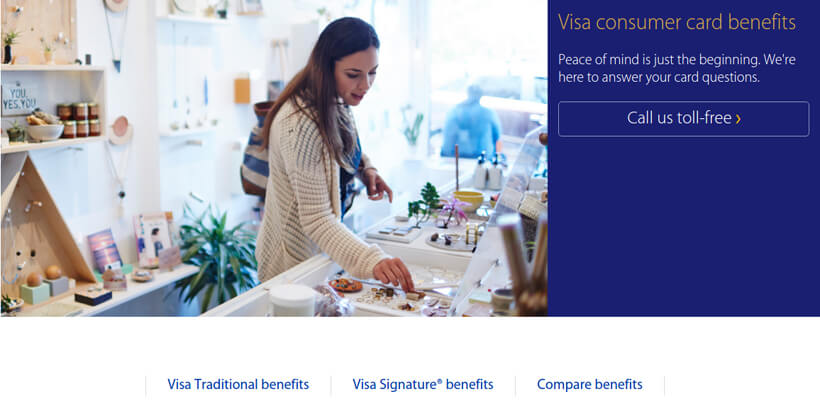 Disadvantages of Using Visa
As far as Visa is concerned, only one major disadvantage comes to mind. We must admit a certain risk of overspending exists when punters are using a Visa credit card. Bettors, who are afraid they might end up spending great amounts of money on sports betting can opt for using the prepaid Visa card to limit and control their expenses. The prepaid card is a great alternative as you can spend only the amount you have loaded the card with. Once you run out of money, you put an end to your betting session and that is it.
Countries Where Visa is Used for Sports Betting
Credit and debit cards have been a preferred method to deposit and withdraw funds to and from one's betting account ever since sportsbooks went online for the first time in the late 90s. Right from the start, Visa has established itself as one of the most popular methods when it comes to paying for online purchases or funding one's online gaming and betting accounts. The fact it is available in most countries across the world only works to this payment solution's advantage. Banking institutions in over 220 countries and territories are authorized to issue Visa products such as credit and debit cards. If you wish to deposit and withdraw money to and from your sports betting account, you can simply pay a visit to your bank and apply for a Visa card.
Those of you, who are uncertain whether Visa cards can be issued in their country of residence are recommended to visit the credit card company's official website to check the list of countries where Visa is available. We can assure you it is beyond extensive.
Almost all products which carry this brand name are available on a global scale. However, there are some countries where certain types of cards are not on offer. Such is the case with the Visa Electron debit card, which is not issued in countries like Ireland, Canada, Australia and the United States. Please note that in certain locations, like the UK for example, the Visa Electron card is not as widely accepted. Nevertheless, this is only a minor setback as punters might always opt for one of the other types of cards with this brand name.
Before you attempt to place a bet using your Visa credit card, please make sure online sports betting is legal where you live. In countries where web-based gambling is illegal, banks are often prohibited from processing money to and from online bookmakers. Punters who live in such countries resort to using the services of financial intermediaries such as e-wallet providers Skrill and Neteller. They transfer funds from their credit cards to the e-wallet and fund their sports betting accounts this way.
What makes Visa so suitable for sports betting purposes is that the card is accepted by a great number of web-based bookmakers. Punters, who live in countries where online betting is legal will hardly experience any difficulties in placing their bets at any respected sportsbook as long as they have a credit or a debit card with the Visa logo on top.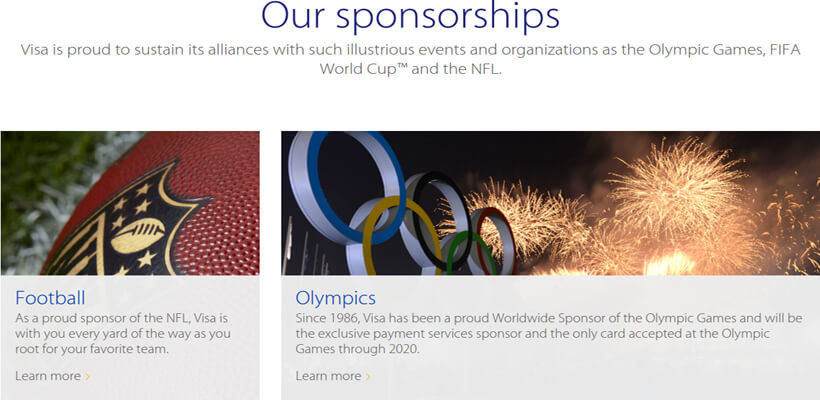 (Visited 1,056 times, 1 visits today)