Overview
PaySafeCard has established itself as a convenient and above all, secure method to pay for online purchases. It provides people with flexibility and is exceptionally easy to use. Because of this, the card enjoys an ever-growing popularity among customers from different nationalities around the world.
It isn't a bit surprising the card is extremely popular among online casino players and sports betting fans as it presents itself as one of the quickest and easiest ways to load money into your account at web-based sportsbooks. It functions as a prepaid voucher which makes it completely safe to use online as there is no need to reveal any sensitive personal or financial information when you use it. The PaySafeCard can be purchased at numerous retail shops, newspaper kiosks, gas stations and supermarkets. Even though this payment solution is based in Vienna, Austria, its strong presence on the international market is undeniable as it can be bought and used in nearly 50 countries around the world.
Find the best Paysafecard bookmakers here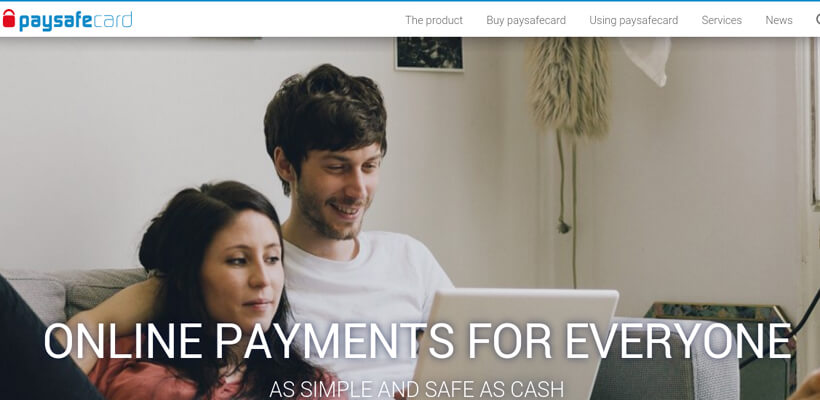 How Does the PaySafeCard Work?
As was said above, this is a prepaid payment solution, which is convenient and easy to use. Needless to say, if punters wish to fund their sports betting accounts via PaySafeCard, they should first buy one at their local retail shop, newspaper stand or gas station. If you are struggling to find a shop where the card is sold, it is advisable to visit PaySafeCard's official website and use the general sales guide to find the nearest location you can buy your card from. Please note, there is an online shop where PaySafeCard vouchers are sold as well.
The card comes in many different denominations – €5, €10, €15, €20, €25, €30, €50, €100. Their availability is not uniform among the different countries. For example, you will not find a €5 voucher in Austria, France, Italy, and some others. Once you have paid in cash for one of these options, you will be given a voucher that closely resembles a regular receipt. The voucher has a 16-digit PIN, printed on top. Punters are expected to use and enter this PIN number whenever they are transferring funds from the prepaid card to their sports betting accounts. What is more, there is absolutely no need to connect the Paysafecard to your bank account or credit/debit card, which makes it the safest way to process online payments of any kind.
However, the voucher has yet another advantage. It is possible to combine several PINs – in fact, you can combine up to ten cards' PINs at one time. This option is more suitable for punters who wish to load more substantial sums of money into their accounts to place bigger bets with. In addition, combining the PINs will enable bettors to use the entire balance of their vouchers.
If you wish, you can register with a PaySafeCard account at the official website. The process takes minutes to complete and is free of charge. You will be asked to provide some personal information such as your name, street address, valid email address, phone number and date of birth. Opening an account is very handy as it will enable you to keep your PINs in one place and fund your betting account only with your PaySafeCard username and password. Besides, it allows you to have an overview of your finances and to control your expenses much better. There is no need to link the PaySafeCard account to your credit/debit card or bank account, so it is completely safe to use.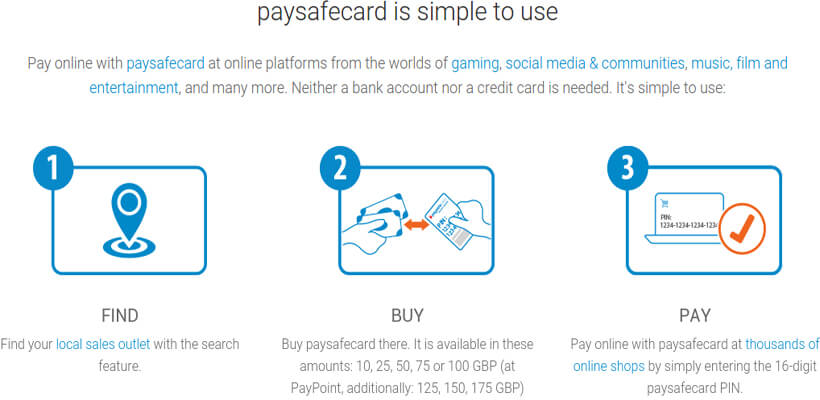 Deposits with PaySafeCard
Punters who have opted for PaySafeCard as their preferred method of depositing should simply log into their sports betting accounts and go to the Banking section. There, they should select the PaySafeCard as their method of deposit. Keep in mind, you should first register with an account at the PaySafeCard's website in order to be able to complete the transaction. The email and name you have registered with at the online bookmaker's page should coincide with those you have used to sign up at the payment solution's website.
Why is this necessary? Registering at PaySafeCard's website will enable punters to enter the PINs of the vouchers directly into their accounts and then use them to fund their betting accounts. Additionally, registration will help you keep track of all PINs you have topped your PaySafeCard account with.
The next step when depositing with the card involves specifying the amount you wish to transfer to your betting account. If you are not sure what your PaySafeCard balance is, log into your PaySafeCard account and check. Once you have specified the amount you want to deposit, enter your PaySafe username and password and confirm the transfer. It will be completed in an instant so you can start betting right away. It couldn't possibly get any easier than this.
Withdrawals with PaySafeCard
Until recently withdrawing one's winnings via PaySafeCard was not possible. Fortunately, this is no longer the case as this payment system has recently introduced a special Payout service. The latter allows online sportsbooks and gaming providers to transfer money back to punters who use PaySafeCard.
To request a withdrawal of their winnings to their PaySafeCard accounts, punters are required to simply provide the email address they have registered with. When the sportsbook processes the withdrawal, the winnings will instantaneously end up in your PaySafeCard account's balance. You can use the balance to make another online payment or fund your sports betting account again. Those, who wish to cash out their money from the account can apply for a special PaySafeCard Mastercard and withdraw the winnings at the nearest ATM.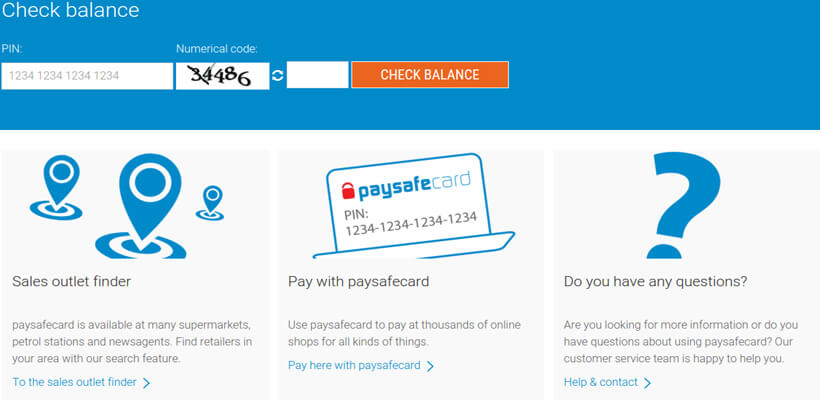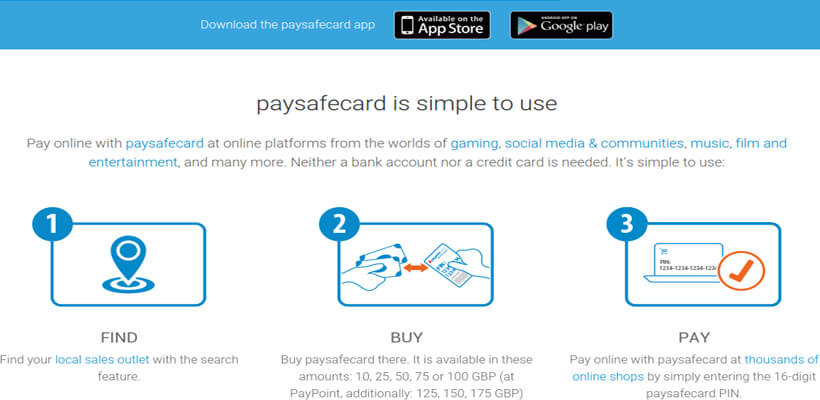 Fees with PaySafeCard
Without question, PaySafeCard is one of the most affordable ways to fund your sports betting account as essentially no fees are imposed on the transactions. Many web-based bookmakers use this method of deposit and most of them don't charge punters with additional fees for the transaction. Nevertheless, it all varies from one bookmaker to another. That is why, it is advisable to first become familiar with the sportsbook's Terms and Conditions before you proceed to use the voucher as a deposit method.
However, punters who process transactions in another currency may be charged for currency conversion. The conversion fee amounts to between 3% and 6.09% of the sum you have transferred. Also, if your Paysafecard's account remains inactive for a period of 12 months or more, you will be charged with an "inactivity fee" of €2 per month.
Please note, several fees apply to the PaySafeCard MasterCard we've mentioned earlier. The card is very convenient to use when you withdraw your sports betting winnings, but does not come free of charge. Topping the card will cost you 4% of the sum you wish to load into the MasterCard, but luckily this cannot exceed €1,00. If you withdraw your winnings via an ATM, the transaction will be charged with 3% fee (and €3,50 at least) of the sum you cash out. Apart from that, punters who have a PaySafeCard Mastercard are expected to pay an annual fee of €9,90.
Fee Summary
Operation
Time
Cost
Deposit to bookie
Instant
Free
Withdrawal from bookie
Up to 24 hours
Free
Deposit to Paysafecard Mastercard
Instant
4%
Withdrawal via Paysafecard Mastercard
Instant
3%
Payments via Paysafecard Mastercard
Instant
Free
Withdrawal to a bank account
2-3 business days
€7.50
Security
Undoubtedly, PaySafeCard remains one of the safest methods of payment for online purchases. The same, of course, is valid for funding your betting account. Paying with PaySafeCard closely resembles paying in cash – you simply exchange your money for a given service or product and you are done. There is no need to share any of your personal details or banking information. Besides, this payment system is very well protected against scams and hackers as PaySafeCard employs various technical security mechanisms to protect its customers from identity thefts, misappropriation and other fraudulent activities.
Naturally, each and every punter should remember they must not reveal their PINs to thirds parties. If you have bought a voucher that is on paper, like a receipt, destroy it as soon as you have entered the 16-digit code. Those of you, who experience a certain degree of concern that a third party may have obtained their PINs or PaySafeCard username and password should immediately contact the payment system's service team and request their account to be disabled.
It is highly advisable to purchase your vouchers only from authorized online or land-based shops in order to avoid eventual frauds.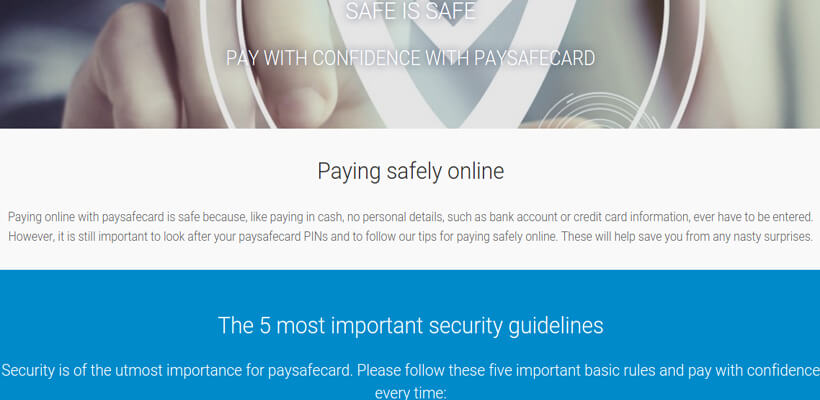 Mobile Application
The good news is the company which provides this payment solution has developed a special Paysafecard mobile application. This allows for even greater flexibility and better management of your sports betting finances. The application is compatible with popular portable devices such as those that run on Android and iOS. As you can probably suppose, the mobile app can be downloaded free of charge directly from the App Store or the Google Play store. Interestingly, the app is compatible with smartwatches like those offered by Google Wear and Apple Watch.
The application provides punters with several useful functionalities. First of all, it allows them to quickly search for the nearest outlets where Paysafecard vouchers are sold or accepted. Then again, it provides them with the opportunity to keep track of their expenses and see the remaining balance in their Paysafecard accounts. Besides, the application makes it possible for punters to track all of their transactions and better control their expenses. Adding new 16-digit PINs to your Paysafecard account is also an option when you are using the application.
One of the mobile application features is scan2pay which allows for immediate online payments. How does it work? Just select Paysafecard as your payment method, select the scan2pay option in your online store, and scan the QR code. After you confirm the payment with the security code you're done!
Customers can also use the option Paysafecard direct. It helps to top up your account balance very fast at the nearest store. You need to generate a barcode through the application and you can choose from many denominations. Show the barcode at the checkout and pay on the spot, your money appears immediately in the Paysafecard account.
During the initial setup of the two-factor authentication, you must check "Do not ask again on this device" to ensure that the payment process will always be easy, fast, and secure with your username and password.
Mobile App Features
Send Money
yes
Receive Money
yes
Withdraw to a bank account
yes
Deposit to bookie
yes
Withdrawal to bookie
yes
Advantages of Using PaySafeCard
It definitely is not difficult to discern using PaySafeCard at online sportsbooks has many advantages. The first one is that the prepaid voucher allows for greater control over punters' spendings. In some cases, enthusiastic sports fans are so bent on backing their favorite teams, they tend to neglect the possibility of losing a substantial sum in the process. Thanks to the prepaid voucher, no such risk exists.
Additionally, if you register with a Paysafe account at the official website, you will be able to keep a closer look at your expenses and check out your remaining balance. As you are practically using only the 16-digit PIN or your username and password to carry out the transactions to your sportsbook account, there is no need to worry about security. In fact, Paysafe is among the safest methods for online payments as the name itself suggests. You don't need to disclose any banking information to third parties. Actually, you do not need to have a bank account or credit/debit card at all since there are hundreds of thousands of physical stores where you can purchase a voucher.
Another advantage of using this method is that deposits are transferred instantly to your sports betting account and you can use them immediately. Moreover, most online sportsbooks list this as an available payment solution.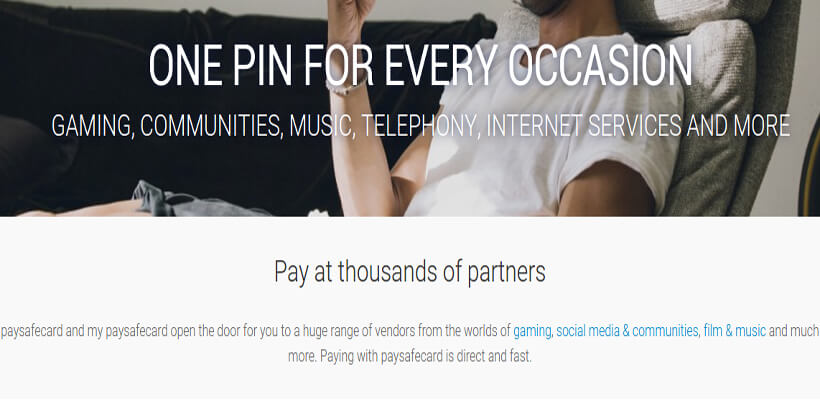 Disadvantages of Using PaySafeCard
As far as disadvantages are concerned, it is certainly difficult to think of one, when it comes to Paysafecard. Some punters consider it a mild setback that they have to visit a land-based outlet, a newspaper kiosk, or a gas station to obtain a voucher. Of course, it is possible to order a 16-digit PIN online, but those, who don't want to reveal their personal and banking information, don't like this option.
On the other hand, sports betting fans are frequently displeased by the fact, not many web-based bookmakers list Paysafecard as a method of withdrawal. In some cases, the payment solution may be approved in your country of residence but its legal use to exclude funding online betting accounts.
Though it is possible to transfer funds from your betting account to your Paysafecard account, this is not a widespread practice at this point. Most online sportsbooks use bank wire transfers in such cases or ask punters to select another withdrawal option.
Maybe the most significant drawback of Paysafecard is that no transaction can be canceled. Once you have entered the 16-digit code, the purchase or payment is executed and it is not possible to get a refund of the amount. The only way to have your money back is if you make an agreement with the merchant.
Countries Where Paysafecard is Used for Sports Betting
Despite the aforementioned minor inconveniences, PaySafeCard remains one of the most popular methods to fund one's sports betting account. The first reason is that many web-based sportsbooks accept it as a method of deposit at least. PaySafeCard's security additionally contributes to its popularity among punters from different countries and nationalities.
At this point, Paysafecard is available in a total of 49 countries throughout the globe – Austria, Germany, Belgium, Sweden, the US, the UK, Australia, New Zealand, etc. The card can be used as a method of payment in over 600,000 outlets, located in the aforementioned 49 countries. More than 30,000 of those are located on the territory of the UK alone.
Of course, whether or not you will be able to use it for sports betting purposes largely depends on the laws of the country you reside in. In some jurisdictions, wagering on the outcome of sports events is permitted only at brick-and-mortar bookmakers, while online betting is deemed an illegal activity. That is why, before you buy a PaySafe voucher and attempt to fund your sports betting account, you should make sure this is legal in your country. This means that punters from the United States and Turkey, for example, will not be able to use the voucher for online sports betting purposes.
Meanwhile, in certain countries, web sports betting is not considered illegal, but Paysafecard is simply not available in these locations. One such country until recently was Spain, for instance. Currently, Paysafecard transactions related to sports betting are only possible if the bettor has a personal Paysafecard account.
Punters, who wish to see whether this payment option is available in their country should head to Paysafecard's official website, where they will be able to find an extensive list of all countries where this payment solution is offered. Keep in mind, the list is often updated, so even if your country is not present at the moment, there is a good chance it would be included in the near future.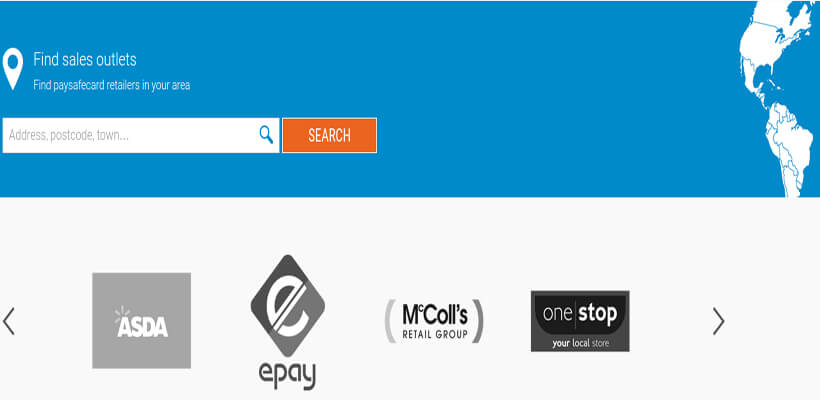 FAQ
When depositing to a betting account or paying an online purchase, users enter the unique 16-digit code and the exact amount they wish to use. So, yes, you can use the same voucher as many times as you want to until the loaded amount gets depleted.

Paysafecard supports the official currencies used in the countries where this payment solution is officially approved. These include USD, EUR, BRL, BGN, CAD, HRK, CZK, DKK, CHF, NOK, NZD, etc.

Actually, you cannot. We strongly advise you to thoroughly check your payment page before confirming the transaction. If you want a refund, you must contact the receiver of the money and negotiate as Paysafecard has no such obligation.

Yes, money in your Paysafecard can be always transferred to your bank account. You must send your personal details to info@Paysafecard.com plus a copy of an ID document. Keep in mind that you will be charged €7.50 per refund.

Paysafecard is a perfect solution when I do not know what present to get. As vouchers are nameless, it does not matter who buys and who uses them. This is the equivalent of gift vouchers offered by some stores, but the advantage is that it can be used in any retail outlet that accepts Paysafecard payments.
(Visited 1,818 times, 1 visits today)