Overview
iDebit, formerly known as InstaDebit is a popular online payment method, which provides customers with security, flexibility and time-efficiency. It enables everyone who uses it to make safe online purchases by directly paying with funds from their bank account, instead of using credit or debit cards. This is what makes iDebit so convenient and contributes to its enormous popularity.
iDebit is based in Canada, but offers its services to customers who reside in other countries as well. It is important to note iDebit is not exactly an e-wallet like those provided by Skrill, Neteller and PayPal. This payment service simply enables those who use it to pay for online purchases directly through their online banking accounts.
InstaDebit's principle of operation is relatively simplified. This is how it works – customers are first asked to open an account with iDebit and then, log into their online banking accounts using the same username and password they have registered with at the payment processor's website. Finally, they simply need to approve the transaction and that is all. This method is exceptionally secure as none of your personal and financial details are revealed in the process.
Find the best Idebit bookmakers here
A MINIMUM deposit of $100 is required to qualify for the 50% bonus. All deposits lower than $100 will receive a 25% bonus. The maximum bonus per deposit is $1,000. All rollover requirements must be met prior to requesting a payout.
Join Bovada, make your first deposit and instantly receive a 50% Sports Welcome Bonus up to $250.
The payment solution has so many advantages that it enjoys huge popularity among sports betting fans as well. Many punters opt for using it to deposit and withdraw funds from their online sports betting accounts. What is more, the method's popularity continues to increase and at the present moment, some of the biggest names in the sports betting industry like bet365, Pinnacle and William Hill accept it as a payment option. What makes iDebit the preferred method of payment of so many punters? Deposits to betting accounts are processed very quickly, there are no hidden fees and the method is exceptionally secure.
Please read on for more detailed information on how iDebit works.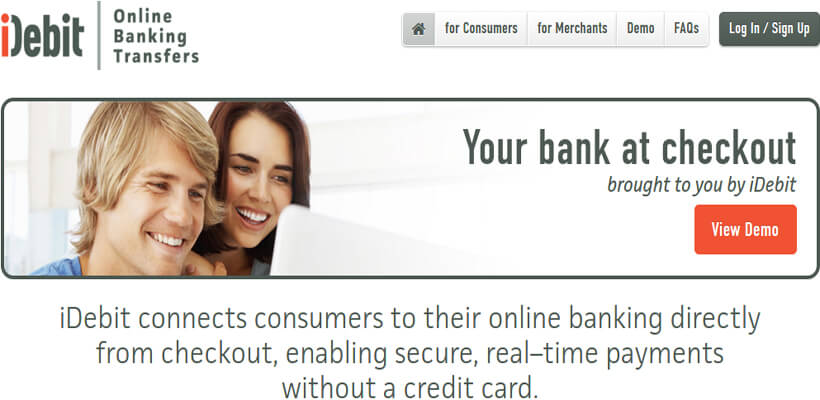 Checking out/Depositing as a Guest
Let us start with payments processed through Guest accounts. Unregistered users should simply select iDebit from the bookmaker's Banking section when they wish to make a deposit. To complete the transaction, click on the Guest Check-Out button and select your bank from the drop-down menu. Please note, as iDebit is a Canadian-based payment processor, it predominantly works with Canadian banks. Punters are expected to have an account at a Canadian bank in order to use it. At least in most cases, because iDebit supports payments from banks based in several other countries. If your bank's name is not present on the list, you can easily cancel your deposit.
Don't forget you are expected to have an online banking account. If you don't, you can contact representatives of your banking institution and open an account to manage your funds over the web. Now, after you have selected your bank from the menu, you will be asked to log in with your online banking ID and password. There is absolutely no need to worry about security as your banking credentials and personal details are not shared with any third parties. It it safe to say iDebit basically assumes the role of an intermediary between you and your banking institution. Finally, you need to approve the transaction and the money will be instantly transferred to your sports betting account.
Registering with iDebit
Sign-Up is optional with iDebit, as punters are provided with the opportunity to check out as guests. Nevertheless, you can feel free to register with an account first before you proceed to use it for sports betting purposes. Moreover, registered iDebit users enjoy faster check out times, so it is advisable to sign up.
The process of registration is extremely simplified and quick to complete. This is what you are required to do. You must fill in a short registration form containing some of your personal and financial information including your name, postal code, email and street address, date of birth, as well as the last four digits of your social insurance number. Once you have completed your registration, you can proceed to make deposits to your sports betting account via iDebit. The process is the same like checking out in Guest mode, but you are expected to log in with your email address and iDebit password. Again, the money will be transferred to your betting account right away.
Punters who intend to use iDebit as their deposit method at online bookmakers should note it is not allowed to split a payment between two separate bank accounts for a single transaction. The deposit must be processed in its entirety from the same bank account.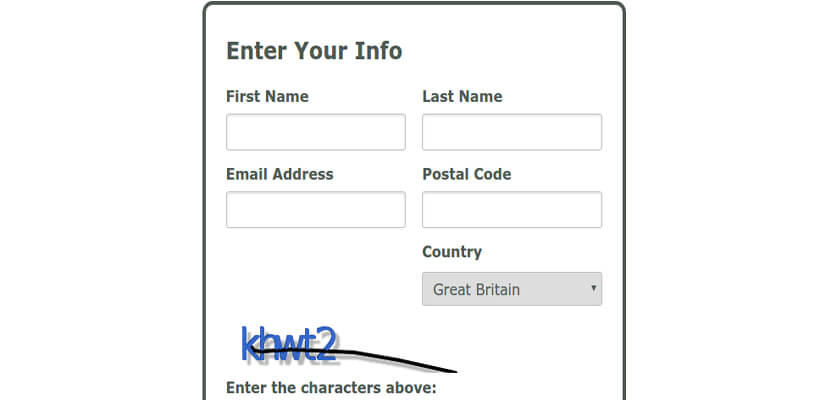 Withdrawals with iDebit
This payment solution allows punters to cash out winnings from their sports betting accounts as well, and the process is just as simple and convenient as depositing. Head to your bookmaker's Banking menu, select iDebit from the list and specify what sum you wish to cash out. Bear in mind, if this is the first time you initiate a withdrawal, you will be obliged to provide some information about your bank account. This fact should not cause any concerns, however, as iDebit protects its customers and does not share any information they disclose to third parties.
What is important to take into consideration here is that unlike deposits with iDebit, withdrawals might require some time to complete. It all depends on the method you use to withdraw the funds. Punters, who wish to transfer the funds to their bank accounts should wait for 5 business days until they receive their winnings. Checks and money orders pose as a quicker alternative as they are mailed within 1 or 2 business days. Please bear in mind this feature is not available in all countries.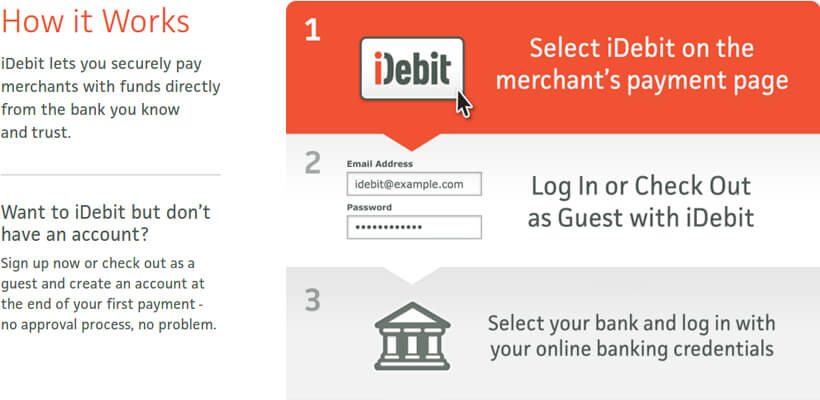 Mobile Application
Most punters demand greater flexibility when it comes to betting and payment processing. That is why in many instances they tend to use payment methods which have a downloadable mobile application on offer. Unfortunately, at the present moment, iDebit does not have its own mobile application. Nevertheless, you should not be too quick to give up on this method of payment just yet.
The official website of iDebit is fully mobile-responsive. This enables punters to simply type the address into their portable devices' browsers and directly load the page. iDebit's website is compatible with all widely used devices, including Blackberries, Windows, Android and iOS-based smartphones and tablets.
iDebit Fees
What's so great about using iDebit as a sportsbook deposit method is that you will not be charged with any hidden or excessive fees for using this payment service. What is more, registering with an iDebit account is completely free of charge.
Deposits at online sportsbooks and payments to web-based merchants processed directly from your InstaDebit account balance are free of charge. Nevertheless, as iDebit is connected to punters' online banking accounts, their banking institution might charge them with a fee for the electronic transfer they have initiated with this payment service. Usually the fees for paying from your bank account are quite reasonable, but might differ from one bank to another. That is why it would be wise to consult your banking institution prior to initiating any payments with iDebit and inquire about the fees that may be imposed on your transactions.
A small fee will be deducted from your iDebit balance each time currency conversion in necessary. The sum will be converted depending on the current foreign exchange rates.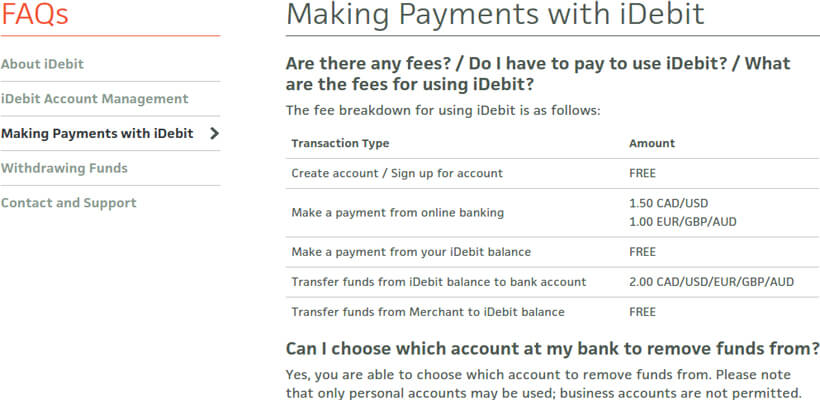 Is iDebit Secure?
When it comes to online payments, there is one pending question on everyone's mind, namely "Is this method of payment secure?". Punters, who intend to use iDebit to deposit and withdraw funds to and from online sportsbooks can rest assured there are absolutely no reasons for concern. iDebit takes all the necessary precautions to ensure its customers' safety and convenience.
First of all, each time you initiate a payment via iDebit, you don't disclose any sensitive personal or banking details to anyone. Online merchants and sportsbooks are not granted any access to private information concerning your bank account number, for example. The banking credentials you disclose stay secure between you and the banking institution you have opened your bank account at. Each customer's identity is protected by iDebit as risk assessments of the information they share are performed on regular basis. All transactions to and from customers' accounts are monitored at all times by the best security certification firms in the industry.
Each time you initiate a transaction via iDebit from your online banking account to a given web sportsbook, your identity needs to be authenticated – iDebit wants to make sure it is really the account holder that initiates the transaction. That is why punters are required to enter their complete bank log-in credentials as well as their bank's security question. And finally, each iDebit transaction is heavily encoded by the latest 128-bit encryptions to bring the risk of fraudulent activities to the absolute minimum.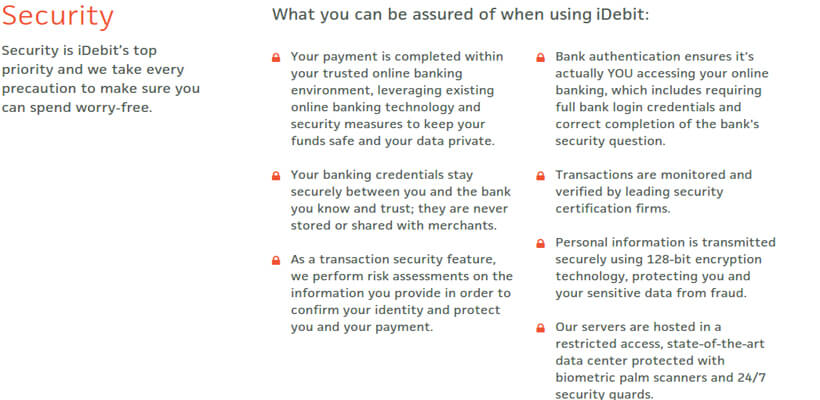 Advantages of Using iDebit
It is not very difficult to see why iDebit presents itself as a rather beneficial option for those of you who choose it as their method of payment at web-based sportsbooks. The first advantage of using iDebit has to do with the convenience and flexibility it provides customers with. You are able to deposit money into your sports betting account directly from your personal bank account. There is no need to use any credit or debit cards for the purpose.
The payment process is rather simplified as the funds are transferred in a matter of seconds. The registration process is quick and easy to complete and there is always the option to send your first deposit without signing up. As we have mentioned earlier, punters can check out as guests and then, proceed with their registration if they are pleased with the service. Moreover, iDebit provides adequate and timely customer support via Live Chat or email, so if you have any questions you need answered, you can turn to the friendly support team any time you choose. The team is at customers' disposal 24/7.
The exceptional level of security iDebit guarantees is not to be underestimated, either. Merchants and online sportsbooks are not granted access to any sensitive personal or financial information of yours. Besides, each transaction is closely monitored and heavily encrypted for optimal safety.
The time it takes to complete a given transaction also needs to be taken into account. In this respect, iDebit stands out with great time-efficiency as deposits are transferred right away so that punters can start placing their bets immediately. Withdrawals may require some time to complete, but the same applies to most online payment processors.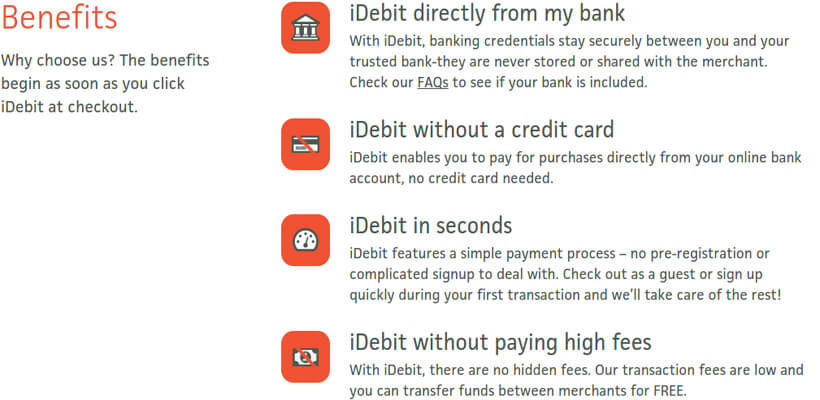 Disadvantages of Using iDebit
This is one of those payment solutions where it is virtually impossible to find any weak sides. While iDebit is without question one of the most convenient and simplified methods of payment out there, it has one major fault. It is not available in that many countries. Several years ago, the service could be used by Canadian residents only. Today, the list of countries the service is available in has expanded to a certain extent. Nevertheless, the number remains slightly limited compared to that of other payment processors.
Another setback of using iDebit as a method of payment at web-based bookmakers is that the option of withdrawing money is not supported in all countries. For further information punters are advised to visit the payment processor's official website or contact iDebit's support team to inquire whether or not withdrawals are an option in their country of residence.
Countries Where iDebit is Used for Sports Betting
This method of payment is quickly gaining popularity among sports betting fans, a tendency which can easily be explained with its convenience, time-efficiency and reliability. The number of online sportsbooks that list iDebit as an accepted payment option continues to increase. As the payment service is based in Canada, it is punters from this country that tend to use it more frequently. Despite that, iDebit is available in a number of other countries, 22 to be precise. Some of these include Portugal, Sweden, Netherlands, Germany, France, Finland, Spain, Italy and Great Britain. The payment processor works with banking institutions based in each of these 22 countries and punters are expected to have opened a bank account at one of the supported banks, if they wish to use this service.
Currency also should be taken into consideration. Unfortunately, in this respect there is more to be desired as sports fans are expected to register a bank account using the primary currency of their country. Meanwhile, their iDebit accounts balance should be in AUD, EUR, CAD, USD or GBP. Those who use another currency will most likely be charged for currency conversion as apparently iDebit works only with the five currencies, mentioned above. Punters whose country of residence is a member state of the EU should not be concerned as they can easily use the Euro as their iDebit accounts currency.
Naturally, before you make any attempts to deposit funds into your betting account via iDebit, you should register with an account at a web-based bookmaker. There are hundreds of sportsbooks on the web, but unfortunately, not all of them are to be trusted. That is why you should choose carefully and look for transparent and reliable online bookmakers that accepts sports fans from your country of residence.
That being said, it is also important to mention all punters are expected to first check whether or not placing bets online is legal in the country they reside in. Why is this important? First of all, because breaking the law is not something to be particularly proud of. But more importantly, if online sports betting and gambling in general is illegal in your country, you might fail to cash out your winnings or make a deposit with iDebit. As we've mentioned earlier, iDebit is a payment processor that transfers funds from your online banking account. If online gambling is illegal in your country, your banking institution might decline to complete any transactions to and from online sports betting providers.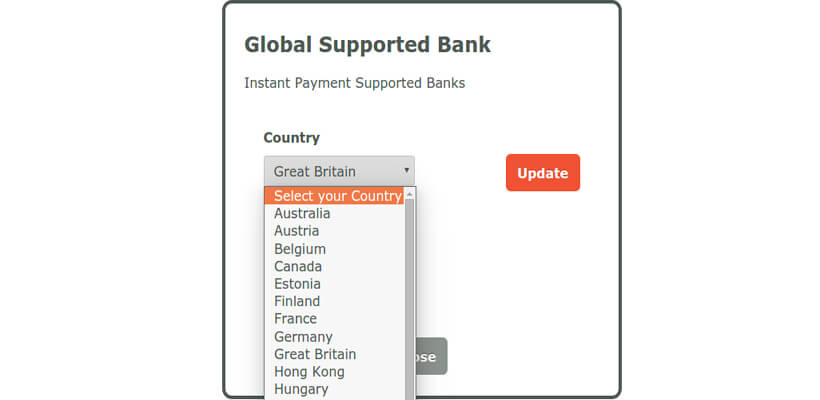 (Visited 872 times, 1 visits today)