Overview
Although contemporary sports betting fans are provided with a vast number of payment processors to choose from, they are looking for convenient payment options known for security, transparency, and affordability.
They can choose between a number of e-wallets and prepaid cards with the aim of protecting their banking details or just minimizing the risk of overspending. Despite the great variety of payment methods, bank transfers are the oldest, but still widely preferred option for depositing funds to one's sports betting account.
The main advantages of this payment method are its universal acceptance by the majority of sports betting operators, its trustworthiness, and the fact that both deposits and withdrawals are supported. In spite of the growing popularity of many contemporary payment solutions in the last two decades, wire transfers are still preferred by many bettors.
The availability of online banking options has made this type of payment even more popular. Now, you can manage your bankroll via your computer or mobile device and deposit funds in a safe and secure manner.
In the lines to follow, we are going to cover the essential aspects of managing one's sports betting account via bank transfers, including the fees that this method entails, its main advantages, and disadvantages.
Find the best Bank transfer bookmakers here
How Does Bank Transfer Work
Technological development has brought considerable changes as far as banking products and services are concerned. Now, it is not even necessary to visit the physical branch of your bank in order to make a bank transfer. Actually, this is just one of the methods, while the other two include online bank transfers and transfers over the phone.
The bank transfer, also known as a wire transfer, is one of the most widely preferred options for the transmission of money from one account to another. Actually, if you are looking for security, reasonable fees, and efficiency, bank transfers are probably the best choice as scams are rare and transactions are processed only when the receiver and the sender are identified by the bank institution.
In a nutshell, bank transfers allow bank customers to exchange funds without exposing any key details to unnecessary risks. Funds can be transferred from your account to the receiver's even if the latter is based in another city or country.
What makes bank transfers such a convenient and secure payment option is the fact that customers do not handle any cash. The transaction is electronically processed by the bank.
If you are the sender, you need to get the receiver's banking details including their full name, account number, routing number, address, and the phone number of the bank of the recipient.
Next, you have to make sure that you have sufficient funds to complete the transaction and then inform your bank about the exact amount you would like to be transferred. Give the aforementioned information about the recipient and once the transaction is processed, you will be given a receipt.
If you decide to perform the transaction on your own, you have to log into your online banking and follow the instructions. However, many banks require the customers to undergo authorization procedures before being given the right to process such kinds of transactions over the Internet.
Although the standard amount of time required for a bank transfer to complete is 3 to 5 days, more and more banks strive to provide their customers with efficient services, and transactions are usually processed within an hour or two.
In point of fact, cash is immediately transferred from the sender's account to the recipient's but some time is necessary until the sum reflects in the receiver's account.
Registration
There is no need to wait for a couple of days until your account is ready to use. Every account holder can visit a bank branch and request a bank transfer to be processed. Yet, the online bank transfers require initial authorization, and then, you will be allowed to send money in a time-saving manner.
Deposits
As far as deposits to online sports betting sites are concerned, you need to set up a payee with the bank you have an account with. Then, you have to obtain the required information in order to be able to transfer the funds to the bookmaker. What you need to know is how to reference the transaction. In most cases, this is either your username or account ID.
In other words, you need to write down the information for the bookie in the required fields. You will be supposed to enter the bookie's name, account number, username, or account ID, so the bookie knows who is making the deposit. In order to complete the authorization, you have to receive an SMS code or generate a unique code by using a card reader.
Depending on the bank you have an account with, it may take between a few hours and a couple of days for the money to be routed to the bookie's account. Please keep in mind that if there is a holiday or you initiate a transaction during the weekend, it can take longer.
Depending on the country you reside in, you might be required to perform a bank wire, where you will be supposed to provide some additional information. Some banks offer their customers the so-called fast bank transfers, which clear within an hour or two.
Withdrawals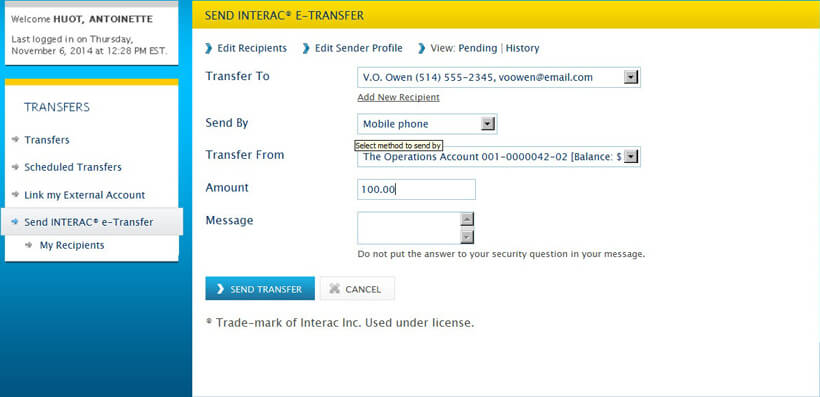 In point of fact withdrawals via bank transfer are not really widespread although they are a convenient method for cashing out your sports betting winnings.
If you have, after all, decided to do that, you have to go to the cashier page of your bookie, enter the amount you wish to withdraw, fill in the name of the bank account holder, the account number, SWIFT, the Routing number, the Beneficiary bank name, and the country of the bank. However, you might not be allowed to withdraw your winnings via bank transfer unless you have used this method for depositing funds.
What makes withdrawals via bank transfer less popular than withdrawals via a certain e-wallet is the fee deducted for the transaction. The other reason that makes punters shy away from this withdrawal method is the fact that the withdrawal requirements are more complicated and you must have generated solid winnings in order to be allowed to initiate a withdrawal via bank transfer. What is more, withdrawals via bank transfer require verification and as a result, more time is necessary for the transaction to complete.
However, there is another side of the coin. Your bank might clear the transaction in a time-efficient manner, but the bookie itself may impose delays. Since every bookie has its own policy regarding withdrawals, you are advised to read the terms and conditions and find out how long it takes for a withdrawal request to complete.
Fees
Sports betting fans should be aware of the fact that the fees associated with bank transfers are largely dependent on the type of transfer, the banking institution, and the sportsbook operator they have signed up with.
First of all, the money transfer could be either international or domestic, based on your location and that of the bookie. If the bookie you have an account with is based in the country you reside in, you should not have to pay a fee or it will at least be a negligible amount. However, banks usually impose heavy fees for international transfers, so you are strongly recommended to check how much it will cost to make an international bank transfer.
The popularity of bank transfers as a viable payment method is partly descending due to the fact that they could be quite an expensive option to load money into your sports betting account. The fees tend to vary from one banking institution to another. Furthermore, there might be fees associated with withdrawals and their value is usually deducted from your sports betting balance.
Each banking institution has its own internal policy according to which fees are calculated. There can be either flat fees or such that make up a certain percentage of the transferred sum of money. The latter could be very disadvantageous to sports betting fans since the larger the amount they would like to deposit or withdraw, the more substantial the imposed fee would be.
Sometimes, the overall expenses related to bank transfers could be magnified due to currency conversion expenses.
In order to avoid such additional expenses, sports betting fans are strongly recommended to contact the customer support department of their bank and demand further information regarding the related fees.
As for the bookies, most of them do not charge a fee for deposits. However, withdrawals via bank transfers entail fees in some cases. They tend to vary between $25 and $50 per transfer.
Fees Summary
Operation
Time
Cost
Deposit to bookie
1-3 business days
If there are fees, they vary across sportsbooks
Withdrawal from bookie
Up to 5 business days
If there are fees, they vary across sportsbooks
Deposit with card
N/A
N/A
Withdrawal to card
N/A
N/A
Deposit with bank account
1-3 business days
If there are fees, they vary across sportsbooks
Withdrawal to bank account
Up to 5 business days
If there are fees, they vary across sportsbooks
Security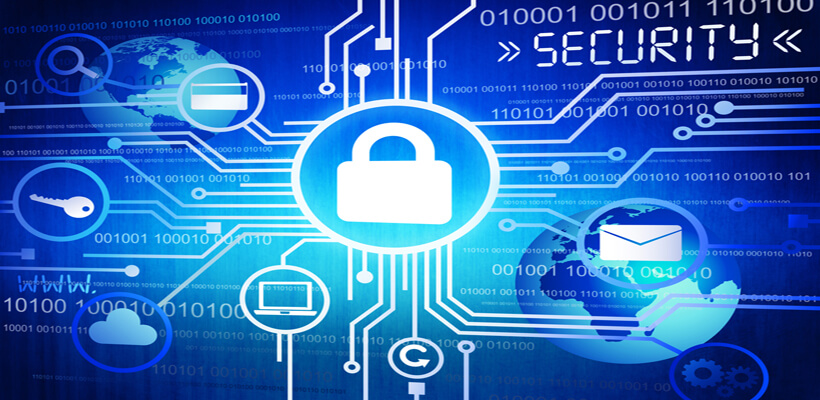 From different e-wallets to various prepaid cards, it seems sports betting fans have a myriad of payment solutions at their disposal. However, wire transfers remain one of the safest methods to manage your transactions to and from online bookmakers. Sports betting fans who prefer bank transfers usually feel reluctant to involve third-party processors in the process.
What makes bank transfers such a secure method for sending and receiving money is that one cannot initiate a deposit or withdrawal anonymously. On the contrary, the bank would not complete the transaction unless the identities of both the sender and the receiver are approved.
In addition, you don't have to handle any cash as the transaction is electronically processed. If you are able to make online bank transfers, you are not advised to access your account via public Wi-Fi networks. The latter is one of the best practices adopted for protection against identity thefts, phishing attacks, etc.
Contemporary banking institutions utilize state-of-the-art security policies and encode transactions.
When you make a bank transfer to a bookie, the latter receives sensitive personal and banking information. Bettors usually feel reluctant to share such information, but they should be aware of the fact that it is secured via SSL encryption, making it inaccessible to fraudulent online activity.
Furthermore, if due to whatever reason the transfer of funds fails to go through, sports betting fans could always contact their bank and seek resolution to the issue.
It is also important to mention that in some countries bookies have to adhere to stricter banking regulations and as a result, they accept bank transfers from a limited number of countries.
Mobile App
Sports betting on the go via different handheld devices has been constantly rising in popularity in recent years. As a whole, contemporary mobile technologies have revolutionized the way we approach our errands, including the payments we are handling every single day. The leading banking institutions over the globe realize the importance of mobile compatibility and its incorporation into their operations.
Gone are the days when you had to go to the bank branch and wait in line to pay your bills, send or receive money. Now, you are enabled to take advantage of different banking services without leaving the comfort of your home. Every reputable bank has either an app or a mobile version of the site where customers are enabled to process transactions in a fast and secure manner.
The process of using app-based or in-browser banking while betting on the go is quite simple and plenty of sports betting fans have adopted it. Once punters are logged into the mobile version of their sportsbook account, they need to head to the cashier section where they should select the bank transfer as their desired method to top up their account. The next step would be to fill in the necessary banking details.
Telephone transfers are yet another option whereby bettors call the relevant bank in order to request a transfer. Telephone banking services could be either automated or performed by bank customer representatives. However, in view of the fact that online banking is a very convenient option at hand, telephone transfers are less common nowadays.
Users of mobile banking services are strongly recommended to double-check each digit and make sure that they have enough finances to carry out the financial operations in order to avoid unwanted delays.
Mobile App Features
Send Money
Yes
Receive Money
Yes
Top-up from bank account
No
Withdraw to bank account
No
Deposit to bookie
Yes
Withdraw to bookie
Yes
Advantages
Just like all other sports betting payment methods, bank transfers have their own set of advantages and disadvantages, which should be carefully considered by bettors, in order to make optimum decisions for their sports betting sessions.
Although some bettors perceive bank transfers as a rather old-fashioned method, it remains a very safe way to fund your sports betting account. Bank transfers provide the necessary level of security, and this is the main reason why punters choose it over some other payment processors. Bettors are not supposed to share their banking details with any third parties other than the two banks involved in the process. Furthermore, bettors might be able to transfer funds by logging into their online banking via a computer or a mobile device.
Every bank institution aims at protecting its customers from dishonest practices, so you can be sure that your information is heavily encrypted. As for the relevant sportsbook receiving the funds, in case it is a safe and trustworthy brand, it also encodes the personal and banking information of its customers.
Besides safety, another important advantage of bank transfers is their familiarity and the fact that many bettors are accustomed to them, simply because they use the method several times a week or even on a daily basis for other payments that need to be done.
Bank transfers are usually preferred by punters who tend to stake higher amounts of money on sports betting events because the method usually allows for higher maximum limits.
And last but not least, bank transfers are universally available, meaning that almost all sportsbooks across the globe offer them as a viable method to manage one's finances. Unlike many other methods, bank transfers support both deposits and withdrawals.
Disadvantages
Speaking of the disadvantages, the high commissions for international transfers are probably the main reason why some punters opt for alternative payment solutions. As already mentioned, the fees depend on the policy of the relevant banking institution and could be either a flat amount or a percentage of the transfer. Those fees could be quite substantial and this causes many bettors to shy away from bank transfers and look for other cost-efficient methods.
Bank transfers and international ones, in particular, may take up to one week, which can be a serious issue if you would like to place your wager right away. Timeframes tend to vary for different banks and processing times may be anywhere between several hours and several days.
Most punters would like to start their sports betting sessions right away, particularly when they are exploring some thrilling in-play markets, which require instant reactions to the way games are unfolding. That said, bank transfers that require several days in order to reach bettors' accounts sound very disappointing.
The same applies to withdrawals, which could take even longer than deposits, taking into consideration that sportsbooks carry out verification procedures of varying lengths.
Although bank institutions do their best to protect customers from fraud, there is still such a danger. In case you are a victim of deceitful activity, usually you can recover your financial losses once the bank carries out due investigation of the case.
Countries Where Bank Transfer is Used as a Deposit Method for Sports Betting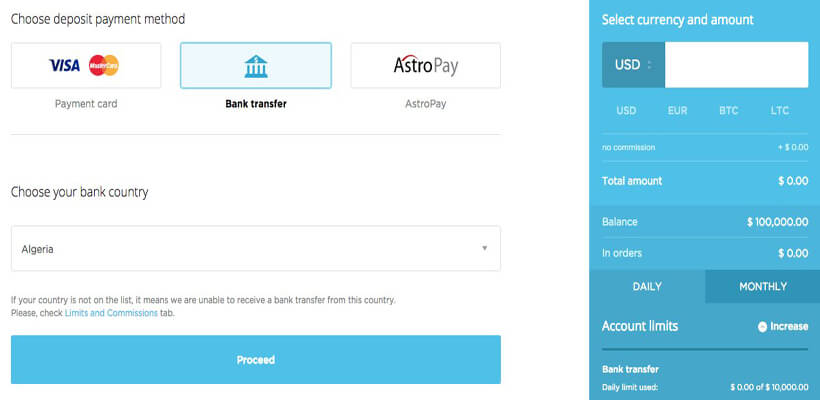 Bank transfers are the longest-standing and most common method of electronic transfer of funds. Almost all banks and sportsbook operators support this type of payment. Before the technology boom during the last two decades took place and brought about the proliferation of various banking solutions, bank transfers along with card payments were the only options at the disposal of sports betting fans.
Due to the large number of banks available over the globe, there are different types of bank transfers and their characteristics tend to vary in terms of costs, time-efficiency, and limits.
Actually, the wide acceptance of bank transfers is the feature, which makes them so popular. Although the method is available across the globe, bettors should not forget that domestic and international transfers involve different fees. As per European Union regulations, the cost of IBAN/BIC transfers happening within the limits of the SEPA area (Single Euro Payments Area) should not exceed that of domestic transfers.
Bank transfers are a widely accepted form of payment but as far as deposits and withdrawals to sports betting websites are concerned, you have to be aware of the following. You have to make sure that the bookie is based in a country where sports betting is legal, otherwise, your transaction might be rejected. In case your bank transfer request is actually rejected, you can always opt for the most widespread e-wallets or prepaid cards.
FAQ
Yes, bank transfers usually allow for withdrawals, not only deposits, and that is one of their major advantages.

Yes, bank transfers are considered among the safest options available to sports betting fans, in view of the advanced encryption technologies utilized by contemporary banking institutions.

Timeframes for withdrawals depend on the bank and they tend to range generally between 3 to 5 days. Some withdrawals are processed for up to 7 business days and that is a major reason for many sports betting fans to opt for other payment solutions, such as e-wallets, prepaid cards, credit cards, and cryptocurrencies.

In order to fulfill the expectations of a possibly larger portion of sports betting enthusiasts, most of the sportsbook operators across the globe have included bank transfers in their list of supported payment methods. In case bettors are not sure if the method is supported by the sportsbook they are interested in, they could always check the cashier section or request the information from a customer support representative.

If your bank offers mobile banking, you do not have to visit the physical establishment. Most banks offer that feature nowadays and bank transfers can be initiated in a safe and hassle-free manner from the comfort of your surroundings.
(Visited 1,744 times, 1 visits today)