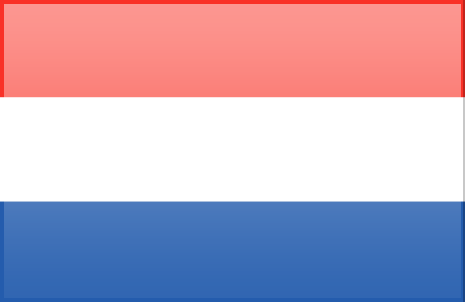 The Netherlands is a country best known for its tulip fields, windmills, wooden shoes and innovative water management. Even though the country is not especially popular for its sports activities, the latter are deeply engrained in Dutch culture. This statement is further supported by the fact that out of 16 million residents, 4.5 millions are registered in one of the 35,000 sports clubs in the country.
As we all know, the Netherlands' citizens are avid cyclists since bicycles are the preferred method of transportation there. That is why, cycling is one of the most popular sports activities in the Netherlands.
Historical Overview
The first evidence of organized sports betting in the country dates back to the 18th century. It all began when the national state lottery, called the Nederlandse Staatsloterij, was founded in the distant 1726 in the city of Hague. Interestingly, the Netherlands' lottery is considered to be the oldest state lottery in the entire world. It was at this time, when the country's Parliament introduced lottery games for the first time. The Staatsloterij operates to this very day, not to mention it continues to enjoy a tremendous popularity among residents. In fact, half of the country's population participates in the games, available at the lottery.
Find the best Dutch bookmakers here
A MINIMUM deposit of $100 is required to qualify for the 50% bonus. All deposits lower than $100 will receive a 25% bonus. The maximum bonus per deposit is $1,000. All rollover requirements must be met prior to requesting a payout.
Join Bovada, make your first deposit and instantly receive a 50% Sports Welcome Bonus up to $250.
Unfortunately, at the turn of the 20th century, betting on sports and all forms of gambling were completely prohibited in the country. The only gaming options Dutch players were left with, were those provided by the Staatsloterij.
Several decades later, in 1961, sports betting was once again declared legal and was monopolized. Placing bets at horse racing events was allowed. In the 1970s, the monopoly was extended to encompass casino games.
Of course, the growing popularity of gambling activities called for stricter regulations. That is why the Netherlands Gaming Control Board was officially introduced in 1996. Its purpose is to monitor gambling activities and control the monopoly in the country.
The advent of technologies further contributed to the popularity of sports betting. In the 1990s, the Dutch government made several attempts to regulate such activities by passing a law prohibiting banks in the country to process transactions to and from foreign bookmakers. The attempts failed, as Dutch banking institutions ignored the ban since they believed it violated the citizens' rights.
For the past two decades, online sports betting has been considered illegal, especially if punters placed their wagers at international sportsbooks. Up until last year, there was only one online betting provider in the Netherlands, which was allowed to legally offer its services to Dutch punters. Its name is Toto and it is run by monopoly operator De Lotto. However, in 2013, the Dutch government took steps to legalize betting at foreign providers, after the latter are granted licenses, of course.
Relevant Legislative Framework
When it comes to online sports betting, the country's authorities are not very liberal. Until recently, Dutch punters had been permitted to place bets only at the Dutch-run online sportsbook, Toto. Thankfully, things changed for the better as in 2015, the government introduced some amendments which rendered wagering at international sportsbooks completely legal. The country's coalition, consisting of two parties, namely the VVD and the Labor Party, reached an agreement to liberalize the online gambling sector by allowing foreign sportsbooks to offer their services to Dutch residents.
Naturally, the said web-based bookmakers are expected to apply for a license which is to be issued by the country's authorities. In most cases established sportsbooks are licensed, but their permission to operate has been granted by another country's jurisdiction. For this reason, they are not allowed to offer their betting services to Dutch residents. This ban, however, was largely ignored by both punters and betting providers.
Fred Teeven, the Netherlands' Minister of Justice, specified in a statement, the applicants will have to comply with "very strict conditions", if they wish to be issued a license. The idea of banking institutions, blocking transactions to and from foreign betting operators was also revisited. At the end of 2015, the first foreign providers were expected to apply for their licenses. The latter are to be issued by the Netherlands Gaming Authority (NGA). Meanwhile, the Remote Gambling Act in the country, came into force at the beginning of 2015, after it has been revisited.
The Remote Gambling Act enables punters to place bets at fixed odds. Live betting and parimutuel betting are also allowed. Dutch bettors should note they are permitted to bet on the outcome of sports events only. The so-called "exotic" wagers are not allowed. This means punters cannot bet on the probable date on which the Queen of England will abdicate or to predict who the new PM will be. The same is valid for spread betting, which remains illegal in the Netherlands.
The licenses are to be issued by the Games of Chance Authority. One of the aforementioned "strict conditions" is that the betting provider should have a stationary seat in the EU or EEA (the European Economic Area). If not, the bookmaker should at least be licensed and supervised by another country's regulatory bodies.
The international betting providers are also expected to redirect customers from the Netherlands to a special domain, ending in ".nl". This should serve as a sufficient indication the gambling activities at the website are monitored by the Games of Chance Authority. Licensees are required to take adequate measures to bring the risk of gambling addiction to the absolute minimum. To do so, sportsbooks should provide information on the risks of addiction, which are to be written in a comprehensive and simplified manner so that punters can understand them better. The suggestion of the Games of Chance Authority is to list the possible risks gambling poses, as well as to give punters the option to do a test on possible addiction problems.
The licensing process has still not come to an end and a number of online betting operators are yet to be granted a permission to function in the country.
Restrictions
Licensees are expected to meet a great number of criteria in order to obtain a permission to operate on the Dutch market. We've already mentioned some of them in the preceding section. However, it is important to mention, online sportsbooks are required to pay taxes on the revenues they've accumulated by providing their services in the country. This is imposed by the Betting and Gaming Tax Act. The betting providers must pay a tax amounting to 20% of their gross profits. It should be noted that depending on each individual case, bookmakers might be required to pay some additional taxation, such as value added tax and corporate income tax.
Betting providers should pay the expenditures for the application procedure – between €45,000 and €50,000. Each licensee should contribute to a special fund designed to help people who battle with gambling addiction. Punters, on the other hand, are not required to pay taxes on their winnings.
In addition, the licensees should make a copy of all transactions in a special reference data bank and provide them to the Games of Chance Authority, whenever they are needed. Another requirement is user accounts verification. Before a Dutch punter can place a bet, they will need to verify their identity by funding their account. This way, it will be easier to trace back whether the bank account number and the punter's name coincide. Presenting a scanned copy of one's ID card or passport may also be needed.
The above requirements will make it easier for authorities and betting providers to prevent minors from engaging in gambling activities on the Internet. Keep in mind only persons who are 18 years old or older can legally participate in such activities.
Popular Sports to Bet on
Although the Netherlands is predominantly popular for its tulip fields and windmills, betting on sports events' also enjoys a wild success among residents of the "Lower Countries". Several surveys indicate Dutch punters spend between €250 and €800 million on online sports betting per year.
Of course, most people bet on soccer events, which is understandable as the Netherlands' national team is largely considered to be one of the best in the world. Many wagers are placed on their domestic league, called the Eredivisie. Nevertheless, soccer fans often choose to back international teams from the English Premier League and the Spanish La Liga.
Hockey and volleyball come at second and third place. This can be attributed to the fact the 2014 Hockey World Cup was held in the Hague. The Dutch team has won the Cup three times, so it is only natural for Dutch punters to back their national team.
As bicycles are a common means of transportation in the country, it makes sense cycling enjoys a great popularity as a competitive sport as well. The performance of Dutch cyclists in Tour de France is marked by great success, so there is a dedicated fan base to bet in their favor.
Horse racing is the most widespread form of racing in the Netherlands. Each year, from April to November, hundreds of racing fans and bettors congregate at the Duindigt racetrack, located in the Hague. The Dutch are obviously quite enthusiastic about racing as bets are often placed on both trotting and endurance races.
Other popular sports are tennis, golf, gymnastics, kick-boxing and speed skating.
Popular Bookmakers
The good news is the sports mentioned in the previous section are covered by most web-based bookmakers. Furthermore, betting providers offer an extensive range of wagering options at very appealing odds. All major sports leagues, such as the NBA, ATP, NHL and NFL are available. Soccer receives even more comprehensive coverage as punters can choose between various events from international and domestic leagues. The most popular options are the Premier League, the UEFA and FIFA Championships.
Punters who bet online will benefit from the useful features most sportsbooks have on offer. In many cases, bets are accepted on games which are still in play, thus increasing the bettors' chances of winning. Online sportsbooks provide their customers with the opportunity to check the latest statistics and scores. Events can we watched online in real time, thanks to the Live Streaming feature. For greater flexibility, many betting providers are available in a mobile format or offer downloadable applications for portable devices.
Of course, before Dutch punters proceed to place their bets, they should first make sure they have registered with a reliable and legitimate sportsbook. One way to see whether your bookmaker of choice is reliable is to check for its license number and the name of the institution which has issued the license. Transparent bookmakers usually publish such information at the bottom of their homepage. Below you can find suggestions for sportsbooks, suitable for Dutch punters.
Stan James
This brand name has been at the forefront of the betting industry for quite some time. The bookmaker has been continually working to improve the quality of its service and to a great extent has succeeded. Dutch punters are more than welcome to join the sportsbook and place their bets on the many innovative markets, available at Stan James.
The bookmaker is completely reliable. This statement's veracity is further substantiated by the fact Stan James operates under a license, issued by the Gambling Commissions of Gibraltar and the UK. Providing a secure betting environment is one of the bookmaker's top priorities. To achieve this, Stan James employs the best SSL encryptions and ensures the risks of frauds and identity thefts are brought down to the absolute minimum.
One of the most appealing features Stan James has to offer, is In-Running betting, also known as In-Play betting. A special team of experts update the odds while the games are still in progress to make sure they remain accurate.
Undoubtedly, the greatest advantage of betting at Stan James is being able to choose from a great number of sports. Some of the most popular options include American football, soccer, basketball, tennis, cricket and baseball. Dutch punters will be delighted to find some of their favorite sports on Stan James' list – volleyball, horse racing, hockey and of course, cycling. As the website is available in a mobile format, bets can be placed any time, anywhere.
bet365
bet365 is without doubt among the biggest names in the industry. Punters from all around the globe choose to stop and place their bets there. The same applies to bettors from the Netherlands. There are plenty of advantages of registering with an account at this web-based bookmaker. For instance, bet365 offers a number of useful features, such as In-Play betting and Live Streaming. The great news is one is not required to pay in order to watch the real-time streaming of sports events. However, punters must bear in mind, they should have funded their accounts or placed a bet within the last 24 hours, if they want to watch the stream.
Another great functionality that is on offer at bet365 is Cash Out. It enables punters to withdraw a return before a given game has ended. Bets can be cashed out partially or in their entirety, which is a great way to control your finances and profits.
Bet365 has a mobile version – the sportsbook can be accessed directly through your portable device's browser. Meanwhile, a downloadable application is also on offer. The latter is compatible with Blackberries, Android, Windows and iOS-based devices.
The variety of sports events and markets is truly staggering. Over 30 different sports are included in the sportsbook, so Dutch punters will surely find something that suits their individual preferences. Some of the interesting alternatives include basketball, golf, baseball, volleyball, horse and greyhounds racing, golf and tennis. Of course, soccer is also present as all major international and domestic leagues are sufficiently covered. Customers from the Netherlands will be able to place bets on events from the Eredivisie.
Coral
Coral is yet another reliable sportsbook which accepts punters from the Netherlands. This bookmaker's history is rather long as it dates back to 1926, when Joe Coral set up his first betting stall at the local racetrack. Coral has gone a long way since its inception. Today, there are over 1800 betting outlets (in the UK alone) that bear the brand name, not to mention it has gone online to cater to punters' demand. The online version of the sportsbook is licensed and regulated by the Gibraltar and the UK Gambling Commissions.
Dutch punters, who join Coral will be able to choose between a wide range of sports. All important sports championships are covered, but some of the most popular options include the Premier League and NBA. Bets are accepted on volleyball, baseball, ice hockey, horse racing, tennis, boxing and cycling, but these constitute only a small portion of what Coral has to offer.
The menu is exceptionally user-friendly and easy to navigate through. In addition, live results, and up-to-date odds are published on regular basis. The same applies to teams and athletes' form and performance as there is a separate section, where such information is offered. A Cash Out feature is available as well, so that punters can cash out their winnings before the game ends. Thanks to the Live Streaming service, punters are able to watch all kinds of sports events directly from their desktop computers, laptops or mobile devices.
32Red
32Red is a real powerhouse in the world of sports betting. This is a UK-based sportsbook, which operates under a license, issued by the Gibraltar's Gambling Commission. This fact, alone, suffices to cement the bookmaker's reliability.
Punters from the Netherlands will be delighted to hear their country is not listed among 32Red's restricted territories. This means Dutch customers are more than welcome to join the website and register with an account. Thus, they will be able to enjoy betting on a vast array of events and markets. Popular options include tennis, golf, cricket, soccer, basketball, boxing, volleyball, hockey and cycling. Bets on games of chess are also accepted. The racebook on the other hand, covers horse and greyhounds racing, but motor sports are included, too.
But diversity is not the only benefit of registering at 32Red. The bookmaker offers a number of useful functionalities such as Live betting. Meanwhile, the odds are available in all three popular formats, namely decimal, fractional and American. To show its appreciation to customers who register at the sportsbook, 32Red greets them with nice welcome bonuses and offers many other ongoing promotions.
William Hill
William Hill is frequently referred to as the "Home of Betting" and this title is entirely justified. This name has become synonymous with tradition, fairness and reliability. This is not surprising, as William Hill is among the oldest and most respected sportsbooks in the world. Thousands of punters from different nationalities decide to pay a visit to the bookmaker's website and take advantage of the great diversity of markets and the enhanced odds.
William Hill's sportsbook comprises of about 30 sports, including basketball. Soccer, tennis, cycling, volleyball, golf, horse and greyhounds racing. Less popular sports like hurling are featured as well. What's more, bets can be placed on games which are still in progress. All it takes is to head to the In-Play section of the website. Live streaming of sports events and a sports radio are available, too.
Inexperienced punters will be glad to hear there is a Bet Calculator, which will help them calculate their returns. The calculator can be used for both single bets and accumulators, consisting of up to eight selections. The classic sportsbook keeps up with the times by offering its services on mobile devices, too.
(Visited 2,252 times, 2 visits today)