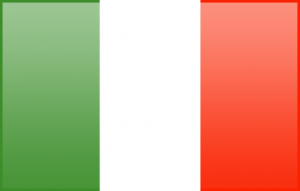 Gambling activities have been an inseparable part of the lifestyle of Italian people regardless of their social class. The first record for gambling activities dates back to the Roman Empire era. Back in the 1640s, the first gambling house was established but only the wealthiest Italians could afford to gamble because of the high stakes and the incredibly high house edge. Various sources suggest that Italy was the country of origin of baccarat.
Historical Overview
The growing popularity of gambling led to the necessity of establishing more gambling venues and providing residents with the opportunity to engage in a wide variety of casino and sports betting activities. Today, all forms of gambling are allowed on Italian soil and as far as sports betting is concerned, it is absolutely legal provided that users opt for AAMS-licensed betting sites. In point of fact, the Italian betting market is flooded with such sites and all of them provide the necessary level of security.
Although Italy is a pretty liberal country when it comes to allowing its residents to take part in gambling activities, these activities are strictly regulated and kept within the country borders. The year 2007 saw the Decree on Liberalization (Article 38) establishment. According to it, all forms of gambling on the territory of Italy are legal. However, the first online gambling licensees were authorised to start operating in 2010. The gambling authority that oversees casino and sports betting activities is AAMS.
Find the best Italian bookmakers here
A MINIMUM deposit of $100 is required to qualify for the 50% bonus. All deposits lower than $100 will receive a 25% bonus. The maximum bonus per deposit is $1,000. All rollover requirements must be met prior to requesting a payout.
Join Bovada, make your first deposit and instantly receive a 50% Sports Welcome Bonus up to $250.
What makes Italy stand out from the other jurisdictions where online gambling is legal is the fact that licenses are issued to reputable operators only. Some jurisdictions issue licenses to every company that applies, but in Italy, things are different. Operators need to meet a number of requirements before being allowed to enter the Italian betting market.
Relevant Legislative Framework
According to the Italian Criminal law, gambling activities are illegal. No one has the right to organize gambling-related events in public clubs or private houses. However, there is another side of the coin. The Italian law sets apart games that require pure luck from games that require the player to have special skills. In other words, sports betting on Italian soil is legal as the outcome of the sports event does not depend on punters' skills.
Amministrazione Autonoma dei Monopoli di Stato is the Italian gambling authority that is in charge of overseeing the gambling activities that take place on the territory of the country. It also grants licenses to operators willing to enter the Italian market and imposes penalties to operators and individuals who violate the established rules and regulations.
In point of fact, the country has once prohibited all kinds of gambling activities but later on, some of them were legalized provided that operators adhered to the strict rules. What made Italian officials impose such strict regulations was their intention to protect the vulnerable part of the population from the negative consequences excessive gambling brings about.
The year 2006 saw the liberalization of the Italian casino and sports betting market and the following amendments have come into force:
Real money skill games and betting exchange were legalized and operators, licensed by European jurisdictions were allowed to enter the Italian gambling market.
Operators were given the chance to apply for a new license that would allow them to legally run an online gambling website.
The Finance Act 2007 was regarded as yet another milestone towards making the Italian gambling regulations compatible with the fast changing gambling market conditions. However, the real breakthrough for the Italian legislative matters was the "Comunitaria" decree dating back to February 2001 that legalized casino and poker games.
Actually, the process of liberalization of the Italian gambling laws was started due to the criticism Italian authorities received from the European Commission. According to the European Commission authorities, Italian rules and regulations were outdated and the legislation itself was defined as stringent. Actually, at that time, even licensed European operators were not allowed to provide their services in Italy. The Italian National Olympic Committee and the National Horse Breeders Enhancement Society were the two organizations, allowed to run sports betting websites.
Real money games have been legal since March 2010 but in order to be allowed to provide casino and sports betting services, foreign gambling operators are supposed to obtain an Italian license by the Amministrazione Autonoma dei Monopoli di Stato – Autonomous Administration of State Monopolies. The latter issues licenses for skill games, tournaments, poker games, casino games, sports betting, horse pools, etc.
When the Palinsesto Complementare came into force, operators were allowed to offer their own types of bets and events. In addition, operators were required to provide two or more reliable sources of information of the results of bets. However, the latter requirement appeared as a setback for some live bets where the result was not to be found at any reliable source. What is more, each operator was required to store records of sports events for 10 years, which was not only expensive but also likely to breach IP owners' rights.
However, the regulations have been recently changed and operators are no longer required to adhere to the aforementioned rules. Since they are not supposed to verify the bet results, the competition on the sports betting market was intensified.
However, Italians are also enabled to opt for an international bookmaker. For the time being, there are two different sports betting regimes operators have to adhere to.
The first regime requires certification of the sports events and compliance with the AAMS schedule, while the second regime is more liberal and allows operators to offer customised bets and events.
Restrictions
According to the existing laws, Italian residents should be at least 18 years old in order to be allowed to partake in sports betting or casino games. As for the tax rates operators are supposed to pay, they vary between 3% and 20% depending on the type of games they offer.
It is important to note that in order to place a legal wager, you should beware of the domain the site is run on. Legal sites are run on .it domains and every operator that provides illegal casino and sports betting services in Italy is at risk of facing a heavy fee and even imprisonment. As mentioned above, licenses are issued by the AAMS officials.
Italian bettors are enabled to take advantage of a large number of payment processors but Ukash is among the most widespread forms of payment. Basically, every limited company can apply for a license.
Popular Sports to Bet on
Italians have a wide array of sports to wager on but various surveys suggest that the most popular sport is football where Serie A events usually attract a lot of punters. Tennis, F1, horse racing are also among the sports Italy-based punters find particularly exciting.
However, horse racing industry in the country has experienced a lot of setbacks over the last couple of years, and now it is not as popular as it used to be. Apart from online betting, punters can also visit land-based venues including coffee shops, news stands, etc, where they can place a wager.
As already mentioned, football is the most popular sport throughout the country but punters are not limited to wagering solely on Serie A events. As a matter of fact, all bookmakers available on the Italian market offer a great football coverage including Bundesliga, Premier League, Coppa Italia, Trofeo TIM, etc.
Punters also have the opportunity to choose among a decent number of bet types including over/ under, handicaps, full time/ half time, scorecast. Pre-match and in-play betting are also among the options Italian punters enjoy.
Tennis is a common sport for placing a wager on and the best thing is that there is not actually an off season. There is always an exciting tennis event you can wager on all year long, so there is a great variety of markets to choose from.
Volleyball deserves to be included in the list of the most popular sports throughout Italy although it used to be more popular in the 2000s. According to various statistics, NBA basketball, MLB baseball, NHL hockey are also popular. Italian officials pay attention to responsible gambling and urge punters to know their limits and avoid overspending.
Popular Bookies
bet365
It is not surprising that bet365 is one of the leading online bookmakers worldwide and Italian customers are also allowed to enjoy the great array of services available at the site. Needless to say, bet365 provides you with the chance to bet on major leagues ranging from the Italian Serie A to the Bundesliga and English Premier League. Of course bettors can wager on leagues that are not so popular. Basically, there is a great number of profitable opportunities including but not restricted to cycling, tennis, horse racing, motor sports, virtual sports.
When you click on the desired sport category a drop down menu unfolds and you are provided with a decent number of options to wager on. For example, if you are keen on motor sports and you click on that category, you will be urged to choose between F1, motorbikes, etc.
The bookie has made it possible for punters to place bets through their mobile devices and enjoy all functionalities they might need for a profitable betting session.
888Sport
888Sport has managed to become a leading bookmaker, associated with transparency, fast and secure payouts and last but not least, a great market coverage. The European-facing websites of 888 show that the bookmaker is well-aware of the demands of punters from different countries. That is why the local content as well as the promotions are always carefully picked. Yet, some punters believe that the odds can become even better.
The Italian website is user-freindly and punters can easily find information about upcoming events or the margins. The fast links to live betting, soccer and horse racing are also appreciated by users. Odds are constantly being updated and users are welcome to engage in the dynamic In-Play experience.
William Hill
There are not many bookmakers that can take pride in having such a long history but William Hill is definitely one of the oldest and most reputable bookies worldwide. The bookmaker has been operating for several decades and during that time it has expanded its coverage to three continents.
As for the Italian website, punters are to find a wide array of sports to wager on including domestic and international sport events such as football, hockey, American football, cricket, ice hockey, rugby. Leagues that are not so well-known are also available.
To be honest, William Hill does not always offer the best margins but the odds, especially when it comes to major leagues, are pretty decent.
European basketball and tennis Grand Slams are among the exciting markets William Hill offers to its customers. It is also famous for providing an incredible variety of in-play markets as well as a mobile version of the site where punters can wager on different sports including volleyball, rugby, tennis, basketball, etc.
Paddy Power
Paddy Power is known as the most prominent Irish bookmaker. What makes it stand out from the rest is the combination of edgy, humorous and innovative content and of course, the great betting markets. In point of fact, Paddy Power is a bookmaker popular for accepting different bet types on any event that takes place around the world.
Upon checking the current markets, you cannot help noticing that some of the odds are highlighted in blue, while others are highlighted in red. The red means the price is shortening and the blue indicates the opposite – the price is lengthening. Paddy Power manages to keep its odds competitive and focuses mainly on football, horse racing, golf, boxing, basketball, tennis, winter sports, MMA.
Paddy Power has successfully found the happy medium between providing punters with great sports betting opportunities and keeping the betting process entertaining.
Pinnacle
Pinnacle is the bookmaker known for offering the lowest margins and the highest limits in the sports betting industry worldwide. It is considered one of the most reliable bookmakers, offering secure services and a great variety of sports betting markets. In addition, Pinnacle does not charge a commission on winnings. It is believed to offer better value than a betting exchange.
Pinnacle has the highest odds and limits and besides, it accepts all types of bets – parlays, teasers, over/ under, handicaps, goal line, moneyline, etc. However punters point the lack of live streaming as a main disadvantage.
Pinnacle has the best odds in Premier League, La Liga, Bundesliga and Serie A. These leagues have just a 2% margin. You are also given the opportunity to wager on live basketball NBA, live NHL and NCAA.
(Visited 3,824 times, 1 visits today)