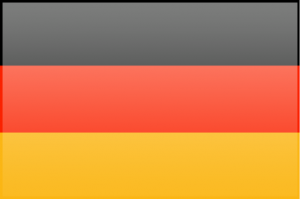 Sports betting can easily be deemed one of the most popular forms of recreation on a global scale. Germany is not an exception to this rule as such activities are widespread and pretty common in the country. This fact is not a bit surprising as gambling on sports in Germany stands out with a rather rich and long history. Bets are placed on an impressive array of disciplines, the most popular ones being soccer, basketball, tennis, cycling, golf, ice hockey, handball and of course, motor sports.
Historical Overview
In fact, as far as motor sports are concerned, Germany is an absolute leader. For instance, many Formula 1 pilots are of German descent. The most notable names include Sebastian Vettel and Michael Schumacher who together have won a total of 11 Formula 1 titles. Two of the most successful tennis players of all time, Boris Becker and Steffi Graf, are also born and raised in the country. It's no wonder, German fans choose to back their compatriots by placing bets in their favor.
Horse racing is yet another favorite option of German punters. Truth be told, betting on horse races is so widespread that there is an online German bookmaker, named RaceBets, dedicated specifically to this type of sport. There are over 50 prestigious race tracks across the country, the one in Baden Baden being the most well-known.
Find the best German bookmakers here
A MINIMUM deposit of $100 is required to qualify for the 50% bonus. All deposits lower than $100 will receive a 25% bonus. The maximum bonus per deposit is $1,000. All rollover requirements must be met prior to requesting a payout.
Join Bovada, make your first deposit and instantly receive a 50% Sports Welcome Bonus up to $250.
Each year, the Baden Baden horse racing festival which is held in early June, attracts massive crowds of punters and race fans. Usually up to 20,000 spectators gather at the track to observe the outcome of the horse races. In addition, Baden Baden can be credited as the home of the first legal casino in the world, which opened its doors over two centuries ago, in the distant 1765.
Naturally, many German punters opt for placing their bets on soccer and especially on events from the Bundesliga. The latter is commonly recognized as one of the best domestic leagues in the world. However, as German teams tend to frequently partake in events from international leagues, bets are often placed on matches from the Europa League and the Champions League.
Even though basketball is often considered an American sport, this couldn't be further from the truth. This game enjoys a tremendous popularity among German fans and punters as well. Most of them choose to wager on games from the German Basketball Bundesliga.
Since sports and betting are central points of interest to so many residents of the country, it's not surprising German authorities are rather strict and aim at regulating this industry. Especially, if you consider the fact 10% of all punters who wager online are from Germany. Even though betting on the outcome of sports events is not quite legal in the country, many residents decide to use the services of web-based bookmakers located outside Germany. There are numerous reasons for that.
First of all, the country's legislation in regard to sports betting is rather rigid, not to mention, taxes are imposed on such revenues. A sort of monopoly has been established on this industry as residents of the country are permitted to bet at OddBet only. This lack of choice causes punters to depart from the German betting market in search of greater value bets, diversity and tax-free wagers. Read on to find out more on Germany's legislation and strict policy on sports betting.
Relevant Legislative Framework
Allow us to begin by explaining wagering on sports in Germany is generally considered legal. However, there are certain things one needs to take into consideration. First of all, German punters are allowed to wager at online bookmakers which are licensed and regulated by the country's authorities. At the moment, there is only one such betting provider, namely OddBet.
Germany is a Federal Republic which consists of a total of 16 states. In 2008, the so-called Interstate Treaty on Gambling was enforced in 15 of them. This treaty, commonly referred to as the ITG, prohibited citizens from betting at web-based bookmakers. The same restriction applied to web bookmakers located outside the country's borders. Furthermore, this restriction extended to German banking institutions as they were not allowed to process transactions to and from sports betting websites. However, betting at licensed land-based bookmakers was allowed.
In 2010, things took a turn for the better thanks to measures taken by the European Court of Justice. The latter deemed the ITG too rigid and restrictive. According to the Court of Justice, this treaty violated European laws because of its ambiguity. How could online wagering be banned, when it was legal to bet at brick-and-mortar betting providers? Besides, the ITG was in clash with the EU's freedom of services and because of this, had to be revised.
In July, 2012 the sports betting market in the country became more liberalized. German betting providers were allowed to operate legally as long as they have obtained a license to do so from the respective authorities. At first, only twenty betting providers were expected to receive licenses, while at the same time a 5% tax was imposed on punters' wagers. However,this applied to sports betting and lotteries only – web-based casinos remained illegal in the country, save for the state of Schleswig-Holstein, which refused to enter the treaty.
The aforementioned state issued licenses to 23 web-based casino operators. Meanwhile, none of the bookmakers who requested a license in the other states, has actually been granted one. It appears, the German authorities are hard to please in this respect. Time passed by but no licenses were issued to any of the providers, which had applied. The following year, the German gaming regulator announced 41 candidates (out of 150) are about to obtain licenses to operate legally. This was expected to happen at the beginning of 2014. The country's legislation was heavily criticized by the European Gaming and Betting Association for failing to outline its criteria in a clear and transparent manner. As a result, the applications of all 41 candidates were rejected and each was provided with a comprehensive report, explaining the rejection's causes.
At this point, German punters are allowed to place their online bets legally only at OddBet. Many of them feel frustrated due to their lack of other alternatives. As was said above, a 5% tax is deducted from German punters' winnings. This causes many of them to resort to betting at foreign web-based providers although that's practically not allowed by the law. They do it to avoid taxation. The greater diversity of markets and the better odds are their second incentive. Furthermore, many foreign bookmakers are available in German, as well as in a variety of other languages, which further adds to punters' convenience. Though taking measures against foreign bookmakers has been attempted by German authorities, it was futile as Germany has no jurisdiction there. Such betting providers are registered and licensed by other regulatory bodies.
The good news is that the one state, which declined to enter the ITG, namely Schleswig-Holstein, has already issued licenses to several reliable online sportsbooks. These include bet365, Betfair, Bet-at-home and Ladbrokes.
Restrictions
Punters from Germany can bet legally only at OddBet, which by itself is the greatest restriction they are faced with. However, that's not all. A 5% taxation is imposed on all bets placed on sports. In case a German punter's bet turns out to be a winning one, this percentage will be automatically deducted from their profits. On the other hand, if the bet loses, the taxation amount will be covered by the bookmaker. In some instance, the amount of the fee that is to be paid is displayed in punters' online bet slips. For example, if a German punter places a €10 bet at odds of 2.00 and wins, he or she will be able to collect only €19 of their profits. The other €1 is tax-deductible. This applies to all German citizens and generally to everyone who places a bet on the territory of the Federal Republic, including habitual residents.
This is German authorities' way of attempting to prevent citizens of the country from betting online. As you can imagine, it would be much more difficult for a punter to generate substantial profits, if taxes are imposed on them. Besides, 5% is not a negligible percentage.
Keep it mind, taxation may vary from bookmaker to bookmaker. Even though all foreign bookmakers accept punters from Germany, not all of them impose taxes on their stakes or winnings. Some bookmakers, like Bwin, have opted to pay the taxes themselves so that sports fans can proceed to place bets in a regular manner. Others, like Ladbrokes, charge taxes on winning bets only.
Another question that needs to be broached is what is the legal age for gambling in the country. There is no straightforward answer, however. Similarly to the situation in the USA, in Germany, the legal age for gambling differs, depending on which state you're residing in. Twelve of the 16 states in the country have set the legal age for gambling at 18 years old. Nevertheless, the remaining four states demand punters to be at least 21 years of age to place a bet legally, be it online or offline.
Popular Sports to Bet on
Sports are deeply ingrained in the culture of German people. That is why so many of the country's citizens enjoy watching sports events and wagering on their outcome. Soccer is one of the most popular sports in Germany. This is completely natural as the country is home to one of the most successful soccer leagues in Europe – the Bundesliga.
But this by no means is the only option to place your bet on. Basketball also enjoys a tremendous popularity among German punters. How could it be otherwise when their compatriot, Dirk Nowitzki, is one of the most successful German players to make it to the NBA? However, basketball fans often decide to bet on events from the Basketball Bundesliga or the BBL.
Sports like golf, ice hockey, volleyball, handball, tennis, cycling and boxing also receive sufficient coverage and are among the favorite alternatives of German fans. Though horse racing is widespread in the country, most punters prefer to place their wagers on motor races. This can be explained with the fact some of the most prominent pilots in Formula 1 are born and raised in Germany, including Michael and Ralf Schumacher and Sebastian Vettel.
Popular Bookmakers
At the present moment, there is a staggering number of web-based bookmakers which are more than willing to welcome German punters and accept their bets. As legislation in the country is very rigid, there is hardly any variety as far as online betting providers are concerned. This causes many punters to resort to using the services of foreign-based bookmakers. Luckily, there are plenty of options out there.
However, it is advisable to check whether or not a specific bookmaker is reliable. One easy way to determine this is to check at the bottom of the betting provider's official web page. Typically, this is where license numbers and regulators' names are displayed. Remember, reliable and respected bookmakers stand out with greater transparency and do not shy away from providing such information.
In addition, reputable betting providers accept a greater number of currencies and payment solutions. This will enable German punters to select a currency (usually Euros), as well as a payment method that suits them and their needs.
Safety and transparency are not the only advantages online betting has to offer. There is a greater versatility of sports markets to begin with. Besides, in most cases, web-based bookmakers update their odds as frequently as possible to make sure they remain accurate. German punters will greatly benefit from features such as In-Play betting, Live Streaming and Live Score. In addition, most bookmakers typically publish plenty of helpful statistics and betting tips.
Below, we've compiled a list of five popular web bookmakers, suitable for punters from Germany.
Ladbrokes
Ladbrokes is one of the leaders in the online betting industry. This is not surprising as it is among the oldest bookmakers in the world. It all started in 1902 when the company officially adopted the name Ladbrokes. Lots of things have changed since then. To keep up with the times, Ladbrokes went online. Its website quickly accumulated over 800,000 active accounts. Mobile betting is also an option as the betting provider offers a downloadable application for Android and iOS-based portable devices.
German punters will be delighted to know, they too, are welcome to join the UK-based bookmaker. Ladbrokes' website is available in German which further adds to their convenience. An impressive number of sports events are covered – soccer, ice hockey, boxing, cricket, basketball, tennis, golf and handball are only a small portion of the options. Fans of less popular sports like bowls, futsal, floorball and water polo, will not be disappointed, either. Of course, greyhounds and horse races are also present on the list. As far as motor sports are concerned, bets are accepted on Formula 1 and Formula E races.
Punters will greatly benefit from features such as Live Streaming and In-Play Betting. In fact, Ladbrokes offers Live Streaming on all UK and Irish races. In addition, all newly-registered punters are greeted with a special free bet of up to £50. Naturally, to receive it, you're required to fund your account first and place a qualifying bet. German punters can choose between several payment options, including Visa, Mastercard, Neteller, Skrill and PayPal. However, Sofort and Giropay are more suitable for Germans. Please note, due to Germany's federal legislation, Ladbrokes will impose a 5% tax on your winnings.
Betfair
Betfair is another well-established bookmaker where German punters can place their bets. Rest assured this is a completely safe and trustworthy betting provider, which offers nothing but fair environment for all registered customers. Betfair is based in the UK, but operates under licenses issued by the Gibraltar and the UK Gambling Commissions.
What sets Betfair apart from other bookmakers is the fact it provides punters with the opportunity to both place and lay bets. The latter option is especially appealing as it gives you the chance to set the odds on various sports events and put them on offer for other punters to accept. This enables you to bet for or against the outcomes of events and to set your own prices. It's worth mentioning, Betfair is probably the most popular web-based Betting Exchange in the world.
Betfair's list of sports is beyond extensive. Some of the most popular options include basketball, ice hockey, soccer, cricket, baseball, handball, boxing, golf and tennis. Fans of chess can also place or lay bets. Horse and greyhounds races receive sufficient coverage. Bets on games or races in progress are also accepted.
One feature worth mentioning is the so called Bet Rush. Whenever you place a bet, the price is automatically compared to that of thousands of Betfair Exchange customers and your bet's odds can be increased.
Mobile betting further adds to punters' convenience. Betfair offers a downloadable application, with all the desktop features including Cash Out.
bet365
Bet365 is another prominent name in the online betting industry. Many punters decide to stop by at bet365 and register with an account as this betting provider stands out with quite competitive odds and an impressive variety of markets. Sports fans from Germany are also welcome to join in the fun.
This provider is completely reliable and offers fair betting environment, as well as quick payouts. It is licensed and regulated by the Gambling Commission of the United Kingdom. The fact Bet365 is affiliated to the Independent Betting Adjudication Service (or IBAS), further cements its excellent reputation.
The bookmaker's comprehensive portfolio includes soccer, basketball, volleyball, baseball, tennis, ice, hockey and golf. Those, who prefer to place their bets on less known sports can always do so at Bet365, as it accepts wagers on futsal, Gaelic football, netball, squash, floorball and bowls. Your betting options do not end here – race fans can enjoy wagering on horse, greyhounds and motor races. Trotting, which is an interesting variation of horse racing that involves the animals pulling a two-wheel cart, is also available. Live streaming and placing bets on events in progress are possible, too.
If punters encounter a problem or wish to make an inquiry, they can always turn to the friendly and obliging support team. The latter can be reached via Live Chat, email or over the phone. Don't worry about the expenses – the phone line is toll-free.
BetVictor
There is a good reason why so many punters decide to register with an account at BetVictor – it offers security, fairness and outstanding diversity as far as markets go. This is yet another UK-based bookmaker but it accepts bets from German customers, too. Those of you, who demand high-end customer service and competitive odds on a variety of sports events will surely enjoy their stay at BetVictor. The betting operator is completely legitimate. It is licensed and regulated by the Gambling Commissions of Gibraltar and the UK.
The bookmaker's website is exceptionally well-organized and user-friendly. Punters are unlikely to experience any difficulties in finding their way around. Some of the most popular sports on BetVictor's list are tennis, soccer, basketball, American football, golf, baseball and ice hockey. German fans will be thrilled to find out, BetVictor allows for bets to be placed on some of their favorite sports, such as handball, Formula 1 and horse racing. At the bottom of the sports menu, you will be able to find the latest scores of games. Another interesting and handy feature is In-Play betting. Those, who wish to bet on the go can access the website directly through their portable device's browser.
888Sport
German punters who join 888Sport will soon discover betting has never been so much fun. This web-based bookmaker has plenty of advantages to offer. Betting at 888Sport is exciting and dynamic, while at the same time, the website's layout is simplified and easy to navigate through. So what will you find there? Thousands of markets to bet on, great odds, live scores, as well as a number of appealing bonuses and promotions, designed to boost your chances of winning.
Some of the most popular betting options include soccer, tennis, handball, volleyball, boxing, cricket, golf, basketball, and snooker. Of course, motor sports, horse and greyhounds racing are also available. Bets can be placed on the aforementioned sports while the games are still in play.
But that's not all. 888Sport runs its own specialized sports blog. It features a myriad of betting tips, previews, news and experts' opinions. Fans of mobile betting won't be disappointed, either. They can scan the QR code on the website to download the Android app or visit the App Store to download 888Sport's iOS app. Punters are granted the option to receive the app via email as long as they request the link to be sent to them.
888Sport has a reputation of being rather generous to both new and existing members. Punters who register with an account at the bookmaker will be granted a special welcome bonus. If they place a qualifying wager of up to $10, their bet's winnings will be trebled on the following day.
(Visited 2,125 times, 2 visits today)