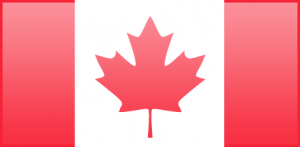 Predicting the outcome of sports events has been a widely-spread practice since time immemorial. Sports betting remains one of the most common forms of entertainment in many countries and Canada is by no means an exception. In fact, betting in Canada is considered one of the greatest components of the entertainment industry with over 135,000 people employed in this sector alone. Millions of other Canadian citizens opt for placing their bets on sports at online bookmakers or land-based retail betting shops.
Find the best Canada bookmakers here
Historical Overview
This doesn't come off as a surprise. After all, some of the most popular winter sports originated in the Great White North as the country is commonly referred to. It all started in the second half of the 18th century when immigrants from Great Britain and France brought along some of their national sports when they first attempted to conquer the then wild Northern parts of the continent. British soldiers and officers aimed at adapting some of their national sports to the weather conditions in the new country. Such sports include football, curling, and cricket.
The roots of organized sports in the country can be traced back to the 1770s when horse racing, curling, and lacrosse were especially popular among settlers. Interestingly, lacrosse was enjoyed among the indigenous Indians as well as it was adapted from one of their traditional sports. Naturally, the game underwent great modifications until it finally evolved into its modern version.
Lacrosse is not the only sport whose invention can be attributed to Canadians. It's a common misconception basketball originated in the United States of America. To a certain extent, it did, but it was invented in 1891 by Canadian PE instructor James Naismith in an attempt to keep his students in Springfield College occupied on a rainy day. No wonder Canadians are so fond of betting on the outcome of basketball games.
However, Canadians are most popular for inventing ice hockey which they simply refer to as hockey. This is a contact team sport which is played on an ice rink and was invented in 19th century Canada. The game quickly went on to become the prevalent winter sport in the country. Today, most Canadian fans opt for backing their favorite hockey team by placing bets in its favor.
Most online bookmakers, which accept Canadian punters cover a wide selection of hockey markets from all prestigious leagues and competitions, including the NHL and AHL. Typically, games on most domestic and international events are extensively covered as far as betting is concerned. Naturally, most web-based betting providers give Canadian punters the opportunity to bet on other sports they're particularly fond of – lacrosse, basketball, baseball, soccer, curling, tennis, and many others.
In recent years, online betting has become especially popular in Canada. Most betting providers accept punters from this country. Nevertheless, to offer such services, bookmakers are required to obtain a permission to operate within the country's territory. There are special commissions that issue licenses and regulate the betting industry. You can read more on this in the "Relevant Legislative Framework" section.
Canadian punters very well understand the benefits of placing bets online. The odds provided by web-based bookmakers are very competitive and often more accurate as they are updated a regular basis. The number of markets and sports covered is truly staggering. In addition, numerous In-Play markets on games in progress are available. In the past few years, mobile betting's popularity increased at very rapid rates. Most web-based betting providers are available in a mobile format or offer special downloadable apps on their websites. This way Canadian punters will never miss out on their chance to place a winning bet when they are away from home and respectively, from their desktop computers. In many cases, Live Streams of prestigious sports events are also put on offer.
As betting on sports is considered one of the most popular forms of gambling, Canadian authorities have always attempted to regulate it. Their first attempt dates back to 1892, when the Canadian Criminal Code was enacted. Sports betting (and gambling in general) was allowed, but some conditions had to be complied with. The Code was changed in 1910, when one of its new amendments allowed for pari-mutuel bets to be placed. This form of gambling involves winners dividing loser's stakes among themselves but a certain percentage of the profits is reserved for the racetrack or the bookmaker. For the next sixty years, laws on sports betting remained relatively the same up until 1970, when drastic changes to the Criminal Code were brought about. The amendments made it possible for separate Canadian provinces to issue licenses for bookmakers and regulate the latter's activities. You will find more information on Canadian sports betting legislation below.
Regulatory Body
Sports betting has always been extremely popular in Canada, but it was not until August 27, 2021, that wagering on the outcome of single sports events became legal. This resulted from the passing of Bill C-218, the Safe and Regulated Sports Betting Act, which alters the Criminal Code and makes it possible for provinces to regulate sports betting on a local level. The bill received royal assent at the end of June. Up until this point, only parlay bets were legal in Canada, in an effort to curb the practice of fixing game results.
The federal government has legalized betting on individual sports events, thus providing punters with a safe and regulated sports betting environment. As per the regulations of the federal law, the government has authorized the separate provinces to take further decisions on a local level.
Canada's 10 provinces – Alberta, British Columbia, Manitoba, New Brunswick, Newfoundland and Labrador, Nova Scotia, Ontario, Prince Edward Island, Quebec, and Saskatchewan, have the powers to legalize and regulate single-event sports betting. It is at the discretion of the separate provinces and territories to oversee the sports betting industry. As per the amendments to the Criminal Code, there is an immense potential to collect considerable taxes from gambling revenue in Canada in a manner that can be monitored and controlled.
Starting with Ontario, the province's regulator is the Alcohol and Gaming Commission of Ontario (the AGCO). The AGCO created a subsidiary – the agency iGaming Ontario, which is the authority overseeing online gambling and sports betting in particular within Ontario. The agency is to enter into commercial agreements with the operators willing to serve the local market.
As for Quebec, the organization that is in charge of regulating parlay sports betting will be also responsible for single-event sports betting. This is Loto Quebec, which is a Quebec government lottery corporation.
Single-event sports betting taking place in British Colombia is handled by the British Colombia Lottery Corporation (the BCLC) – the province's lottery commission. The entity delivering an array of gambling products in the province is PlayNow, including lottery tickets, casino games, and sports betting. At present, there is no mention if other digital sportsbooks are going to enter the British Colombia betting market.
The Western States Lottery Corporation (WSLC) is the authority running lottery games and sports betting in three Canadian provinces – Manitoba, Saskatchewan, and Alberta. Sport Select is the available online sportsbook for those three provinces and other external sportsbooks are also expected to apply for permits in order to operate legally.
And lastly, the provinces of New Brunswick, Prince Edward Island, Nova Scotia, and Newfoundland and Labrador have their regulatory body in the form of the Atlantic Lottery, which also encompasses sports betting within its expertise.
Offshore operators are not referred to in the provisions of the Criminal Code and many Canadian punters register and use overseas sports betting services.
Тhe Kahnawake Gaming Commission is one of the most respected regulators in the world. This Commission was established in 1996 and itself runs several web-based casinos and sportsbooks. The Kahnawake Commission's headquarters are located just outside Montreal. At the present moment, the Commission has issued licenses to over 50 web-based casinos and sportsbook operators. Punters will be able to find an extensive list of license holders at the Commission's official website.
Relevant Legislative Framework
It's important to note sports betting is a multi-billion industry in Canada and because of this, regulations are of extreme importance. The 1970 amendments to the Canadian Criminal Code led to a boom in sports wagering. In 1984 alone, Canadian citizens spent over $1.60 billion on horse race betting. It is regulated by the Canadian Parimutuel Agency. The latter is part of the federal Department of Agriculture and Agri-Food.
The Criminal Code
As was previously mentioned, the changes in the Criminal Code in 1970, made it possible for each Canadian province to license bookmakers and regulate them. That's why laws may differ from province to province. Each province is allowed to decide whether sports betting or other forms of gambling can legally take place on its territory.
In general terms, Canadian law allows for bets to be legally placed on the outcome of sports events. However, if online bookmakers located within the country's territory want to obtain a license to legally accept wagers, they need to meet numerous criteria. Taxes are also imposed on their revenues. That's why Canadian punters are often left with hardly any options to choose from as far as online bookmakers are concerned. Many of them choose to place their bets at offshore sportsbooks because of the greater diversity of markets and sports events that are covered.
The Criminal Code does not state explicitly wagering at offshore bookmakers is illegal in Canada. Punters are not committing a criminal offense by placing bets at online bookmakers, located outside the country's territory. The real question is: are offshore bookmakers allowed to accept wagers from Canadian punters? Well, unfortunately, this question is a bit difficult to answer.
According to Canadian authorities, providing such services on the country's territory is a violation of Canadian laws. However, as offshore betting operators are located outside the country's territory and thus, are far from its jurisdiction, technically, Canadian or provincial laws do not apply to them. Furthermore, such operators typically have obtained licenses from other countries' regulatory bodies and function under different jurisdictions, which makes them completely legitimate and safe to bet at. It is Canadian punters' responsibility to choose a reliable and legitimate web-based bookmaker.
Bill C-218
Bill C-218, also referred to as the Safe and Regulated Sports Betting Act, amends the Criminal Code and entitles provincial governments to manage and oversee single-event sports betting. While parlay bets have been legal in Canada for quite some time, single-event betting was restricted under the provisions of section 207(4)(b) of the Criminal Code. Bill C-218 amends this section and once it was passed in August 2021, single-event betting in Canada became legal.
The passage of the Bill marks a great step forward in the Canadian gambling environment that will potentially be a source of much-needed revenue for the provinces.
Restrictions
As we have mentioned previously, Canadians are allowed to place bets at online bookmakers, which have obtained licenses from the respective province's regulatory body. That being said, it's important to note punters who are not Canadian citizens are prohibited from placing bets at provincial sites. This rule applies in all Canadian provinces.
Up until the passing of Bill C-218, Canadian residents were allowed to legally bet on parlays only. This type of bet is quite common among punters and consists of multiple bets on several selections. But here's the tricky part – many people avoid multiple bets because if one of their selections fails, they will lose the entire parlay.
Unfortunately, Canadians were not allowed to legally place single bets on sports events. This fact alone, caused residents of the country to place their bets at offshore betting providers. Such actions are practically illegal, yet there isn't a single case of Canadian punters being prosecuted for betting at foreign web-based bookmakers.
However, there was a light at the end of the tunnel. Canadian senator, Robert Runciman, a member of the Conservative Party, suggested he and his colleagues take measures and pass a bill to enable Canadians to legally place single bets. Thus Canadian punters would no longer resort to betting at bookmakers, licensed outside Canada. This on its own will cause the government to collect greater revenues thanks to the taxes imposed on sports betting. Bill C-218 was passed in August 2021 and the ban on single-event sports events in Canada was lifted.
This being said, it's important to note only bookmakers are expected to pay taxes on their revenues. The winnings punters have accrued from sports betting are not taxed. However, the latter statement applies predominantly to those, who have an actual full-time job and bet on sports for entertainment only. If sports betting is not your main source of income, there's no need to worry. But professional punters, who rely on betting as their primary source of income are advised to seek counsel from their tax consultants to discuss whether or not they should claim their winnings as a taxable income.
The legal gambling age in the country also needs to be taken into consideration. Please note, the legal age for gambling is the same as that for alcohol consumption and varies from province to province. In most provinces, only punters, who are over 19 years of age are allowed to place bets on sports events.
However, in the provinces of Manitoba, Alberta, and Quebec, the legal age for gambling is 18 years. Although there are no reported cases of punters being prosecuted for such practices, it is advisable to restrain yourself from betting if you haven't reached the legal age, valid in your province.
Popular Odds Formats
The odds format that is predominantly favored by Canadian punters is the Decimal one. We are going to illustrate it by providing examples of how it works, along with the other two most commonly encountered formats – the Fractional and the American one. Bettors are able to quickly change the format through which odds are expressed usually with a single click of the mouse and stick to the one, which suits their preferences best. As the three formats are basically three different ways of presenting the same thing, they do not alter the final payouts.
Decimal Odds Format
Apart from Canada, the Decimal odds format is preferred in most of the European countries, as well as in Australia and New Zealand. The Decimal odds format also referred to as European odds, is uncomplicated and very easy to grasp. It reflects the amount bettors can potentially win for every $1 wagered. The total payout is calculated by multiplying the stake by the decimal number.
For instance, a $100 wager on 1.8 odds would generate a profit of $180, i.e. $100 * 1.8= $180. Punters should bear in mind that the final profit includes the initial $100 wager. Decimal odds are also the preferred method for parlay bets, also known as accumulators.
Fractional Odds Format
Fractional odds are much preferred in the United Kingdom and Ireland. They are also called British or UK odds. Unlike Decimal odds, Fractional odds indicate the net payout earned in relation to the wagered amount, i.e. the profit does not include the initial wager.
For example, odds of 3/1 (three to one) denote that the bettor would have $300 profit on a $100 stake, while odds of 1/2 imply a profit of $50 on a $100 stake. Even money odds represented as fractions would be 1/1.
The formula for converting Fractional odds into Decimal involves dividing the fractions and adding 1. Thus, Fractional odds of 3/1 converted into Decimal odds would look like 4.0.
American Odds Format
The American odds format, also known as moneyline odds, is the format that is predominantly used in the US. This format involves using minus and plus symbols. The minus symbol indicates the team that has more chances to win, while the plus symbol signals the one expected to lose, or the underdog.
For example, odds of -200 indicate that punters need to wager $200 in order to win $100. Additionally, positive odds of 300, represent chances to win $300 with a wager of $100.
The formula for converting American odds into Decimal is dependent on whether it is positive or negative. If the American odds are positive, then they should be divided by 100, and 1 should be added (200 American odds converted into Decimal would be 3.0). If the American odds are negative, then -100 should be divided by the odds and then 1 should be added (-100/-200+1=1.50).
Popular Sports to Bet on
As Canada is the country many popular winter sports originated from, it is not a bit surprising its residents prefer to place their bets on ice hockey, curling, and skiing. Lacrosse, another game the roots of which can be traced back to Canada, is among the most preferred summer sports in the country.
In addition, Canadian punters enjoy betting on basketball, soccer, baseball, Canadian football, golf, and tennis. Though MMA is relatively new to the sports scene, many Canadians are into betting on it. Greyhounds racing is not as popular as it is in the UK or the USA, for instance. However, most betting fans in the country are much more interested in wagering on the outcome of horse races.
In the following lines, we are going to present 5 sports that are favored by Canadians both in terms of viewership and sports betting.
Ice hockey
As Canada is the country where the first ice hockey game took place, it is not surprising that Canadians love to place wagers on this discipline. The Canadian Hockey League (CHL) coordinates three major junior ice hockey leagues – the Ontario Hockey League, Quebec Major Junior Hockey League, and Western Hockey League. The options for ice hockey bets are endless – Asian handicap, team exact total goals, correct score, double chance, draw no bet, highest scoring period, and 3-way, to mention a few.
Baseball
Games from Major League Baseball are widely followed by Canadian punters. The Toronto Blue Jays is the Canadian national baseball team, which as of 2021 is ranked ninth in the world. Moneyline bets, totals bets, and run lines bets are among the possible bet types that punters may place on their favorite game.
Basketball
Founded in 2011, the National Basketball League of Canada is the country's professional domestic basketball league. The NBA also excites Canadian punters. The most common basketball bet markets include moneylies, 1st quarter/1st half, point spreads, and over/under totals. Parlay bets and futures are also possible.
Football
As for football, the Canadian Football League (CFL) is the most popular and major championship, with the Grey Cup being one of the most emblematic sports events in the country. Other Canadian tournaments include the Canadian Junior Football League and the Quebec Junior Football League. The available bet markets that can be commonly encountered in sportsbooks include handicap bets, totals, moneyline bets, and many others.
Soccer
Canadians show great interest in soccer markets and the governing authority for this sport in Canada is the Canadian Soccer Association. There are three main soccer leagues in Canada and some of the Canadian teams participate in the US Major League Soccer. The top-ranking fully-professional league in the country is the Canadian Premier League. Other regionally-based championships in Canada are League1 Ontario (L1O), the Première Ligue de soccer du Québec (PLSQ), and League1 British Columbia (L1BC).
Popular Sports to Bet On Summary
Sport
Pre-match/In-play
Leagues
Ice hockey
yes/yes
The Canadian Hockey League (CHL), comprising the Western Hockey League, the Ontario Hockey League, and Quebec Major Junior Hockey League; the National Hockey League (NHL); the American Hockey League (AHL), etc.
Baseball
yes/yes
The Canadian Baseball League; Major League Baseball (MLB); The Western Canadian Baseball League, etc.
Basketball
yes/yes
The National Basketball League of Canada; The Canadian Elite Basketball League (CEBL); the NBA, etc.
Football
yes/yes
The Canadian Football League (CFL); the Canadian Junior Football League; Quebec Junior Football League, etc.
Soccer
yes/yes
The Canadian Premier League; League1 Ontario (L1O); the Première Ligue de soccer du Québec (PLSQ); League1 British Columbia (L1BC), etc.
Popular Banking Methods
Sports betting operators accepting punters based in Canada allow deposits and withdrawals via a range of different methods. As there are many possible options, we will list some of the most common ones, so punters are able to choose one that fits their personal preferences.
Credit Cards
One of the standard and most frequently used methods for punters to top up their accounts remain credit cards. One of their major advantages is that they are accepted everywhere and prominent sportsbooks are not an exception. VISA and Mastercard can be chosen at most digital bookmakers.
Deposits done via credit cards are processed instantly allowing bettors to commence their sports betting session right away. Withdrawals may take three to five business days and depend largely on the internal verification processes conducted by the separate operators.
E-wallets
Digital wallets allow for instant deposits and quick withdrawals without the need to expose your banking details. Since the speed of transactions and security are of essential importance, more and more punters are abandoning the traditional payment methods and opting for the various e-wallet solutions that are available. They are linked to debit or credit cards and offer minimum risk of fraudulent activity.
E-wallets that are readily available in most of the leading Canada-friendly sportsbooks include ecoPayz, MuchBetter, Skrill, Neteller, and Jeton, among others. Deposits are processed immediately, while withdrawals vary across different sportsbooks, but generally take up to three business days.
Prepaid Cards
Paysafecard is an excellent example of the growing popularity of pre-paid voucher solutions that are favored by many punters due to the fast and secure payments they allow for. The physical cards can be easily found across many stores and there is also the option to purchase one over the internet. Prepaid solutions are an ideal option for bettors who feel reluctant to use their credit or debit cards.
However, bettors should bear in mind that physical pre-paid cards cannot be used for withdrawals, while those who have Paysafecard accounts can utilize the method in order to withdraw their winnings. Payments via Paysafecard are cleared straight away and the maximum limits vary across different sportsbooks but are usually capped at $1,000.
Cryptocurrencies
There is a range of cryptocurrencies that contemporary sportsbooks offer, including Bitcoin, Ethereum, Litecoin, and Cardano, among others. Some crypto-friendly sportsbooks even offer above 20 different cryptocurrency options. Cryptocurrency transactions allow for the fastest possible online payments, using only a desktop or a mobile device. Punters enjoy peerless anonymity of their personal and banking details. Furthermore, due to the lack of an intermediary between bettors and sportsbooks, cryptocurrency payments do not have any processing fees.
Online Banking Processors
Payment methods that are exclusively used in Canada, and respectively offered by Canada-friendly online sportsbooks include Interac, iDebit and InstaDebit. These are widely-used online banking processors, allowing for immediate payments. Withdrawals take between 3 to 5 business days. The minimum deposit limits are usually set to $10, while the maximum limits are capped at $5,000 for Interac and iDebit, and $10,000 for InstaDebit.
Punters need to have an account in one of the banks accepting these methods. Once they select one of the methods in the cashier section of the sportsbook, they will be redirected to the relevant website of the bank. Then they should select the bank account they would like to transfer funds from and enter the sportsbook's information, as well as the amount they wish to deposit.
Popular Banking Methods Summary
Payment Method
Fees
Deposit Limits
Deposit Times
Withdrawal Limits
Pending withdrawal time
Withdrawal Times
Interac
No fees
Min $10/Max $5,000
Instant
Min $10/Max $5,000
Between 24-48 hours
Up to 3 days
Instadebit
Depends on the betting site
Min $10/Max $10,000
Instant
Min $10/Max $5,000
Between 24-48 hours
Between 3-5 business days
iDebit
Depends on the betting site
Min $10/Max $5,000
Instant
Min $10/Max $2,500
Between 24-48 hours
Between 3-5 days
MuchBetter
No fees
Min $10/Max $10,000
Instant
Min $10/Max $10,000
Between 24-48 hours
Up to 2 days
VISA
Depends on the betting site
Min $10/Max $50,000
Instant
Min $10/Max $40,000
Between 24-48 hours
Between 3-5 business days
Mastercard
Depends on the betting site
Min $10/Max $50,000
Instant
Min $10/Max $40,000
Between 24-48 hours
Between 3-5 days
ecoPayz
No fees
Min $10/Max $5,000
Instant
Min $10/Max $15,000
Between 24-48 hours
Several minutes
Revolut
Depends on the betting site
Min $10/Max $5,000
Instant
Min $10/Max $5,000
Between 24-48 hours
Between 3-5 business days
Cryptocurrencies
No fees
Min $10/Max varies across sportsbooks
Instant
Min $10/Max varies across sportsbooks
Between 24-48 hours
Up to 48 hours
Paysafecard
Depends on the betting site
Min $10/Max $1,000
Instant
N/A
N/A
N/A
Bank transfer
Depends on the betting site
N/A
N/A
Min $30/Max $50,000
Between 24-48 hours
Between 2-5 business days
Jeton
Depends on the betting site
Min $10/Max $5,000
Instant
Min $10/Max $5,000
Between 24-48 hours
Up to 48 hours
MiFinity
Depends on the betting site
Min $10/Max $2,500
Instant
Min $10/Max $5,000
Between 24-48 hours
Several minutes
Mobile Betting
Due to the quick development of mobile technologies, a growing number of punters prefer to place bets via their handheld devices, thus eliminating time and place-related considerations. Canadian punters do not stray from this tendency.
Contemporary bookmakers offer either mobile versions of their websites or native applications or sometimes both. Whether in-browser or app betting is available, punters may be sure to enjoy a hassle-free betting environment.
As far as renowned brands are concerned, there should not be any major differences between in-browser and app betting. Native applications have minimum system requirements to comply with, while in-browser apps do not impose such. The latter however might be slightly lacking in the speed department compared to downloadable apps.
Mobile bettors certainly enjoy added convenience since they are almost always within a close reach of their mobile phone or tablet. Placing wagers on your favorite team has the potential to make commuting from your workplace to your home pleasant and relaxing.
It is important to point out that the mobile version of most of the prominent sportsbooks offers the same range of features and functionalities that are available on their desktop version. Some punters are worried that they will not have access to the sportsbook's full range of promotional offers but those concerns are actually groundless. Some bookmakers even design promo offers specifically targeting mobile bettors. Punters can make deposits and withdrawals in a fast and worry-free manner, access their bet slip, the full range of bet markets, and more.
Live betting is currently among the most sought-after features of present-day sportsbooks, as it allows for greater chances to be in a winning position. In-play markets allow punters to place bets while the game evolves, and consequently be more precise in their predictions, as they are closely following the direction that the game is taking. Live betting is not limited to desktop devices anymore, so bettors may enjoy this functionality even when they are on the go.
Key Aspects of a Worthy Betting Site
In order to achieve a rewarding betting experience, punters should be aware of several key aspects of sports betting sites that are worthy of their attention.
To begin with, bettors should make sure that the selected sportsbook is available within the province they reside in. Furthermore, they should adhere only to brands that are reputable and licensed by renowned vetting authorities.
The next feature to tick in your list is the range of markets and sports tournaments that are offered on the sportsbook's platform. The good news is many web-based bookmakers accept bets on all major events. Hockey fans will be very pleased to learn all games from the NHL receive sufficient coverage. International events are also present on the list.
Bets are accepted in a variety of markets. In many cases, the bookmakers offer a Live Betting (or In-Play) feature which allows punters to bet on events in progress. This is quite beneficial as once the game has started, you will be able to evaluate the direction in which things are going before you proceed to wager. This way your chances of placing a winning bet will increase. What's more, some betting providers offer a number of other useful functionalities. These include the Live Streaming feature, Live Scores, and special podcasts.
Most times betting online is exceptionally quick and easy, as you can place your wager with a single click of a mouse button. Mobile betting is another alternative for Canadian punters as bookmakers offer downloadable applications or are available in a mobile format.
As far as payment goes, Canadian bettors can rest assured reputable betting operators that serve residents of the country, accept credit/debit cards by Visa and Mastercard, and reliable e-wallets like those provided by Neteller and Skrill. The options are numerous, so you will surely find a method which suits your preferences and needs. Bettors should also check if the selected sportsbooks offer payments in their currency – CAD.
Popular Bookmakers

Below, we have listed the top 10 web-based bookmakers welcoming bettors from Canada. By going through the most prominent advantages of these sportsbooks, and by evaluating some of their weaknesses, punters will make informed choices, based on comprehensive and unbiased reviews. We subject those bookmakers to a meticulous investigation of major features and functionalities, thus providing bettors with valuable information on the leading brands within the sports betting industry.
Sports Interaction
Sports Interaction takes the number one place in our chart of top-ranking sportsbook operators. At present, the operator caters to bettors based in Canada. It is a well-known brand in the country and it definitely deserves its good reputation. The operator was established back in 1997 and it was actually the first sportsbook to obtain a license from the Kahnawake Gaming Commission.
As for the interface of the online platform, it offers punters the perfect betting environment, equipped with great features and functionalities. With regards to available tournaments and the diversity of sports to bet on, Canadians are sure to find action on their favorite disciplines such as ice hockey, baseball, basketball, and football. In-play markets on a range of top sports are also on offer.
They are much sought-after by bettors nowadays, not only because of the added thrill and excitement but also because they enhance the punters' chances of placing successful bets to a great extent.
Canadian bettors have plenty of payment methods at their disposal, including a number of digital wallets, pre-paid voucher solutions, and debit, and credit card payments, among others.
The customer support operates 24/7, making sure that all requests are dealt with in a timely and professional manner.
Pros

A sportsbook targeting mainly the Canadian market
Licensed by the Kahnawake Gaming Commission
Abundance of pre-match and in-play markets
Plenty of deposit options
Great customer support
Cons

Bet types on eSports are limited
The available withdrawal methods are limited
Cryptocurrencies are not accepted
The customer support phone number is not toll-free
Bet365
The second name on our list is an absolute staple as far as sports betting is concerned. The website offers an extensive sportsbook, which covers hundreds of markets for any type of sport imaginable. The most popular options are, of course, soccer, basketball, baseball, tennis, golf, volleyball, and boxing. Bet365's racebook, on the other hand, includes greyhounds and horse racing, but bets can be placed on exciting motorsports events such as those from Formula 1. Trotting which is a harness racing sport is a less conventional alternative.
There is a special section titled "More Sports" where you can find less-known options – bandy, futsal, bowls, floorball, netball, squash, and handball. Even Gaelic sports are available. As Winter sports enjoy great popularity in Canada, punters will be delighted to find several options in this section – Alpine skiing, biathlon, cross country skiing, and ski jumping.
Hockey is covered exceptionally well. You can bet on all events from the NHL while wagering on the In-Play markets is also possible. Odds in all three formats (American, decimal, and fractional) are available.
Bet365's immaculate reputation among punters is well-deserved. The betting operator is bent on providing first-class service and an unforgettable experience. To achieve this, bet365 offers excellent customer support via live chat, email, or phone. The phone line is toll-free and is available 24/7.
Other features you will come across at bet365 include Live Streaming and Mobile Betting. Only punters with funded accounts are granted access to the Live Streaming service. You can load the bookmaker's website directly in your smartphone's or tablet's browser. What's more, those of you who enjoy betting on the go will receive a special bonus for placing their first bet via mobile devices.
Pros

Unrivaled diversity of sports markets
A reputable brand
A Bet Builder feature
A Cash-out feature
Plenty of promotional offers
Cons

Withdrawals may entail long wait times
Burdensome verification processes
Some users report cases of blocked accounts
Some punters find deposit limits are too low
888sport
Another prominent name is 888sport. This is a reliable and legitimate web-based bookmaker, which operates under licenses issued by the Gambling Commissions of the UK and Gibraltar. This fact alone is a sufficient guarantee all punters will receive fair treatment. The website is innovative, dynamic, and features plenty of useful and interesting functionalities. These include scores on all pre-match and In-Play markets and a cool sports blog, where punters can find hundreds of useful betting tips, previews, news, and statistics.
Canadian bettors, who demand flexibility and ease can place their bets on the go as 888sport is available in a mobile format. The mobile version of the website is exceptionally easy to use and navigate through. It offers all the markets and events which you can find in desktop mode. If you wish, you can opt for downloading and installing the 888sport's app on your mobile device. The latter further adds to punters' convenience.
That's not all. 888sport offers some of the most competitive odds in the industry. Canadian punters can choose between an impressive number of options. Bets can be placed on sports like tennis, boxing, cricket, basketball, golf, soccer, baseball, and rugby, to name just a few options. In the racebook, you will find horse and greyhounds racing. Bets on motorsports are also accepted.
As far as hockey goes, events from all prestigious professional leagues are covered. Betting on NHL games is, naturally, the most popular alternative but 888sport also accepts wagers on events from the Czech Extralig, the German Bundesliga, the Russian KHL, and the Swedish Elitserien.
Pros

A legitimate brand
A plethora of pre-match and in-play markets
A wide range of bet types
Promotional offers of great value
Various payment options
Cons

Imposing low limits to sharp bettors
Website layout seems a bit cluttered
Statistical data may be improved
Live chat and telephone service not available 24/7
Cryptocurrencies are not available
William Hill
There's a good reason why William Hill enjoys such a tremendous popularity among punters from many different nationalities. In this respect, Canadians are not an exception to the rule as many residents of the country opt for betting at this bookmaker since it offers transparency, diversity, and a fair betting environment. The brand name William Hill has become above all a synonym for tradition in sports betting.
Although it all started with a land-based retail shop in the distant 1934, William Hill has gone a long way since then. The brand went online in 2008 and is now available in a mobile format as well. Canadian players are warmly welcomed to join in the fun. Furthermore, everyone who registers with an account at the sportsbook and places a bet is granted a generous First Deposit bonus to bet with for free.
Other functionalities punters might find useful include Live Streaming, In-Play Betting, Radio, and Live Scores. Popular sports on William Hill's list include hockey, American football, soccer, tennis, boxing, basketball, baseball, golf, horse and greyhounds racing. Less conventional options are also on offer – futsal, darts, bandy, and bowls. Betting on Virtual Sports is possible as well.
Pros

A pioneer in the sports betting industry
Fast and secure payments
A transparent and fair approach to bettors
Virtual sports markets
Abundance of promotional offers
Cons

Some users report log-in problems
Lengthy withdrawal process
Sharp bettors are sometimes limited
The mobile app is runs slow occasionally
Some punters had issues with the registration process
Betway
Betway is another premier betting provider which accepts punters, who reside in Canada. It ranks highly among its rivals thanks to its exceptional customer support service, fairness, and diversity. Punters can rest assured Betway is a completely secure and trustworthy betting provider. First of all, because it is legitimate and operates under licenses issued by the Gambling Commissions of the UK and Malta. Then again, Betway works with safe methods of payment only, not to mention punters' personal and banking details are heavily encrypted to protect them from identity thefts and fraudulent activities.
In addition, Betway offers an extensive selection of sports on hundreds of markets at great odds. Its sportsbook covers baseball, hockey, soccer, basketball, golf, tennis, American football, horse and greyhounds races, among many others. Betting on the In-Play markets and watching Live Streaming of events, further adds to Betway's merits. In the upper right-hand side of the Sports menu, you will see a section entitled Enhanced Odds. There you will find sports events with the most tempting odds.
To live up to punters' high expectations, Betway offers them numerous generous bonuses and promotions. Deposit methods suitable for Canadians include iDebit, ecoPayz, Paysafecard, Visa/Visa Electron, Maestro, and Mastercard.
Pros

A wide selection of bet markets
Generous promotional offers
Odds above the average
Superb customer service
A plethora of payment options
Cons

Time-consuming withdrawals
Live streaming is limited to some countries
The ESports diversity might be improved
Laborious verification processes
22Bet
Established in 2017, 22Bet is among the relatively new operators within the sports betting industry. This may be perceived as a drawback by some punters, but actually, the brand has asserted its safety and trustworthiness over the short years of its existence and has attracted thousands of punters from all over the world. Canadian bettors are also warmly welcomed by the brand.
The team behind the online sportsbook has put a lot of effort into making sure that the product stays in line with the latest tendencies within the industry. New features and functionalities are added, thus making sure that the product is a one-stop solution that is able to meet the highest requirements.
The complete list of sports available in the portfolio of 22Bet is of great proportions and some of the disciplines available for betting are American football, basketball, ice hockey, tennis, volleyball, and baseball, among others. As for soccer, the sheer number of local and international leagues is simply impressive.
Bettors may easily switch between the odds formats available – decimal, fractional, and American. The operator also provides a useful tool in the form of extensive statistics on a variety of sports markets, enabling punters to make more accurate predictions.
Pros

A wide selection of cryptocurrencies
Authorized by the Kahnawake Gaming Commission
Neat organization of the available sports leagues
Abundance of pre-match and live eSports options
Statistics provided for a lot of sports
Cons

No Bet-Builder feature
Occasional delays of payments
Varying value of odds across markets
Live streaming is limited
20Bet
Yet another option available to Canadian punters is 20Bet that is the go-to provider offering a comprehensive sports betting service. By compiling a wide selection of betting markets the bookmaker has been dedicated to serving the needs of punters from all over the world. The sportsbook holds a license from the Kahnawake Gambling Commission.
In terms of mobile compatibility, the operator provides an in-browser app, as well as native apps designed for Android and iOS mobile devices. The mobile betting environment provides punters with everything needed for a pleasant and hassle-free experience. It does not lack any of the features and functionalities available on the desktop version of the bookmaker.
Odds can be presented in three formats – decimal, fractional, and American. The online platform is supported in a variety of languages, including English and French.
The sportsbook covers all major championships, including the English Premier League, the Italian Serie A, the Spanish La Liga, the German Bundesliga, the NBA, the NHL, and the Euroleague, among others. The operator also offers a special selection of top sports events that are sure to spark the interest of every punter.
Canadians' favorite disciplines such as ice hockey, baseball, and basketball also find a decent representation.
Pros

Abundant sports catalog
Statistics and betting rules
Mobile-compatibility
Diverse in-play markets
Outstanding odds
Cons

Registered users only can take advantage of the live-streaming feature
Burdensome verification process
Lack of customer support by phone
Withdrawal-related issues of users
ComeOn!
ComeOn! has been operating since 2008 and is among the global leaders in the sports betting industry that accept punters from Canada. The betting platform is exceptionally well laid out and equipped with great features and valuable information on live results and betting rules. Apart from authorization from the Malta Gaming Authority, the bookmaker also bears the stamp of approval of eCogra, ensuring that all customers are provided with a safe and fair betting environment.
The operator offers a number of payment methods suitable for the Canadian market, including Interac, iDebit, Instadebit, as well as other solutions such as Much Better, VISA, and Mastercard. ComeOn! offers a selection of bet types such as point spreads, moneylines, under/overbets, parley bets, as well as live betting on a variety of markets.
The ComeOn! mobile betting app is compatible with Android and iOS handheld devices. It allows punters to bet on the go, enjoy all thrilling features such as live streaming, and keep up with all the great odds offered by the bookmaker. Canadian punters are bestowed with the opportunity to place wagers on major sports tournaments such as the NHL, the NBA, and the NFL. Bets on tennis, MMA, golf, snooker, and Formula 1 are also on offer.
Pros

User-friendly desktop platform and mobile betting app
Plenty of payment methods
Bonuses and odds of great value
Extensive coverage of winter sports
Live results
Cons

The website loads slowly from time to time
Customer support over the telephone is not in place
Lengthy withdrawals reported by some users
Cryptocurrencies are not accepted
MansionBet
MansionBet is another sports betting product that is renowned all over the globe and also accommodates punters from the Great White North.
The betting platform strikes with its stylish design and user-friendliness. It is exclusively well laid out and bettors are able to find everything in a matter of seconds. The operator has highlighted several sports, among which are some of Canadians' favorite disciplines such as basketball, American football, ice hockey, and soccer. Various other sports provide much-needed diversity and those include badminton, beach volleyball, boxing, cricket, darts, golf, greyhounds, and horse racing. ESports are also available.
The odds formats available at MansionBet include decimal, fractional, and American. The bet slip is conveniently placed in the right-hand section of the platform. MansionBet offers a number of payment methods including Interac, credit and debit cards, prepaid vouchers, e-wallets, etc.
Bettors are also able to take advantage of some valuable information offered by the sportsbook including advice on betting rules, statistics, and live results, as well as a blog section. Access to this beneficial information allows punters to make informed choices with regards to the betting markets they explore and potentially enjoy a rewarding betting experience.
Pros

Exceptionally well laid out web design
Diverse bet markets on all major leagues
Plenty of betting features
ESports
Statistics and live results
Cons

Occasionally, the website loads slowly
Withdrawal issues reported by some bettors
Low limits on maximum wagers imposed on sharp bettors
The live chat functionality is not available round the clock
Payment options could be diversified
Bodog
And finally, our last suggestion suitable for punters from Canada is Bodog. This bookmaker focuses on security, convenience, and simplicity. The website is easy to navigate through and exceptionally user-friendly. Bodog was founded over 20 years ago, in 1994. A lot has changed since then, but this bookmaker continues to bring in the latest innovations and betting solutions to ensure each punter who stops by enjoys their stay.
There is absolutely no reason to worry as far as security is concerned. Bodog is a hundred percent reliable and secure betting operator as it is licensed and regulated by the Financial Services Regulatory Commission of Antigua and Barbuda. Punters, who experience difficulties or are struggling with a pending problem can always rely on Bodog's courteous support team.
Now, let's go back to sports betting. In this respect, Bodog has a plethora of options for Canadian punters ranging from soccer, hockey, basketball, baseball, and tennis to golf, cricket, darts, cycling, and boxing. Motorsports and horse racing are also on offer. If you wish to boost your chances of winning, take our advice and bet on the In-Play markets, available at Bodog.
The bookmaker offers statistics on games, which are updated as frequently as possible. If you wish to bet on the move, simply load the website through your portable device's browser – this way you'll never miss the opportunity to place a winning bet. Bodog is compatible with widespread devices, running on Windows, Android, and iOS.
Pros

A prominent brand with long experience
In line with the latest innovations within the industry
A completely secure operator
Plenty of in-play markets
A helpful forum section
Cons

Live-chat functionality is available only to registered bettors
The variety of payment methods could be improved
Low limits on deposit amounts
Deposit options are limited
(Visited 3,570 times, 1 visits today)