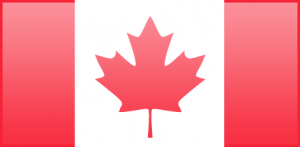 Predicting the outcome of sports events has been a widely-spread practice since time immemorial. Sports betting remains one of the most common forms of entertainment in many countries and Canada is by no means an exception. In fact, betting in Canada is considered one of the greatest components of the entertainment industry with over 130,000 people employed in this sector alone. Millions of other Canadian citizens opt for placing their bets on sports at online bookmakers or landbased retail betting shops.
Historical Overview
This doesn't come off as a surprise. After all, some of the most popular winter sports originated in the Great White North as the country is commonly referred to. It all started in the second half of the 18th century when immigrants from Great Britain and France brought along some of their national sports when they first attempted to conquer the then wild Northern parts of the continent. British soldiers and officers aimed at adapting some of their national sports to the weather conditions in the new country. Such sports include football, curling, and cricket.
The roots of organized sports in the country can be traced back to the 1770s when horse racing, curling and lacrosse were especially popular among settlers. Interestingly, lacrosse was enjoyed among the indigenous Indians as well as it was adapted from one of their traditional sports. Naturally, the game underwent great modifications until it finally evolved into its modern version.
Find the best Canada bookmakers here
A MINIMUM deposit of $100 is required to qualify for the 50% bonus. All deposits lower than $100 will receive a 25% bonus. The maximum bonus per deposit is $1,000. All rollover requirements must be met prior to requesting a payout.
Join Bovada, make your first deposit and instantly receive a 50% Sports Welcome Bonus up to $250.
Lacrosse is not the only sport the invention of which can be attributed to Canadians. It's a common misconception basketball originated in the United States of America. To a certain extent, it did, but it was invented in 1891 by Canadian PE instructor James Naismith in an attempt to keep his students in Springfield College occupied on a rainy day. No wonder Canadians are so fond of betting on the outcome of basketball games.
However, Canadians are most popular for inventing ice hockey which they simply refer to as hockey. This is a contact team sport which is played on an ice rink and was invented in 19th century Canada. The game quickly went on to become the prevalent winter sport in the country. Today, most Canadian fans opt for backing their favorite hockey team by placing bets in its favor. Most online bookmakers, which accept Canadian punters cover a wide selection of hockey markets on all prestigious leagues and competitions, including the NHL and AHL. Typically, games on most domestic and international events are extensively covered as far as betting is concerned. Naturally, most web-based betting providers give Canadian punters the opportunity to bet on other sports they're particularly fond of – lacrosse, basketball, baseball, soccer, curling, tennis and many others.
In recent years, online betting has become especially popular in Canada. Most betting providers accept punters from this country as sports wagering is not illegal in Canada. Nevertheless, to offer such services, bookmakers are required to obtain a permission to operate within the country's territory. There are special commissions which issue licenses and regulate the betting industry. You can read more on this in the "Relevant Legislative Framework" section.
Canadian punters very well understand the benefits of placing bets online. The odds provided by web-based bookmakers are very competitive and often more accurate as they are updated on regular basis. The number of markets and sports covered is truly staggering. In addition, numerous In-Play markets on games in progress are available. In the past few years, mobile betting's popularity increased at very rapid rates. Most web-based betting providers are available in a mobile format or offer special downloadable apps on their websites. This way Canadian punters will never miss out on their chance to place a winning bet when they are away from home and respectively, from their desktop computers. In many cases, Live Streams of prestigious sports events are also put on offer.
As betting on sports is considered one of the most popular forms of gambling, Canadian authorities have always attempted to regulate it. Their first attempt dates back to 1892, when the Canadian Criminal Code was enacted. Sports betting (and gambling in general) was allowed, but some conditions had to be complied with. The Code was changed in 1910, when one of its new amendments allowed for pari-mutuel bets to be placed. This form of gambling involves winners dividing loser's stakes among themselves but certain percentage of the profits is reserved for the racetrack or the bookmaker. For the next sixty years, laws on sports betting remained relatively the same up until 1970, when drastic changes to the Criminal Code were brought about. The amendments made it possible for separate Canadian provinces to issue licenses for bookmakers and regulate the latter's activities. You will find more information on Canadian sports betting legislation below.
Relevant Legislative Framework
It's important to note sports betting is a multi-billion industry in Canada and because of this, regulations are of extreme importance. The 1970 amendments to the Canadian Criminal Code lead to a boom in sports wagering. In 1984 alone, Canadian citizens have spent over $1.60 billion on horse races betting. Betting on horse racing in particular is regulated by the Canadian Parimutuel Agency. The latter is part of the federal Department of Agriculture and Agri-Food.
As was previously mentioned, the changes in the Criminal Code in 1970, made it possible for each Canadian province to license bookmakers and regulate them. That's why laws may differ from province to province. Each province is allowed to decide whether sports betting or other forms of gambling can legally take place on its territory. Out of ten Canadian provinces, Saskatchewan is the only one which does not allow for online gambling and sports betting sites to be hosted on its territory.
In general terms, Canadian law allows for bets to be legally placed on the outcome of sports events. However, if online bookmakers located within the country's territory want to obtain a license to legally accept wagers, they need to meet numerous criteria. Taxes are also imposed on their revenues. That's why Canadian punters are often left with hardly any options to choose from as far as online bookmakers are concerned. Many of them choose to place their bets at offshore sportsbooks because of the greater diversity of markets and sports events that are covered.
The Criminal Code does not state explicitly wagering at offshore bookmakers is illegal in Canada. Punters are not committing a criminal offense by placing bets at online bookmakers, located outside the country's territory. The real question is are offshore bookmakers allowed to accept wagers from Canadian punters? Well, unfortunately this question is a bit difficult to answer. According to Canadian authorities, providing such services on the country's territory is a violation of Canadian laws. However, as offshore betting operators are located outside the country's territory and thus, are far from its jurisdiction, technically Canadian or provincial laws do no apply to them. Furthermore, such operators typically have obtained licenses from other countries' regulatory bodies and function under different jurisdictions, which makes them completely legitimate and safe to bet at. It is Canadian punters' responsibility to choose a reliable and legitimate web-based bookmaker.
But let's go back to the regulations imposed on sports betting in Canada. Special regulatory bodies oversee the work of licensed sports betting providers, located within the country's territory. The chief goal of such regulations is to make sure all providers operate in a fair and transparent manner. Those Canadian bookmakers, who fail to comply with the rules will have their licenses revoked and will no longer be allowed to provide sports betting services.
One such governing body is the Kahnawake Gaming Commission which is one of the most respected regulators in the world. This Commission was established in 1996 and itself runs several web-based casinos and sportsbooks. The Kahnawake Commission's headquarters are located just outside Montreal. At the present moment, the Commission has issued licenses to over 50 web-based casinos and sportsbooks operators. Punters will be able to find an extensive list of license holders at the Commission's official website.
Restrictions
We've mentioned previously Canadians are allowed to placed bets at online bookmakers, which have obtained licenses from the respective province's regulatory body. That being said, it's important to note punters who are not Canadian citizens are prohibited from placing bets at provincial sites. This rule applies in all Canadian provinces.
At this point, Canadian residents are allowed to legally bet on parlays only. This type of bet is quite common among punters and consists of multiple bets on several selections. But here's the tricky part – many people avoid multiple bets because if one of their selections fails, they will lose the entire parlay. Unfortunately, Canadians are not allowed to legally place single bets on sports events. This fact alone, causes residents of the country to place their bets at offshore betting providers. Such actions are practically illegal, yet there isn't a single case known of Canadian punters being persecuted for betting at foreign web-based bookmakers.
However, there's a light at the end of the tunnel. Canadian senator, Robert Runciman, a member of the Conservative Party, has suggested he and his colleagues are about to take measures and pass a bill to enable Canadians to legally place single bets. If the bill passes, punters in the country will no longer have to resort to betting at bookmakers, licensed outside Canada. This on its own will cause the government to collect greater revenues thanks to the taxes imposed on sports betting.
This being said, it's important to note only bookmakers are expected to pay taxes on their revenues. The winnings, punters have accrued from sports betting are not taxed. However, the latter statement applies predominantly to those, who have an actual full time job and bet on sports for entertainment only. If sports betting is not your main source of income, there's no need to worry. But professional punters, who rely on betting as their primal source of income are advised to seek council with their tax consultants to discuss whether or not they should claim their winnings as a taxable income.
The legal gambling age in the country also needs to be taken into consideration. Please note, the legal age for gambling is the same as that for alcohol consumption and varies from province to province. In most provinces only punters, who are over 19 years of age are allowed to place bets on sports events. However, in the provinces of Manitoba, Alberta and Quebec, the legal age for gambling is 18 years. Sometimes, punters who reside outside the three aforementioned provinces opt for betting on sports as soon as they become 18. Although there are no reported cases of punters being persecuted for such practices, it is advisable to restrain yourself from betting if you haven't reached the legal age, valid in your province.
Popular Sports to Bet on
As Canada is the country many popular winter sports originated from, it is not a bit surprising its residents prefer to place their bets on ice hockey, curling and skiing. Lacrosse, another game the roots of which can be traced back to Canada, is among the most preferred summer sports in the country. In addition, Canadian punters enjoy betting on basketball, soccer, baseball, Canadian football, golf and tennis. Though MMA is relatively new to the sports scene, many Canadians are into betting on it. Greyhounds racing is not as popular as it is in the UK or the USA, for instance. However, most betting fans in the country are much more interested in wagering on the outcome of horse races.
Popular Bookmakers
The good news is many web-based bookmakers accept bets on all of the above-mentioned events. Hockey fans will be very pleased to learn all games from the NHL receive a sufficient coverage. International events are also present on the list.
Bets are accepted on a variety of markets. In many cases, the bookmakers offer a Live Betting (or In-Play) feature which allows punters to bet on events in progress. This is quite beneficial as once the game has started, you will be able to evaluate the direction in which things are going, before you proceed to put your money on stake. This way your chances of placing a winning bet will increase. What's more, some betting providers offer a number of other useful functionalities. These include the Live Streaming feature, Live Scores and special podcasts. Most times betting online is exceptionally quick and easy, as you can place your wager with a single click of a mouse button. Mobile betting is another alternative for Canadian punters as bookmakers offer downloadable applications or are available in a mobile format.
As far as payment goes, Canadian bettors can rest assured reputable betting operators which service residents of the country, accept credit/debit cards by Visa and Mastercard and reliable e-wallets like those provided by Neteller, Paypal and Skrill. The options are numerous, so you will surely find a method which suits your preferences and needs.
Below, we have listed the top 5 web-based bookmakers which welcome bettors from Canada.
Bet365
The first name on our list is an absolute staple as far as sports betting is concerned. The website offers an extensive sportsbook, which covers hundreds of markets for any type of sport imaginable. The most popular options are, of course, soccer, basketball, baseball, tennis, golf, volleyball and boxing. Bet365's racebook, on the other hand, includes greyhounds and horse racing, but bets can be placed on exciting motor sports events such as those from Formula 1. Trotting which is a harness racing sport, is a less conventional alternative.
There is a special section titled "More Sports" where you can find less known options – bandy, futsal, bowls, floorball, netball, squash and handball. Even Gaelic sports are available. As Winter sports enjoy great popularity in Canada, punters will be delighted to find several options in this section – Alpine skiing, biathlon, cross country skiing and ski jumping.
Hockey is covered exceptionally well. You can bet on all events from the NHL, while wagering on the In-Play markets is also possible. Odds in all three formats (American, decimal and fractional) are available.
Bet365's immaculate reputation among punters is well-deserved. The betting operator is bent on providing first class service and unforgettable experience. To achieve this, Bet365 offers excellent customer support via live chat, email or phone. The phone line is toll-free and is available 24/7.
Other interesting features you will come across at Bet365 include Live Streaming and Mobile Betting. Only punters with funded accounts are granted access to the Live Streaming service. You can load the bookmaker's website directly in your smartphone's or tablet's browser. What's more, those of you who enjoy betting on the go will receive a special bonus for placing their first bet via mobile devices.
888Sport
Another prominent name is 888Sport. This is a reliable and legitimate web-based bookmaker, which operates under licenses issued by the Gambling Commissions of the UK and Gibraltar. This fact alone is a sufficient guarantee all punters will receive fair treatment. The website is innovative, dynamic and features plenty of useful and interesting functionalities. These include scores on all pre-match and In-Play markets and a cool sports blog, where punters can find hundreds of useful betting tips, previews, news and statistics.
Canadian bettors, who demand flexibility and ease can place their bets on the go as 888Sport is available in a mobile format. The mobile version of the website is exceptionally easy to use and navigate through. It offers all the markets and events which you can find in desktop mode. If you wish, you can opt for downloading and installing the 888Sport's app on your mobile device. The latter further adds to punters' convenience.
That's not all. 888Sport offers some of the most competitive odds in the industry. Canadian punters can choose between an impressive number of options. Bets can be placed on sports like tennis, boxing, cricket, basketball, golf, soccer, baseball and rugby, to name just a few options. In the racebook, you will find horse and greyhounds racing. Bets on motor sports are also accepted.
As far as hockey goes, events from all prestigious professional leagues are covered. Betting on NHL games is, naturally, the most popular alternative but 888Sport also accepts wagers on events from the Czech Extralig, the German Bundesliga, the Russian KHL and the Swedish Elitserien.
William Hill
There's a good reason why William Hill enjoys such a tremendous popularity among punters from many different nationalities. In this respect, Canadians are not an exception to the rule as many residents of the country opt for betting at this bookmaker since it offers transparency, diversity and fair betting environment. The brand name William Hill has become above all a synonym for tradition in sports betting.
Although it all started with a landbased retail shop in the distant 1934 , William Hill has gone a long way since then. The brand went online in 2008 and is now available in a mobile format as well. Canadian players are warmly welcomed to join in the fun. Furthermore, everyone who registers with an account at the sportsbook and places a bet is granted a generous First Deposit bonus of up to $100 to bet with for free.
Other functionalities punters might find useful include Live Streaming, In-Play Betting, Radio and Live Scores. Popular sports on William Hill's list include hockey, American football, soccer, tennis, boxing, basketball, baseball, golf, horse and greyhounds racing. Less conventional options are also on offer – futsal, darts, bandy and bowls. Betting on Virtual Sports is possible as well.
Betway
Betway is another premier betting provider which accepts punters, who reside in Canada. It ranks highly among its rivals thanks to its exceptional customer support service, fairness and diversity. Punters can rest assured Betway is a completely secure and trustworthy betting provider. First of all, because it is legitimate and operates under licenses issued by the Gambling Commissions of the UK and Malta. Then again, Betway works with safe methods of payment only; not to mention punters' personal and banking details are heavily encrypted to protect them from identity thefts and fraudulent activities.
In addition, Betway offers an extensive selection of sports on hundreds of markets at great odds. Its sportsbook covers baseball, hockey, soccer, basketball, golf, tennis, American football, horse and greyhounds races, among many others. Betting on the In-Play markets and watching Live Streaming of events, further adds to Betway's merits. In the upper right hand side of the Sports menu, you will see a section entitled Enhanced Odds. There you will find sports events with the most tempting odds.
To live up to punters' high expectations, Betway offer them numerous generous bonuses and promotions. Canadian punters who register with an account and place their first bet with the bookmaker, will receive a special Welcome bonus of up to $30. Deposit methods suitable for Canadians include iDebit, ClickandBuy, ecoPayz, PaySafeCard, Visa/Visa Electron, Maestro and Mastercard. The minimum amount you're allowed to withdraw is CAD 10.
Bodog
And finally, our last suggestion suitable for punters from Canada is Bodog. This bookmaker focuses on security, convenience and simplicity. The website is easy to navigate through and exceptionally user-friendly. Bodog was founded over 20 years ago, in 1994. A lot has changed since then, but this bookmaker continues to bring in the latest innovations and betting solutions to ensure each punter who stops by enjoys their stay.
There is absolutely no reason to worry as far as security is concerned. Bodog is a hundred percent reliable and secure betting operator as it is licensed and regulated by the Financial Services Regulatory Commission of Antigua and Barbuda. Punters, who experience difficulties or are struggling with a pending problem can always rely on Bodog's courteous support team.
Now, let's go back to sports betting. In this respect, Bodog has a plethora of options for Canadian punters ranging from soccer, hockey, basketball, baseball and tennis to golf, cricket, darts, cycling, and boxing. Motor sports and horse racing are also on offer. If you wish to boost your chances of winning, take our advice and bet on the In-Play markets, available at Bodog. The bookmaker offers statistics on games, which are updated as frequently as possible. If you wish to bet on the move, simply load the website through your portable device's browser – this way you'll never miss the opportunity to place a winning bet. Bodog is compatible with widespread devices, running on Windows, Android and iOS.
(Visited 2,532 times, 1 visits today)