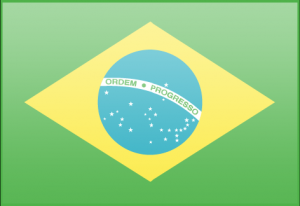 Whenever you think of Brazil, football and sports betting inevitably come to your mind. As far as gambling affairs in Brazil are concerned, many people admit that this is a pretty complicated matter. Sports betting had been quite a popular activity until the Second World War and it was legal on the territory of Brazil.
Brazil is a synonym of sports traditions, which was the main reason why it maintained its strong gambling culture throughout the centuries. Almost all forms of gambling were deemed illegal when the Social Democratic Party was elected. In point of fact, its election declared all casinos illegal and left only lotteries and horse racing at residents' disposal.
Historical Overview
The Criminal Contravention Act, established before the Second World War is still valid today. Upon its implementation, it called for prohibition of all unregulated sports betting activities. At the beginning of the millennium, online gambling has gained considerable popularity but Brazilian authorities did not seem prepared to deal with the consequences online gambling brings about. The latter became one of the hot topics within the Brazilian government.
In order to gain control over the matters, the government established a bill, intended to outlaw online gambling. However, the attempt has proven to be unsuccessful. In 2009, the government tried to ban gambling websites but this was yet another unsuccessful attempt.
Find the best Brazilian bookmakers here
A MINIMUM deposit of $100 is required to qualify for the 50% bonus. All deposits lower than $100 will receive a 25% bonus. The maximum bonus per deposit is $1,000. All rollover requirements must be met prior to requesting a payout.
Join Bovada, make your first deposit and instantly receive a 50% Sports Welcome Bonus up to $250.
Back in 2010, authorities also tried to control the affairs by passing a bill aimed at preventing Brazilian bank institutions from processing transactions to and from gambling websites. As this measure did not lead to the expected result, the government took draconian measures towards prohibiting online gambling. In 2011, prohibition of usage of credit and debit cards for gambling purposes was proposed.
However, the World Cup 2014, which took place in Brazil, was seen as a source of considerable revenue. That is why, an exception of the rule was accepted and citizens were allowed to wager on sports lotteries and games, provided by Caixa Economic.
However, the legislative matters in Brazil remain unclear. For the time being, there are not any bookmakers awarded a license for operating on the territory of the country. Yet, the Brazilian online gambling sector is too appealing given the fact that the country has a population of more than 200 million people. Half of them have an unlimited access to the Internet, not to mention that Brazil is a country with sports traditions and avid sports fans.
Relevant Legislative Framework
As you have already presumed, most forms of gambling activities on the territory of Brazil are deemed illegal. Back in 1946, gambling was prohibited and residents were allowed to bet on lottery games and horse racing only. Namely that is the reason why these two have gained such a popularity among Brazilians. Although casinos were banned, fans of bingo were delighted to have their favourite game legalized in 2004.
The Criminal Contravention Act is probably the most important piece of legislation the Brazilian government has ever passed. The Act declares all games of chance illegal and operators or individuals who violate the rules and partake in such kind of activities are in danger of imprisonment of up to one year. The Act defines the games of chance as games where the bettor does not have an impact on the outcome and the latter depends only on pure luck.
Residents are also not allowed to partake in horse racing events that take place outside the designated areas.
Speaking of the horse track betting, it has long been suffering from legislative uncertainty. Horse racing activities were excluded from the Criminal Contravention Act. Actually, they have been legal since 1884 and overseen by the Coordenadora da Criação do Cavalo Nacional. However, bets are accepted only at regulated racetracks and betting agencies. Organizers of such kind of events are also supposed to pay a fee.
Until 2005, bettors were allowed to take advantage of pari-mutuel wagering only. However, the Ministry of Agriculture changed that and Brazilians were allowed to bet over international simulcast races. The law that authorized the international simulcasts was abolished in 2008.
As far as online sports betting is concerned, it was deemed illegal by the Brazilian Chamber of Deputies. The bill prohibited "bets on sports events through data transmission". In addition, the bill says that in case of a violation, not only the operator but also players and managers of financial institutions are to be prosecuted. Everyone, who has directly or indirectly partaken in illegal sports betting activities is to be held liable.
Although the Brazilian government condemns online gambling, the prohibitions throughout the country do not pose a setback for passionate punters who opt for the services of international bookmakers. Basically, the Brazilian government does not have a control over websites licensed by another jurisdiction. However, you have to make sure you use the services of a reliable bookmaker as you cannot ask the Brazilian authorities for help in case you are unfairly treated.
The high demand for legal sports betting options made the government consider the option of legalizing the fixed odds throughout the country. The so-called Bill 671/2015, also known as "MP Football" was put forward with the aim of establishing new lotteries and gambling products.
One of the lotteries is intended specifically for conventional sports betting and it is focused predominantly on football. However, the Brazilian President Dilma Rousseff vetoed the clauses of the bill, related to online gambling.
Restrictions
It is a well-known fact that despite being passionate about sports, Brazilians have a limited choice of sports betting options. By and large, everyone who organizes sports betting events in private houses or in public, will be prosecuted for violation of the rules. The same applies to sports betting activities organized in hotels, company headquarters and society establishments. As for the cruise ships that offer gambling opportunities, they are allowed to land in Brazil but gambling activities can be conducted only when the ships are outside the territorial waters.
Despite the imposed restrictions, punters are basically enabled to seek casino and sports betting activities at international operators and play their favourite games. Many bookies even have their sites translated into Portuguese.
Popular Sports to Bet on
Needless to say, football is the most popular sport in Brazil. The country played host to the 2014 World Cup and the national team has won the world champions title several times. In addition, some of the most popular footballers on the planet have been born and raised in Brazil.
Brazilians support the domestic league and punters often place their wagers on such events. In addition, there are 27 regional leagues and more than 400 teams registered at the Brazilian Football Confederation.
Mixed martial arts are also gaining more and more popularity. The discipline was made famous by Royce Gracie and now, it enjoys its increasing popularity across the nation. Basketball is the third sport bettors most frequently wager on. The national basketball team has accomplished major milestones such as capturing the World Championships title twice and winning Olympic Bronze medals three times.
It is not surprising that Brazilians are passionate about volleyball. After all, the country has beautiful beaches and the national volleyball teams are ranked among the best teams in the world. As mentioned above, horse racing enjoys incredible popularity throughout the country. There is a great number of registered racetracks where legal horse racing events are held.
Popular Bookies
Admittedly, the gambling legislation in Brazil is quite complex and some of the most popular games of chance are deemed illegal, although some of them exist in semi-legal forms. The complicated gambling laws stem from the fact that Brazil consists of 26 states and each of them is allowed to decide as to whether to legalize gambling or not.
For the time being, no individual has been prosecuted for registering an account with a foreign bookmaker, so that's a common practice among punters. Here are five of the most reliable bookies that definitely need to be taken into account:
bet365
bet365 is among the few bookmakers that accept Brazilian currency as a form of payment, which makes it even more attractive to bettors. Although there is a limited number of payment processors to choose from, the chance to find a payment solution that meets your needs is pretty high.
Bet365 features a great array of sports to choose from. Basically, it covers events from all around the world. Some of the sports you might be interested in include baseball, bowls, cricket, ice hockey, rugby, Aussie Rules, football, skiing, soccer, tennis, snooker, volleyball, etc. Apart from sports events and leagues popular on a global scale, bet365 also covers some less popular sports events.
You will see a thorough list of the available sports on the left of your screen. The interactive platform makes it easier to pull up odds on a chosen sport. The in-play sections are also impressive. As far as the in-play options in bet365 are concerned, the bookmaker provides everything necessary for a high-quality sports betting session. Actually, a great number of markets available at bet365 are turned in-play. According to punters, bet365 has the widest range of in-play odds and some of the markets cannot be found anywhere else on the web.
As far as the live section is concerned, you just have to hit the "Live In-Play" button. The option for moving events in and out the favourites section is yet another convenient functionality. Live scores and match stats are available, so you can keep track of the constantly fluctuating odds. As for the live streaming options, the service bet365 offers is second to none. Punters are not supposed to pay a fee for using the live streaming. However, in order to watch a horse racing event, you must bet at least 50p on the race.
William Hill
William Hill is a high street bookmaker based in the United Kingdom and available in a great number of countries worldwide. William Hill has proven itself to be a reliable bookmaker trusted by hundreds of punters. In order to meet the high demand for high quality sports betting activities, William Hill offers a huge variety of markets players can choose from. They are enabled to choose between greyhounds, UFC, volleyball, rugby, cycling, handball, football, athletics, GAA football, golf, snooker, etc.
In other words, William Hill's website is the perfect destination for everyone, willing to bet on a variety of sports without creating accounts with different bookmakers. As for the in-play options, William Hill can take pride in offering the best in-play betting options on a global scale. The bookmaker also offers live score and live streaming where one is enabled to keep track of the odds as well. The platform is highly intuitive and provides each punter with a thorough information about every sports event.
Unlike some other bookmakers, William Hill does not charge for live streaming. The only requirement you have to meet in order to gain access to the live streaming is to create an account. The main live sports you will be able to watch are basketball, cricket, tennis and football. If you wish to view horse racing events that take place in the UK or Ireland, you must have wagered at least £1 on them.
Pinnacle
Pinnacle Sports is without a doubt, one of the most prominent bookmakers that has gone a long way to become a key figure on the global sports betting scene. Pinnacle has been established in 1998 and apart from the vast coverage of sports markets, it also provides poker, financial bets and casino games. According to professional punters, Pinnacle is the best place to wager because of the incredible odds, high limits, margins, handicaps and last but not least, the level of security it ensures.
No matter if you bet on sports from time to time or you don't miss an important event, you must have heard of the fantastic odds Pinnacle is popular for.
The motto of the bookmaker is "Winners welcome" and that is not just for marketing purposes. The incredible odds, Pinnacle offers encourage punters to place higher wagers. As a result, the bookmaker generates considerable profits despite the low margins.
Pinnacle is also famous for offering the highest possible limits. Basically, you can wager whatever amount you would like. Customers have a solid number of betting types to choose from: these include handicaps, over/ under, etc. Although most bookmakers provide scorecast or yellow cards, you are not going to find such features at Pinnacle. Currently, Pinnacle does not accept players from Spain, UK and the US due to legislative issues.
Pinnacle made a lot of efforts into making the mobile platform easy to use and functional. The layout as well as the navigation made it much easier to use, so players are enabled to quickly find the desired markets. If you are a fan of Asian handicap betting, you will probably not find a better place on the web than Pinnacle. The average return in matches offered in Asian handicap is 98%.
Titanbet
Titanbet is not just a mediocre sportsbook, it is a well-known brand in the sports betting industry as it is popular for the great number of betting opportunities it provides punters with and the in-play betting options that can suit both a novice bettor and an experienced player. What sets Titanbet apart from the other bookmakers is the decent number of exciting promotions and bonuses as well as the willingness to ensure transparency and adopt honest betting practices.
In point of fact, Titanbet is new to the bookmaking industry. It went online in 2010 and since then, it has been striving to provide mass players and high rollers with exceptional sports betting markets. The website itself is user-friendly and you can use your funds not only for sports betting but for poker games as well.
On the downside, Titanbet offers only three markets: head-to-head, totals and handicap, which means that if you bet on main markets only, the features available at Titanbet should be enough to meet your needs.
Sportingbet
Sportingbet is a bookmaker that provides a great range of sports betting options for domestic and international events. Punters are welcome to choose between domestic German, Spanish, French and Italian basketball fixtures as well as cycling, motor sports, golf, tennis, surfing and many more.
The bookmaker seems primarily focused on horse racing events that take place around the world. All too often, Sportingbet offers the best fixed and fluc odds on horse races, tote and fixed odds. According to punters, the race betting interface is beyond excellent. You can see the odds fluctuations for each runner and the track conditions for each race. Live sports betting is also available.
(Visited 2,389 times, 2 visits today)