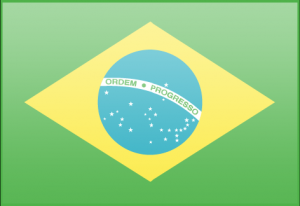 Whenever you think of Brazil, football and sports betting inevitably come to your mind. As far as gambling affairs in Brazil are concerned, many people admit that this is a pretty complicated matter. Sports betting had been quite a popular activity until the Second World War and it was legal on the territory of Brazil.
Brazil is a synonym of sports traditions, which was the main reason why it maintained its strong gambling culture throughout the centuries. Almost all forms of gambling were deemed illegal when the Social Democratic Party was elected. In point of fact, its election declared all casinos illegal and left only lotteries and horse racing at residents' disposal.
Find the best Brazilian bookmakers here
Historical Overview
The Criminal Contravention Act, established before the Second World War is still valid today. Upon its implementation, it called for the prohibition of all unregulated sports betting activities. At the beginning of the millennium, online gambling has gained considerable popularity but Brazilian authorities did not seem prepared to deal with the consequences online gambling brings about. The latter became one of the hot topics within the Brazilian government.
In order to gain control over the matters, the government established a bill, intended to outlaw online gambling. However, the attempt has proven to be unsuccessful. In 2009, the government tried to ban gambling websites but this was yet another failed attempt.
Back in 2010, authorities also tried to control the affairs by passing a bill aimed at preventing Brazilian bank institutions from processing transactions to and from gambling websites. As this measure did not lead to the expected result, the government took draconian measures towards prohibiting online gambling. In 2011, a prohibition of the usage of credit and debit cards for gambling purposes was proposed.
However, the World Cup 2014, which took place in Brazil, was seen as a source of considerable revenue. That is why, an exception to the rule was made and citizens were allowed to wager on sports lotteries and games, provided by Caixa Economic.
The legislative matters with regard to gambling and sports betting in Brazil remain currently under preparation. For the time being, there are not any bookmakers awarded a license for operating on the territory of the country.
Yet, the Brazilian online gambling sector is too appealing given the fact that the country has a population of more than 212 million people. Half of them have unlimited access to the Internet, not to mention that Brazil is a country with sports traditions and avid sports fans.
Regulatory Body
In 1946, President Eurico Gaspar Dutra signed a decree according to which sports betting and gambling in Brazil lost their legal status. As a result of the economic recession that commenced back in 2015, Brazil's economy descended from the sixth-largest to the twelfth-largest on a global scale. This provoked the discussion of several bills of law in Brazil's Congress related to raising revenue from gambling and the forthcoming regularization of the gambling market in the South-American country.
As per the provisions of Law No. 13,756, enacted in 2018, fixed-odds sports betting's legal status has been restored and the body that will be empowered with overseeing it will be the Ministry of Economy. The institution has been granted a four-year period in order to compile the legal framework, according to which the market in the country will function in a completely legal and controlled manner.
The name of the regulator, acting under the jurisdiction of the Ministry of Economy is the Secretariat for Public Policy Evaluation, Planning, Energy and Lottery (SECAP). At the time of writing the present article, SECAP has issued a total of three public consultations on the topic of sports betting in Brazil and its regulation. The predecessor of SECAP is the Secretariat of Fiscal Monitoring, Energy, and Lottery of the Ministry of Economy (SEFEL).
Along with the regulation of the sports betting industry, the SECAP will also be the entity, whose main purpose will be to deliver a safe, lawful, and completely transparent environment for Brazilian punters.
The regulation of the sports betting market in Brazil will undoubtedly lead to plenty of positive outcomes such as the collection of taxes from sports betting revenue within the state, as well as the creation of many job positions.
Betting on horse racing has always enjoyed a special status in Brazil, and it is the only sports betting activity that has not been proclaimed illegal. It is provided by non-profit entities owning authorized racetracks. The authority which is in charge of overseeing it is the Ministry of Agriculture, Livestock and Food Supply.
Relevant Legislative Framework
Back in 1946, gambling was prohibited and residents were allowed to bet on lottery games and horse racing only. Namely, that is the reason why these two have gained such popularity among Brazilians. Although casinos were banned, fans of bingo and slots were delighted to have their favorite games legalized by the Zico Act in 1993, but in 2004 they were prohibited again.
The Criminal Contravention Act
The Criminal Contravention Act is probably the most important piece of legislation the Brazilian government has ever passed. The Act declares all games of chance illegal and operators or individuals who violate the rules and partake in such kinds of activities are in danger of imprisonment of up to one year. The Act defines the games of chance as games where the bettor does not have an impact on the outcome and the latter depends only on pure luck.
Law No. 7,291 Passed on 19 December 1984, and Decree No. 96,993
Residents are also not allowed to partake in horse racing events that take place outside the designated areas – authorized racetracks, run by non-profit organizations.
Speaking of horse track betting, it has long been suffering from legislative uncertainty. Horse racing activities were excluded from the Criminal Contravention Act. Actually, they have been legal since 1984 and overseen by the Coordenadora da Criação do Cavalo Nacional (the National Coordinator Commission of Horse Breeding).
Horse race betting is regulated by Law No. 7,291 passed on 19 December 1984 and Decree No. 96,993. However, bets are accepted only at regulated racetracks and betting agencies. Organizers of such kinds of events are also supposed to pay a fee.
Until 2005, bettors were allowed to take advantage of pari-mutuel wagering only. However, the Ministry of Agriculture changed that, and Brazilians were allowed to bet on international simulcast races. The law that authorized the international simulcasts was abolished in 2008.
Article 61 of Law No. 9,099/95 on Games of Chance
As per article 61 of Law No. 9,099/95, games of chance are interpreted as a misdemeanor, which is less serious compared to more solemn crimes. According to interpretations within the law, games of chance involve an outcome that does depend on luck and does not rely on skill. As opposed to games of chance, games of skill depend on the abilities of the person, and therefore, they are not considered illegal.
Bill 671/2015
The high demand for legal sports betting options made the government consider the option of legalizing the fixed odds throughout the country. The so-called Bill 671/2015, also known as "MP Football" was put forward with the aim of establishing new lotteries and gambling products.
One of the lotteries is intended specifically for conventional sports betting and it is focused predominantly on football. However, Brazilian President Dilma Rousseff vetoed the clauses of the bill, related to online gambling.
Law No. 13,756/2018
Fixed-odds sports betting became legal in Brazil with the passing of Law No. 13,756 in December 2018. The Ministry of Economy is mandated with the task to provide working regulatory mechanisms within a four-year period. SECAP is the authority, acting under the jurisdiction of the Ministry of Economy, which is directly in control of the sports betting industry within the country.
Restrictions
It is a well-known fact that despite being passionate about sports, Brazilians have a limited choice of sports betting options. By and large, everyone who organizes sports betting events in private houses or in public will be prosecuted for violation of the rules. The same applies to sports betting activities organized in hotels, company headquarters, and social establishments.
As for the cruise ships that offer gambling opportunities, they are allowed to land in Brazil but gambling activities can be conducted only when the ships are outside the territorial waters.
Although the Brazilian government is currently preparing the legal framework for fixed-odds sports betting, the limitations throughout the country do not pose a setback for passionate punters who opt for the services of international bookmakers. Basically, the Brazilian government does not have control over websites licensed by another jurisdiction.
Many bookies even have their sites translated into Portuguese. However, you have to make sure you use the services of a reliable bookmaker as you cannot ask the Brazilian authorities for help in case you are unfairly treated.
Since the 1940s ban on gambling, the only legal choices for wagering in Brazil were state-owned lotteries and horse racing events held at authorized tracks. It is also important to bear in mind that Law No. 13,756/2018 regarding sports betting relates only to fixed-odds betting at online and land-based establishments, leaving in-play markets out of the regulation. That is actually a major restriction on the choices of Brazilian punters, as in-play markets are much sought-after nowadays.
As far as taxes on punters' winnings from fixed-odds betting are concerned, they are expected to amount to 30% on each prize exceeding R$1,903.98.
Similarly, horse race wagering is limited only to non-profit entities that run authorized race tracks and is regulated by the Ministry of Agriculture, Livestock, and Food Supply.
And, finally, advertising is to be in compliance with the best practices available and in line with regulations that are yet to be clearly defined.
Popular Odds Formats
Most sportsbooks express the odds by using the three most popular formats – the Fractional, the Decimal, and the American. Although Brazilian punters prefer the Fractional odds format for horse racing wagers, the Decimal odds format is also very widely exploited.
While there are many sports betting odds calculators and most bookmakers offer easy conversion between the three main formats, getting familiar with them and the way they work is essential for a successful betting experience. By being aware of the specifics related to the odds formats, punters are able to discern the bets that are worthwhile.
Fractional Odds Format
The Fractional odds format expresses the ratio of the profit to the stake. The number on the left indicates the amount bettors would win, while the number on the right denotes the stake.
A $100 wager at Fractional odds of 5/1 would deliver a payout of $500. Additionally, if punters select a bet market at Fractional odds of ⅕, they will need to stake $500 in order to generate a profit of $100.
Decimal Odds Format
The Decimal odds format is utilized very often by Brazilian bettors due to its simplicity. Essentially, it indicates how much bettors are expected to win for each $1 they stake.
Consequently, in case bettors stake $100 at Decimal odds of 2.5, they will possibly gain a profit of $250, where their initial stake of $100 is included in the final payout of $250, i.e. the net profit here is $150.
American Odds Format
The American odds format utilizes three digits, with a plus or a minus sign before the digits, denoting if punters are wagering on the underdog or the favorite, and how much they are supposed to stake in order to get a profit of $100.
The plus sign shows the team expected to lose, i.e. the underdog. With odds of +140, punters stake $100 for the chance to win $140. The minus sign signals the team expected to win. Odds of -140 imply that punters will potentially net a payout of $100, should they stake $140.
Popular Sports to Bet on
Brazilians are a very active nation and wagering on the outcome of different sports events is undeniably among their favorite occupations. Aside from football, which is automatically associated with the South-American country, Brazil-based punters are also intrigued by other sports, such as volleyball, basketball, horse racing, and mixed martial arts. Brazil-friendly sportsbooks offer various bet markets related to these sports.
Soccer
Brazil played host to the 2014 FIFA World Cup and the national team has won the world champions title several times. In addition, some of the most popular footballers on the planet have been born and raised in Brazil.
Brazilians support the domestic league and punters often place their wagers on such events. In addition, there are 27 regional leagues and more than 400 teams registered at the Brazilian Football Confederation.
The country's primary football competition is Campeonato Brasileiro Série A. Some of Brazil's top division state championships are Campeonato Acreano, Campeonato Brasiliense, and Campeonato Carioca, among others.
Volleyball
It is not surprising that Brazilians are passionate about volleyball. After all, the country has beautiful beaches and the national volleyball teams are ranked among the best teams in the world.
The governing body for men's volleyball in Brazil is the Brazilian Volleyball Confederation and the top-ranking competition in the country is the Brazilian Volleyball Super League. The women's national volleyball team also participates in international competitions, celebrating many accomplishments over the years.
Volleyball bet markets are numerous, including winner, handicap bets, over/under, set score, total points, total team points, and outrights.
Basketball
Basketball is the third sport bettors most frequently wager on. The national basketball team has accomplished major milestones such as capturing the World Championships title twice and winning Olympic Bronze medals three times.
The highest-ranking basketball league in Brazil is Novo Basquete Brasil (NBB), administered by the Brazilian basketball associations, while Liga Ouro de Basquete is is the second-tier level men's professional league.
There are many basketball bet markets that punters may explore at offshore sports betting sites, including moneyline, spread bets, over/under, 1st half, total team points, total odd/even, and so on.
Horse Racing
As mentioned above, horse racing enjoys incredible popularity throughout the country. There is a great number of registered racetracks where legal horse racing events are held. Some of the competitions that attract lots of attention from punters are the Grande Prêmio Brasil, the Grande Prêmio Bento Gonçalves, the Grande Prêmio Princesa do Sul, and the Grande Prêmio São Paulo.
Bettors may opt for each-way single bets, double bets, treble bets, trixie bets, and accumulator bets, to mention a few.
Mixed Martial Arts
Mixed martial arts are also gaining more and more popularity. The discipline was made famous by Royce Gracie and now, it enjoys its increasing popularity across the nation. The governing body for this sport is The Comissao Atletica Brasileira de MMA (CABMMA), or the Brazilian MMA Athletic Commission.
A native mixed martial arts competition is Jungle Fight, while an American championship, stirring the interest of bettors is the UFC (Ultimate Fighting Championship). The most common MMA betting types include moneylines, total rounds, parleys, futures, and in-play bets. A bet type that is unique to MMA is the winning method, i.e. the way the victor will win the fight.
Popular Sports to Bet On Summary
Sport
Pre-match/In-play
Leagues
Soccer
yes/yes
Copa do Brazil; Campeonato Brasileiro Série A, B, C, D; Campeonato Acreano; Campeonato Brasiliense; Campeonato Paulista; Campeonato Carioca; Campeonato Mineiro; Copa América; FIFA World Cup, etc.
Volleyball
yes/yes
Superliga Brasileira de Voleibol (The Brazilian Volleyball Super League); Campeonato Brasileiro; the South American Championship; Volleyball World Cup, etc.
Basketball
yes/yes
The NBB (Novo Basquete Brasil); the LNB (National brazilian League); the Liga Ouro de Basquete (LOB); the LDB (Developmental Basketball League); the Brazilian Championship; the São Paulo State Championship; the Rio de Janeiro State Championship; FIBA Americas League; FIBA South American League; the NBA, etc.
Horse racing
yes/yes
The Grande Prêmio Brasil; the Breeders' Cup Challenge series; Breeders Cup Turf; the Grande Prêmio Bento Gonçalves; the Grande Prêmio Princesa do Sul; the Grande Prêmio São Paulo, etc.
Mixed Martial Arts
yes/yes
Jungle Fight; The UFC (Ultimate Fighting Championship), etc.
Popular Banking Methods
In the following lines, we will provide detailed information regarding the popular banking methods at the disposal of Brazil-based punters, ranging from some native solutions to global payment and withdrawal methods utilizing electronic wallets, prepaid cards, and cryptocurrencies.
Local Payment Methods
Boleto Bancario is a unique payment solution specifically tailored to Brazilians and some of the sportsbooks that are targeting this market have included the method in their cashier section. The method makes use of slips or tickets and is similar to wire transfers or cash payment methods. It involves the participation of three parties – a client, a bank, and a merchant.
A unique tax identifier is necessary for Brazilian punters in order to make use of a Boleto payment slip, which can be either physical or virtual. Payments can be carried out in the Brazilian real currency. Once bettors choose Boleto Bancario among the offered payment methods and enter the deposit amount, they should also enter their 11-digit tax identifier. Deposits are processed within 1-2 business days, while withdrawals are not possible via this method.
Another method specifically tailored to Brazilian citizens is PIX. To be able to make a PIX deposit into a Brazil-friendly sportsbook, bettors should also enter the 11-digit taxpayer identification. Similarly to Boleto Bancario, PIX is suitable only for deposits. The method features immediate transfers and can be used 24/7.
Local and International Digital Wallets
PicPay is a localized app-based e-wallet that is a convenient payment option at the disposal of Brazil-based punters. It is actually the largest mobile payment company in Latin America. To make use of this method, punters should have downloaded the mobile app.
Once they are done with the registration, requiring an email, a taxpayer code, and a date of birth, they are supposed to add a credit card to top up their balance. Payments are processed right away.
Inovapay is yet another e-wallet solution that is tailored to the needs of Latin American users. Other digital wallets that are universally available include ecoPayz, MuchBetter, Skrill, and Neteller. All of them allow for immediate payments, while withdrawals can be processed within 48 hours.
Prepaid Cards
Astropay Card is a virtual prepaid solution that protects personal and banking information bettors are unwilling to share. Once bettors obtain an Astropay card, they need to head to the banking section of the sportsbook and select the method.
What follows next is filling in the deposit amount, the 16-digit card number, the expiration date, and the CVV number. Deposits will take moments, while withdrawals depend on the verification processes within the sportsbook, but usually take no more than 24 hours.
Credit/Debit Card Payments
In spite of the various banking solutions that are at the disposal of bettors, many of them prefer traditional card payments. This is simply due to the fact that they are offered by the majority of sportsbooks. Furthermore, users are accustomed to this type of payment, and it allows for higher deposit limits. Payments are initiated instantly, while withdrawals are carried out usually between 1 to 3 business days.
Cryptocurrencies
Cryptocurrencies have several major features that make them a much sought-after banking method. First of all, they provide unparalleled levels of personal and banking data protection. Secondly, they do not involve processing fees. And thirdly, they allow for instant payments and quick withdrawals.
Popular Banking Methods Summary
Payment Method
Fees
Deposit Limits
Deposit Times
Withdrawal Limits
Pending withdrawal time
Withdrawal Times
Boleto Bancario
Depends on the betting site
Min R$30/Max R$4,000
1-2 business days
N/A
N/A
N/A
PIX
No fees
Min R$35/Max R$14,000
Instant
N/A
N/A
N/A
PicPay
No fees
Min R$30/Max R$60,000
Instant
Min R$30/Max R$60,000
Between 24-48 hours
Up to 24 hours
INOVAPAY
No fees
Min R$20/Max R$30,000
Instant
Min R$20/Max R$30,000
Between 24-48 hours
Between 24-48 hours
AstroPay
Depends on the betting site
Min $10/Max $10,000
Instant
Min $10/Max $500.00
Between 24-48 hours
Up to 24 hours
VISA
Depends on the betting site
Min $10/Max $50,000
Instant
Min $10/Max $50,000
Between 24-48 hours
1-3 business days
Mastercard
Depends on the betting site
Min $10/Max $50,000
Instant
Min $10/Max $50,000
Between 24-48 hours
1-6 business days
ecoPayz
Depends on the betting site
Min $10/Max vary across sportsbooks
Instant
Min $10/Max vary across sportsbooks
Between 24-48 hours
Up to 48 hours
MuchBetter
Depends on the betting site
Min $10/Max $15,000
Instant
Min $10/Max $15,000
Between 24-48 hours
Up to 24 hours
Skrill
No fees
Min $10/Max $10,000
Instant
Min $10/Max $5,000
Between 24-48 hours
Up to 48 hours
Neteller
No fees
Min $10/Max vary across sportsbooks
Instant
Min $10/Max vary across sportsbooks
Between 24-48 hours
Up to 48 hours
Bitcoin
No fees
Min $10/Max vary across sportsbooks
Instant
Min $10/Max vary across sportsbooks
Between 24-48 hours
Up to 48 hours
Bank Transfer
Depends on the betting site
Min $20/Max $100,000
1-5 business days
Min $50/Max $100,000
Between 24-48 hours
3-7 business days
Mobile Betting
According to statistics from 2019, some 65% of the Brazilian population uses a smartphone, and this share is expected to rise to 75% by 2025. Mobile technologies are constantly developing and revolutionizing the way we approach both our daily obligations and sources of entertainment.
So, mobile compatibility of contemporary sportsbooks is a major feature to take into consideration, as betting on the go is gradually becoming the main way for punters to wager. Bookmakers that are targeting the Brazil betting market do not underestimate this important aspect.
In-browser applications do not differ from the desktop version of sportsbooks and they do not impose system requirements in order to function properly on a given mobile device. Brazil-based punters enjoy a wide range of bookies that deliver mobile betting via in-browser apps.
The in-browser version of sportsbooks does not lack any of the functionalities and features that are available on the PC counterpart and easily scales to the size of the screen bettors are making use of. The only thing needed is a stable Internet connection and punters can enjoy their favorite bookies with just a few taps on the screen.
In addition to browser-based apps, sportsbooks develop dedicated applications for Android devices that can be downloaded from Google Play Store. Other sportsbooks provide a link for downloading the app on their website. Punters who are using iOS handheld devices can also make use of the sportsbook app by downloading it from Apple's App Store.
Prior to installing the relevant app, bettors should consider the minimum technical specifications that the operating system of their mobile device must comply with. In most cases, the leading sportsbook operators give access to all available features and functionalities in the app-based version of their platforms. Bettors are free to explore all the sports markets, make use of the available payment solutions, and take advantage of the promotional incentives.
Key Aspects of a Worthy Betting Site
There are certainly plenty of bookies that would gladly welcome action from Brazil-based punters, but the latter should be aware of some key aspects before registering and depositing funds with a certain operator.
Sports Markets
A major tell-tale sign of a good sportsbook is the variety of sports markets available in its catalog. Bettors should be able to choose among as many sports as possible and thus the sportsbook really succeeds in catering to the needs of all punters. The availability of major leagues and competitions for each sport is also not to be underestimated, as well as the abundance of pre-match and in-play markets.
Payment Methods
To be able to serve the sports betting needs of as many punters as possible, good sportsbooks strive to deliver variety also in the payment and withdrawal solutions that they offer. Managing one's banking in an efficient and easy manner is essential to a successful betting experience, so this aspect is of vital importance.
Many Brazil-friendly bookies offer payment and withdrawal solutions that are specifically tailored to Brazilians, as well as the option to initiate fund transfers in the local Brazilian real currency.
Bonuses
Many bettors are initially attracted by a sportsbook because of a lucrative promotional offer that seems too good to be true. In reality, more often than not, the bonuses of sportsbooks are to be retrieved only after the related terms and conditions are fully complied with.
That being said, bettors should look not only for the value of the promotional offer but also for its feasibility. Prominent sportsbooks are able to deliver good value along with fair and acceptable conditions.
Bettors are most commonly greeted with a welcome bonus offer or a free bet. Another type of incentive that is usually available is the odds boost promo that is typically related to a sports event of great interest. The ACCA insurance is yet another option.
Betting Features
Good sportsbooks also offer a range of additional features and functionalities that are designed to make the betting process even more thrilling. These features vary from one sportsbook to another and that is why it is important for bettors to set their priorities before choosing a certain brand.
Statistics, live results, blog sections, and in-depth explanations regarding betting markets are all precious sources of information that would facilitate taking proper decisions in the process of sports betting.
Broadcasting of live events is yet another much sought-after feature due to the increasing popularity of in-play markets. Furthermore, the likes of the Bet Builder and Cash-out features are also in high demand nowadays.
Mobile Compatibility
As already mentioned, the mobile compatibility of sportsbooks is of essential importance due to the growing number of punters who rely mainly on their handheld devices in order to place bets. Whether it is in-browser or app-based, mobile betting should deliver everything necessary for a hassle-free and efficient betting environment.
Licenses and Customer Support
Brazilian punters should opt only for sportsbooks that are licensed by a renowned gambling authority thus ensuring that the operator adheres to the best practices within the industry and offers a secure and transparent service to bettors. Bookmakers typically give reference to the vetting authorities that have provided them with a license at the bottom of their home pages.
And last but not least, the customer helpdesk of a good sportsbook should be capable of providing timely and efficient support in a professional manner.
Popular Bookies
Admittedly, the gambling legislation in Brazil is quite complex and some of the most popular games of chance are deemed illegal, although some of them exist in semi-legal forms. That being said and with the ongoing regulation of fixed-odds sports betting, many punters from the South-American country resort to the services of offshore online sportsbooks.
For the time being, no individual has been prosecuted for registering an account with a foreign bookmaker, so that's a common practice among punters. Here are ten of the most reliable bookies that definitely need to be taken into account:
Bet365
Bet365 is among the few bookmakers that accept Brazilian currency as a form of payment, which makes it even more attractive to bettors. Although there is a limited number of payment processors to choose from, the chance to find a payment solution that meets your needs is pretty high.
Bet365 features a great array of sports to choose from. Basically, it covers events from all around the world. Some of the sports you might be interested in include baseball, bowls, cricket, ice hockey, rugby, Aussie Rules, football, skiing, soccer, tennis, snooker, volleyball, etc. Apart from sports events and leagues popular on a global scale, bet365 also covers some less popular sports events.
You will see a thorough list of the available sports on the left of your screen. The interactive platform makes it easier to pull up odds on a chosen sport. The in-play sections are also impressive. As far as the in-play options in bet365 are concerned, the bookmaker provides everything necessary for a high-quality sports betting session.
Actually, a great number of markets available at bet365 are turned in-play. According to punters, bet365 has the widest range of in-play odds and some of the markets cannot be found anywhere else on the web.
As far as the live section is concerned, you just have to hit the "Live In-Play" button. The option for moving events in and out of the favorites section is yet another convenient functionality. Live scores and match stats are available, so you can keep track of the constantly fluctuating odds.
As for the live streaming options, the service bet365 offers is second to none. Punters are not supposed to pay a fee for using the live streaming. However, in order to watch a horse racing event, you must bet at least 50p on the race.
Pros

Plentitude of in-play and pre-match markets
Soccer Bet Builder feature
Cash-out feature
Early Payout offers
Live Audio for several sports
Cons

Verification procedures of identity documents are quite slow
There are fees related to some withdrawal methods
Some users report low limits on their accounts
Withdrawals can sometimes be prolonged
William Hill
William Hill is a high street bookmaker based in the United Kingdom and available in a great number of countries worldwide. William Hill has proven itself to be a reliable bookmaker trusted by hundreds of punters.
In order to meet the demand for high-quality sports betting activities, William Hill offers a huge variety of markets players can choose from. They are enabled to choose between greyhounds, UFC, volleyball, rugby, cycling, handball, football, athletics, GAA football, golf, snooker, etc.
In other words, William Hill's website is the perfect destination for everyone, willing to bet on a variety of sports without creating accounts with different bookmakers. As for the in-play options, William Hill can take pride in offering the best in-play betting options on a global scale.
The bookmaker also offers live score and live streaming where one is enabled to keep track of the odds as well. The platform is highly intuitive and provides each punter with thorough information about each sports event.
Unlike some other bookmakers, William Hill does not charge for live streaming. The only requirement you have to meet in order to gain access to the live streaming is to create an account. The main live sports you will be able to watch are basketball, cricket, tennis, and football. If you wish to view horse racing events that take place in the UK or Ireland, you must have wagered at least $1 on them.
Pros

One of the most trusted brands globally
Safe and quick payments
Live streaming and live scores
Lots of promo offers
Virtual sports
Cons

Log-in issues encountered by some users
Withdrawals can be prolonged once in a while
Restrictions imposed on some of the successful bettors
The native app sometimes runs at a slow pace
Pinnacle
Pinnacle Sports is without a doubt, one of the most prominent bookmakers that has gone a long way to become a key figure on the global sports betting scene. Pinnacle has been established in 1998 and apart from the vast coverage of sports markets, it also provides poker, financial bets, and casino games.
According to professional punters, Pinnacle is the best place to wager because of the incredible odds, high limits, margins, handicaps, and last but not least, the level of security it ensures.
No matter if you bet on sports from time to time or you don't miss an important event, you must have heard of the fantastic odds Pinnacle is popular for. The motto of the bookmaker is "Winners welcome" and that is not just for marketing purposes. The incredible odds, Pinnacle offers definitely encourage punters to place higher wagers. As a result, the bookmaker generates considerable profits despite the low margins.
Pinnacle is also famous for offering the highest possible limits. Basically, you can wager whatever amount you would like. Customers have a solid number of betting types to choose from: these include handicaps, over/under, etc. Although most bookmakers provide scorecast or yellow cards, you are not going to find such features at Pinnacle.
Pinnacle made a lot of efforts into making the mobile platform easy to use and functional. The layout as well as the navigation made it much easier to use, so punters are enabled to quickly find the desired markets. If you are a fan of Asian handicap betting, you will probably not find a better place on the web than Pinnacle. The average return in matches offered in Asian handicap is 98%.
Pros

Impressive coverage of sports markets
Great odds
High limits
A wide range of bet markets available
High security
Cons

No live streaming service
No Fractional odds format
Horse racing is not offered
Verification procedures are sometimes slow and demanding
20Bet
Yet another option at the disposal of Brazil-based punters is 20Bet. Although it is a relatively new name on the sports betting scene, it does not fail in delivering a sports betting service of great quality. The bookie caters to the needs of various bettors around the globe by providing an outstanding diversity of sports, bet markets, and championships.
The bookmaker has a section for major championships that are most commonly sought by bettors, including the Premier League, the Bundesliga, Serie A, La Liga, as well as NBA and NHL. Forthcoming sports events of great interest are also featured on the left-hand side of the bookie.
The sports catalog is neatly organized, allowing bettors to sort the sports by championship, by country, and in alphabetical order. The variety of bet types is also decent. Soccer betting markets include 1×2 bets, double chance, total, Asian total, handicap, Asian handicap, draw no bet, and halftime/fulltime, among others.
The website is supported in Portuguese. The odds formats that are available to bettors are the Decimal, the Fractional, and the American.
Customer representatives supporting the live chat functionalities are friendly, knowledgeable, and answer requests within seconds in most cases.
Pros

Great diversity of sports markets
ESports
Neat organization of the sports catalog
Supported in Portuguese
Links for the mobile apps available on the website
Cons

Lack of Cash-out feature
No Bet Builder feature
The range of withdrawal methods could be improved
Phone customer support is not available
Sportingbet
Sportingbet is a bookmaker that provides a great range of sports betting options for domestic and international events. The sportsbook's portfolio includes well over 40 different disciplines, allowing bettors to enjoy a great number of choices with regard to championships and bet markets.
Punters are welcome to choose between domestic German, Spanish, French, and Italian basketball fixtures as well as cycling, motorsports, golf, tennis, surfing, and many more.
The bookmaker seems primarily focused on horse racing events that take place around the world. According to punters, the race betting interface is beyond excellent. You can see the odds fluctuations for each runner and the track conditions for each race.
With lucrative promotional offers, superb betting odds, and constant dedication to excellence, Sportingbet is among the best choices that Brazil-based punters may opt for. Live streaming is available, as well as a decent range of in-play betting markets, including soccer, tennis, basketball, volleyball, ice hockey, and others.
As for the all-time favorite soccer, the bookie offers betting on major championships, including the Premier League, Serie A, Bundesliga, and La Liga.
In terms of mobile compatibility, the bookmaker offers in-browser betting and a native app, allowing punters to place bets on their favorite sports at any time and place.
Pros

Superb betting odds
Mobile compatibility
A great range of horse racing events from all over the world
Licensed by renowned regulators
Virtual sports
Cons

Slightly cluttered homepage
The website loads slowly from time to time
Live streaming is at the disposal of registered users only
Burdensome verifications
888sport
With quite a long presence in the sports betting industry and a large network of customers around the globe, 888sport is definitely a great choice. The bookmaker offers great variety both in terms of sports markets and payment methods. Brazilian bettors may choose between online banking, electronic wallets, and card payments in order to initiate fast and secure transfers.
As far as promotional offers are concerned, bettors will find an unrivaled range of incentives whose terms and conditions are diligently explained. The available information of the sportsbook is evenly distributed into separate categories, thus making the interface very easy and pleasant to navigate through.
The sports are neatly arranged in the catalog, as well as the upcoming events, along with the available bet markets. The sportsbook is supported in Portuguese and the three most common odds formats are available – the moneyline, the fractional, and the decimal ones.
The in-play section of the bookmaker is equally impressive. Punters may place bets on various sports such as soccer, tennis, horse racing, cricket, rugby, and boxing, to name a few.
The Specials section of 888sport delivers some unique betting opportunities to punters. Niche sports find a particularly good representation in this sportsbook. Bettors may explore less-known markets such as darts, badminton, table tennis, and golf.
Pros

Live streaming
Diversity of popular and niche sports
A lot of supported payment methods
Plenty of promotional offers
Bet Builder feature
Cons

The helpdesk is not available round the clock
Burdensome verification process
Cryptocurrencies are not accepted
Limits on sharp bettors
Betsson
Betsson is among the sports betting brands that have been in operation for quite a long time. The operator has been able to attract and keep a large base of loyal patrons due to its dedication to the best practices established within the industry.
The brand is synonymous with safety and transparency and bears the seal of acceptance of one of the strictest regulators, the Malta Gaming Authority.
Along with the safe betting environment, punters can also enjoy easy navigation of the platform and an abundance of markets. Horse racing is among Betsson's specials as it is bestowed with a separate section on the website, along with streams and statistics on major horse racing events.
Virtual sports are also available. Plenty of promotional offers are at the disposal of both newly-registered punters and old customers.
The number of supported currencies is quite decent, and payments in the BRL currency are possible. Bettors have a sufficient range of payment solutions to choose from, including card payments, digital wallets, and prepaid cards, among others.
Punters may also take advantage of the statistics and live score section that provide extensive information on an impressive number of sports. Registered users can utilize the bet history feature to keep a better track of their bets and thus improve their future betting sessions.
Pros

Cash-out feature
Bet Builder
Statistics and Live Score
The BRL currency is supported
Native and in-browser app
Cons

Cash-out feature
Bet Builder
Statistics and Live Score
The BRL currency is supported
Native and in-browser app
1xBet
Yet another excellent choice on our list of best bookies serving the Brazilian market is 1xBet. Apart from the thrill of pre-match and in-play betting, the bookmaker also offers its registrants to interact on its forum and get a piece of professional advice when needed.
Every sports betting fan is sure to find an abundance of sports that exceed even the highest expectations. The left-hand side of the betting platform features top matches of popular championships, along with a list of much sought-after sports such as soccer, tennis, basketball, ice hockey, volleyball, and others. The eSports section of the bookmaker is of impressive proportions.
In terms of mobile compatibility, the operator makes sure that the applications are undergoing periodic improvements in order to deliver a seamless mobile betting experience.
An interesting feature offered by 1xBet is the MultiLive page, where bettors may create a tailor-made area by selecting in-play sports events that stir their interest the most and subsequently place bets on them. The range of sports that can be selected is nothing short of impressive, including in-play bets on soccer, ice hockey, basketball, tennis, volleyball, American football, badminton, darts, and many others. The bet markets on offer are equally remarkable.
Pros

Plenty of payment options
Abundance of leagues for most of the sports
Bet Builder
MultiLive page
In-browser and native app
Cons

Some users report problems with the processing of their bets
Deposit-related issues experienced by some bettors
Some users are dissatisfied with the helpdesk
Cases of delayed payments
22Bet
Another sportsbook at the disposal of Brazil-based punters is 22Bet, providing an excellent opportunity to enjoy a pleasant and lucrative betting session. Although the bookie is relatively new on the betting scene, it has succeeded in asserting its good reputation and trustworthiness. It is available in more than 50 countries, including Brazil.
The website is supported in over 50 languages, and Portuguese is one of them. As for the available odds formats, bettors may choose between the Decimal, Fractional, American, Hong Kong, Indonesian, and Malaysian odds.
The variety of the payment methods corresponds to the global presence of the bookmaker. There are 26 different cryptocurrency solutions, along with other banking methods.
The sportsbook also does not fail in providing bettors with a wide range of sports markets, which exceed 1,000 events on a daily basis. Even the pickiest bettors are sure to find a betting market worthy of their attention. The eSports section of the bookie is spectacular.
With its well-structured and user-intuitive interface, the operator has taken the time to develop and deliver a betting environment that is easy to navigate even by inexperienced bettors. Detailed statistics and live results are in place, assisting bettors in achieving the best possible results.
Pros

Mobile compatibility
ESports
Statistics and live results
A wide range of payment methods
Website supported in Portuguese
Cons

Some users find the customer support to be slow and inefficient
Cases of suspended accounts
Prolonged verification procedures
Live streaming is not available
Betway
Betway is another leader in the sports betting market which deserves punters' attention due to the huge list of sports to wager on, and the variety of features on offer.
From soccer to volleyball, and everything in between, sports events take unexpected turns, and that is why in-play betting enjoys ever-growing popularity. In-play markets offer the opportunity to place bets while the game unfolds, so making more precise predictions is a lot easier. Betway does not fail in delivering a truly astonishing diversity of in-play markets for many sports, including soccer, tennis, table tennis, eSports, basketball, hockey, and volleyball, among others.
Bettors will certainly find action on major soccer leagues such as the Bundesliga, the Premier League, the Europa League, and many others. Bets are also offered on games from the NBA, the NHL, and the NFL. A variety of horse racing events are also covered.
Punters can also take advantage of the real-time Cash-Out and Partial Cash-Out feature that could be utilized both for single and multi bets. It allows sports betting fans to claim their winnings before the end of the sports event.
The help section of Betway is quite extensive and covers different aspects of sports betting such as deposit and withdrawal queries, and promotional offers.
Pros

Variety of in-play markets
ESports
Cash-out feature
Betting rules
Licenses from the UK and Malta Gambling Commissions
Cons

The desktop version seems a bit cluttered
Some users are dissatisfied with the live chat service
Withdrawals are sometimes prolonged due to verification procedures
The app freezes once in a while
(Visited 4,625 times, 1 visits today)